Cover crop field day hosted at Kellogg Biological Station
Join the discussion and tour cover crop research and demonstration plots on Nov. 3, 2017, in Hickory Corners, Michigan.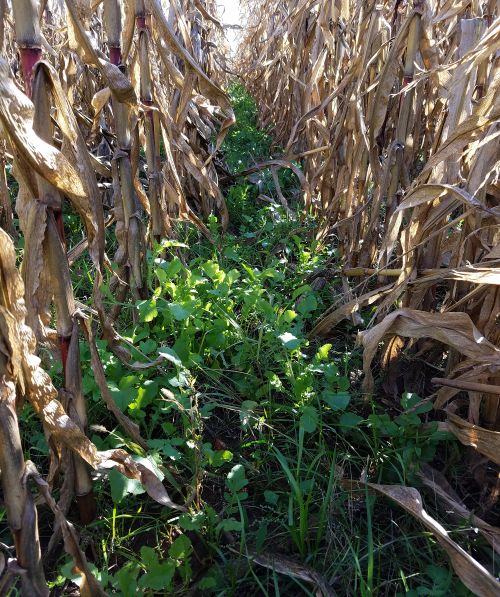 "Don't Farm Naked," or in other words, use cover crops to keep the bare ground covered and live roots growing for as much of the year as possible. These, along with many other reasons, are why producers should use cover crops on their land. Other benefits include preventing erosion, helping to dry out the soil in the spring, adding organic matter, suppressing weed growth and retaining nutrients in the soil. While many farmers know of these benefits, it's not always so easy to know how to incorporate cover crops into their operations, what species to use, how to terminate the cover crop and what could serve a dual purpose as cover crop and forage.
Michigan State University Extension encourages producers to plan cover cropping into the post-harvest activities this fall. To assist farmers in this decision-making process, MSU's W.K. Kellogg Biological Station in Hickory Corners, Michigan, is hosting a Fall Cover Crops Field Day on Nov. 3, 2017, from 10 a.m. – 3 p.m. to share some of the research being conducted on the research farm in regards to cover crops in grain, vegetable and grazing systems that would work for producers in southwest Michigan. Visit Fall Cover Crops Field Day to register and for more information on details about the day and how to find the research station.
Cover crop information and resources are available through MSU Extension's Cover Crops page and the Midwest Cover Crops Council, or contact Dean Baas at baasdean@anr.msu.edu. Information about activities and research at Kellogg Biological Station and the farm is available at the Kellogg Biological Station website or by contacting Misty Klotz at klotzmis@msu.edu or Brook Wilke at wilkebro@msu.edu.
This work is supported by the Crop Protection and Pest Management Program 2017-70006-27175 from the USDA National Institute of Food and Agriculture. Any opinions, findings, conclusions or recommendations expressed in this publication are those of the author(s) and do not necessarily reflect the view of the U.S. Department of Agriculture.
Did you find this article useful?
---