Cultivate Michigan announces Regional Marketplace network events this winter
Join Farm to Institution leaders and food suppliers for regional 'meet-the-buyers' style events around Michigan.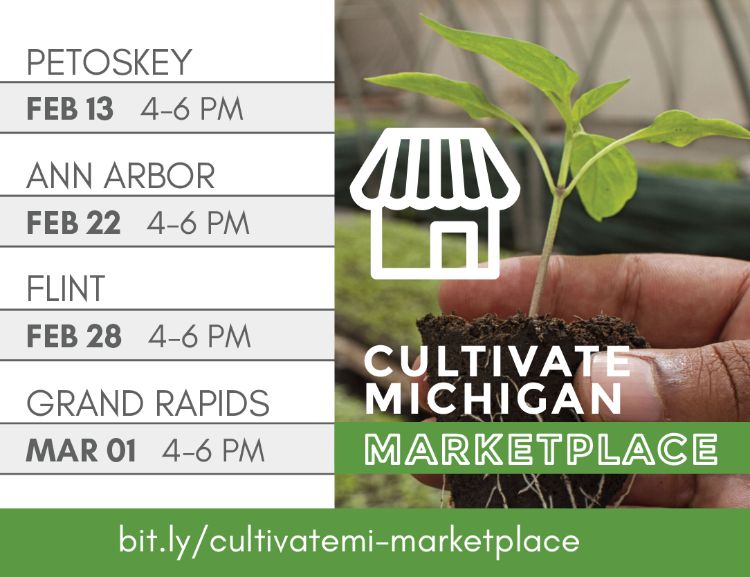 A series of four Cultivate Michigan Marketplace events will be held around the state this winter, planned to build connections between institutional food service buyers (schools, hospitals, early childhood and long term care facilities) and local and regional food suppliers (farmers, food hubs, processors, distributors). Intended for food service buyers and food suppliers of all sizes/capacities, the format will resemble a speed-dating networking opportunity, where buyers will be stationed at tables ringing the rooms, and suppliers/sellers will rotate to meet with buyers of their choice.
Cultivate Michigan is the institutional purchasing campaign of the Michigan Farm to Institution Network, and has the resources to help institutions find, buy and use local foods, enhancing local economies. Collaborating with many partners around the state, this series of Marketplace networking events provide the opportunity to build relationships and advance the use of Michigan-produced local foods, expanding markets for food grown, raised and process in the state.
These Cultivate Michigan Marketplace events will take place in Petoskey, Ann Arbor, Flint and Grand Rapids ranging from Feb. 13 - March 1, 2018. Click here for date and location details, including registration deadlines. These Marketplace events are free for both buyers and food suppliers to attend, but space is limited at the venues, so registration is required to secure a space at the table! You may register to attend one or all of these regional events.
This series of Cultivate Michigan Marketplace Events is brought to you with support from the USDA Farm to School Grant Program, the Michigan Department of Education, the Michigan Department of Agriculture and Rural Development and the Michigan Farm to Institution Network. Coordinators and hosts include the MSU Center for Regional Food Systems, Ecology Center, MSU Extension, Groundwork Center for Resilient Communities, and The Flint Fresh Food Hub. To learn more about Cultivate Michigan, visit cultivatemichigan.org.