Dairy Market Update, August 2012
Dairy fundamentals continue to strengthen as the national dairy herd shrinks.
Prices: On Friday, Aug. 24, 2012, spot prices for cheddar cheese blocks and barrels at the Chicago Mercantile Exchange (CME) were $1.8525/pound and $1.8025/pound, respectively. CME block and barrel cheese prices are up since late July (7/26/12), +$0.1350/pound for blocks and +$0.1075/pound for barrels. During the same time period, butter is up (+$0.1300/pound) to $1.8000/pound The CME Class III futures average (8/24/12) for 2012 was up (+$0.3741/cwt) to $17.40/cwt, the next 12-months was up (+$1.2875/cwt) to $19.17/cwt, and 2013 was up (+$0.6642/cwt) to $18.62/cwt. These Class III futures averages correspond to potential U.S. Department of Agriculture (USDA) Michigan mailbox prices of $18.39/cwt (2012), $20.16/cwt (next twelve months), and $19.61/cwt (2013). Figure 1 shows the current (8/24/12) CME Class III futures averages for 2012, the next twelve months and 2013 are at the 68, 75 and 83 percentiles, respectively.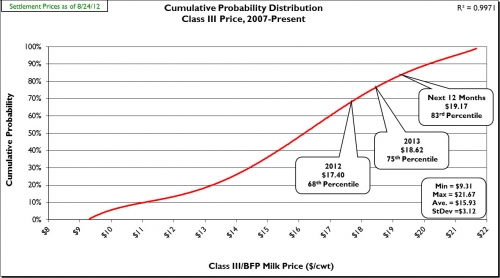 Figure 1: Cumulative probability graph of USDA announced Class III prices (2007-present) and current CME Class III futures averages.
Supply: In July, U.S. milk production increased below trend (+1.6 percent, 1995-2011) at +0.7 percent compared to July 2012 (+0.8 percent in top 23 dairy states). This marked the second consecutive month milk production grew below trend. July production in Michigan increased 4.1 percent compared to July 2011. The size of the U.S. dairy herd shrank by 12,000 head June to July and is down 44,000 head since April. Amazingly the five major western dairy states (Arizona, California, New Mexico, Washington, Idaho) are ahead of July 2011 by only 3,000 head. Nationally cow numbers are up by 29,000 head as compared with last July. Dairy cow slaughter numbers in 2011 ran well ahead of 2010, up 106,600 head, and are up in 2012 through July (+109,200 head). Average cull cow prices remain relatively strong in July at $84.60/cwt (+ 15 percent compared to July 2011). Milk production per cow in 2011 was below trend increase (+0.9 percent). However, it rebounded and averaged +2.6 percent January through May. June and July have shown the effects of hot summer weather with milk per cow up only +0.4 percent nationwide. USDA reported an increase in dairy feed prices in July of +12.7 percent compared with July 2011. However, CME corn and soybean meal futures are predicting even higher feed prices as corn and soybean meal futures prices are up 57 percent and 47 percent (respectively) since early to mid-June. July's milk:feed ratio was the lowest in history at 1.29.
Demand: Total commercial disappearance of dairy products for 2011 finished the year slightly below trend increase (+1.6 percent) at +1.5 percent. So far (January-May) 2012 is off to a slightly better start with total commercial disappearance up 1.8 percent. Total commercial disappearance and total cheese commercial disappearance set all-time monthly records January-March and May. However, both these numbers were down in April (-3.3 percent and -0.1 percent, respectively). The January through May disappearance of individual diary product categories was: American cheese, +1.8 percent; other cheese, +1 percent; nonfat dry milk, +35.4 percent; butter, +0.7 percent; and fluid milk (through June), -2.2 percent.
U.S. dairy trade has shown trade surpluses for 29 consecutive months. For June, U.S. dairy exports were valued at $440 million, down $63 million from May's all-time monthly record. June marked the sixteenth consecutive month exports exceeded $400 million and the twenty seventh consecutive month exports equaled 12-15 percent of total U.S. milk solids production. June exports equaled 14.4 percent of total U.S. milk solids production while January through June equaled 13.6 percent (as compared to 13.1 percent January through June 2011). So far in CY-2012 (January through June) U.S. dairy exports accounted for 45 percent of nonfat dry milk/skim milk powder produced in the U.S., 5.7 percent of cheese, 6.3 percent of butter, 49 percent of dry whey, and 66 percent of lactose.
Dairy Product Inventories: The latest USDA Cold Storage Report showed inventory decreases in July for American cheese (-2.3 percent at 634 million pounds) and total cheese (-3.8 percent at 1,043.4 million pounds) as compared with July 2011. July marked the fifth consecutive month total cheese inventory topped one billion pounds. July butter inventory was 23.5 percent above July 2011 at 232 million pounds, marking the twelfth consecutive month butter inventory was above the same month last year.
Outlook: Dairy fundamentals continue to show increasing strength as summer heat and drought negatively affect milk production through heat stress and higher feed prices. This potent combination resulted in a record number of dairy cows slaughtered in July (i.e., a record for July). The weekly slaughter report for the week ending 8/11/12 also showed an increase in dairy cow slaughter numbers of 4,100 head as compared to the same week last year.
U.S. dairy cow numbers are down 44,000 since April. Very importantly, dairy cow numbers in the five major dairy states in the west (Arizona, California, New Mexico, Washington, Idaho) are only 3,000 head above last July. Typically those states run 30,000 to 50,000 head above last year on a regular basis. Milk per cow growth the past two months is only +0.4 percent ahead of last year, plus component levels remain at low summer levels. Cull cow prices have fallen a bit as red meat production in July grew by about +4 percent as compared with last July. However, I expect above average dairy cow culling rates to continue as dairy producers are squeezed by record feed prices. Dairy producers in California are being hit particularly hard by the increase in feed prices. One major dairy accounting firm reported that 10 percent of its clients went out of business in the past one to two years and 20-30 percent are currently going through bankruptcy proceedings.
USDA measured feed prices were higher in July than last year (+12.7 percent versus July 2011), but promise to go much higher as corn and soybean meal prices have increased 57 percent and 47 percent (respectively) since early to mid-June. However, just as importantly, forage prices are also at historical highs as heat and drought have played havoc with hay and corn silage yields. A recent USDA report showed nationwide alfalfa/alfalfa mixed hay production down 16 percent (Michigan was down 17.5 percent). Thus, the word is out in some areas of Michigan that hay is approaching $400/ton and corn silage $80/ton or higher. I suspect forage prices in many areas of the country will match or exceed these levels. This should keep cow numbers, milk per cow and total milk production growth below trend well into 2013 and thus maintain higher milk prices. In fact, the USDA has reduced 2012 and 2013 milk production forecasts, because: Milk production is "reduced from last month as higher forecast feed prices are expected to pressure producer returns and encourage a more rapid decline in the cow herd. Milk per cow is also reduced due to tighter feed supplies."
The consumer confidence index rose to 65.9 in July as compared with 62.7 in June but remains far short of the 90 level which is indicative of a healthy economy. Total commercial disappearance figures for Jan-May are above trend (+1.8 percent) and set all-time monthly records for Jan-Mar and May. American cheese and total cheese inventories are both below last year (-2.3 percent and -3.8 percent, respectively). Butter inventory is well-above last year (+23.5 percent), but is not at an unmanageable level. As we move into fall, milk production will begin recovering (volume and components), but an increasing amount of milk will be utilized in the Class I market as schools open mid-August to mid-September. The block/barrel average price should remain healthy as lower cow numbers, the lingering effects of summer heat stress and high feed prices act as a governor on total milk production. I expect cheese prices to remain above $1.75 with butter prices in excess of $1.60. Hopefully we can sustain settled Class III prices in the $18 to $19 range through the end of the year. Dry whey futures prices are now at $0.60/pound or higher from October through December which holds the potential to support higher Class III prices than indicated by cheese prices. However, dairy producers should be careful in what they wish for. I recently talked with one producer who was forecasting $25/cwt Class III prices. In reality, that would be a disaster due to the negative effects such prices would have on commercial disappearance, both domestically and in our critical export market.
Plenty of dairy replacements remain available to grow the national dairy herd if producers decide to do so. Dairy cattle prices are mixed. Some local Michigan dairy cow sales indicate milking cow prices are softening, but other areas of the U.S. show strengthening prices. In the past, dairy producers have increased milk output in times of declining profit margins, at least for several months. However, the industry is facing unprecedentedly low milk:feed ratios that show no signs of letting up unless the 2013 crop year produces cheaper feed and/or milk prices go to unprecedented levels. The later scenario is unlikely to be sustained if it even takes place. Therefore, I believe it is unlikely that we will see milk production grow at or above trend levels for quite some time. The key number to monitor is dairy cow numbers. A consistent rise in dairy cow numbers will indicate whether or not the U.S. dairy producer thinks he/she can produce their way to profitability.
Overall the U.S. dairy export market remains strong at +20 percent versus 2011 levels and the largest bright spot in the dairy industry. June dairy product exports marked the sixteenth consecutive month U.S. dairy exports exceeded $400 million and June exports marked the twenty seventh consecutive month U.S. exports equaled 12-15 percent of U.S. total milk solids production. June exports were down 12.5 percent from May's all-time record, but were still valued at $440 million. Exports should remain strong as the U.S. dollar weakens and international demand for dairy products remains strong. Oceania's 2012-2013 production season is beginning with New Zealand forecasting a 4-5 percent gain in milk output over 2011-12 and Australia + 2 percent. Milk production in the European Union (EU) is up about two percent over the last year, but stocks of manufactured dairy products are not as plentiful as in past years. International dairy product prices have been increasing lately on unusually strong sales for this time of year as many buyers are quite concerned about the impact of the hot, dry weather on U.S. dairy product availability. The only cloud hanging over the export market is that due to the debt crisis concerns in many countries which could trigger another major worldwide recession. With uneven domestic dairy consumption, the current market is critically dependent upon maintaining high export volumes. Long term outlook for the export market is very bullish, but that doesn't preclude the potential for short term problems.
Producers need to sharpen their pencils, calculate their latest cost of production and market some milk if it fits your risk attitude and financial condition. I believe waiting for $25 Class III futures prices is a pipe dream. Class III prices may strengthen as we move into fall, but I would not expect any long-lived rallies at such high prices. The market is currently offering some good opportunities to forward price milk. I predicted last month that we would see $20 Class III into the fall and $18 - $19 Class III into 2013. That prediction has come true. But, as I stated last month, don't gamble on trying to hit the high and fail to pull the trigger on some forward pricing now. Don't hesitate to market small amounts of milk as the market continues to show strength and you will be much more successful in controlling milk price risk. Despite our current bullish market there remain several factors (i.e., unexpected decline in exports, financial crisis here or abroad) that could have a negative impact on prices. Remember: marketing is first about price risk management and secondarily about profit enhancement. Work at increasing your overall average milk price rather than trying to hit the market high. To view a narrated PowerPoint based on this report go to www.msu.edu/~thomasc and click on the button "Narrated PowerPoint" on the front page (available 8/30/12).