Dairy market update, March 2013
Dairy market fundamentals indicate dairy product and milk prices may not strengthen until mid-2013 as dairy cow numbers grow despite record culling.
Prices: On Thursday, March 28, 2013 spot prices for cheddar cheese blocks and barrels at the Chicago Mercantile Exchange (CME) were $1.6925/lb. and $1.5975/lb., respectively. CME block cheese prices are up since late February (2/25/13) +$0.0850/lb. while barrels were down -$0.0025/lb. During the same time period, butter is up (+$0.0600/lb.) to $1.6300/lb. The CME Class III futures averages (3/28/13) for 2013 were up (+$0.53/cwt) to $18.34/cwt, the next 12-months was up (+$0.57/cwt) to $18.35/cwt, and 2014 was up ($0.21/cwt) to $16.71/cwt. These Class III futures averages correspond to potential USDA Michigan mailbox prices of $19.35/cwt (2013), $19.36/cwt (next 12-months), and $17.72/cwt (2014). Figure 1 shows the current (3/28/13) CME Class III futures averages for 2013, the next 12-months, and 2014 are at the 73rd, 73rd, and 50th percentiles, respectively.
Figure 1: Cumulative probability graph of USDA announced Class III prices (2007-present) and current CME Class III futures averages.
Supply: In February U.S. milk production fell 0.05 percent as compared with February 2012. This was obviously below trend increase (+1.5 percent, 2007-2011), but it must be remembered February 2012 milk production was +4.4 percent as compared to February 2011. February marked the eighth time in the past nine months milk production grew below trend (+1.5 percent, 2007-2012). February production in Michigan increased 4.2 percent compared with February 2012. The size of the U.S. dairy herd continues to grow as dairy cow numbers increased by 2,000 head January to February and is up 36,000 head since last October. However, cow numbers in the major western dairy states (AZ, CA, NM, WA, and ID) continue to lag by 18,000 head as compared with February 2012. Nationally cow numbers are down by 32,000 head compared with February 2012. Dairy cow slaughter numbers in 2012 ran well ahead of 2011, up 187,200 head, and January/February was up 31,400 head as compared with January/February 2012. January set an all-time monthly high cull rate at an amazing 38.6 percent. Average cull cow prices have softened a bit, but remain historically high at $82.90/cwt (-1.5 percent compared with March 2012). Milk production per cow in 2012 grew above trend (+1.4 percent, 2007-2012) at +1.6 percent. Most of that growth occurred in the first six months (+2.3 percent) as compared to the last six months (+0.5 percent) as a combination of hot summer weather, high feed prices and lower quality forages took their toll. January/February milk per cow was only +0.5 percent as compared with January/February 2012. The USDA reports an increase in dairy feed prices in March of +11.6 percent compared with March 2012. The March milk:feed ratio, at 1.47, was below 2.00 for the 26th time in the past 28 months.
Demand: Total commercial disappearance of dairy products for 2012 finished the year slightly below trend (+1.5 percent, 2007-2012) at +1.4 percent. So far for CY-2013 (January) total commercial disappearance was up 2.4 percent. The January disappearance of individual dairy product categories was: American cheese, +4.3 percent; other cheese, +1.7 percent; nonfat dry milk, -53.3 percent; butter, -26.6 percent; and fluid milk, -1.5 percent (through December 2012) as compared with January 2012.
U.S. dairy trade has shown trade surpluses for thirty six consecutive months. For January, U.S. dairy exports were valued at $444.4 million, up 5.8 percent from December 2012 and up 4.4 percent from January 2012. January marked the twenty third consecutive month exports exceeded $400 million, and equaled 12.3 percent of total U.S. milk solids production (as compared to 13.2 percent for CY-2012). For CY-2013 (January) U.S. dairy exports accounted for 36 percent of nonfat dry milk/skim milk powder produced in the U.S., 5.2 percent of cheese, 4.8 percent of butter; 47 percent of dry whey, and 71 percent of lactose. Aggregate CY-2012 dairy export sales were +3 percent in volume and +8 percent in value vs. CY-2011, despite volume and value down by almost 10 percent in the second half of the year.
Dairy Product Inventories: The latest "USDA Cold Storage Report" showed inventory increases in February for American cheese (+5.1 percent, 666.7 million pounds) and total cheese (+4.5 percent, 1,072.4 million pounds) as compared with February 2012. February marked the third consecutive month total cheese inventory was above 1.0 billion pounds. The January to February increase in American cheese and total cheese inventories was the greatest since 2002 and 2000, respectively. February butter inventory was 17.1 percent above February 2012 at 240.3 million pounds, marking the nineteenth consecutive month butter inventory was above the same month last year.
Outlook: Dairy markets fundamentals are a mixed bag as U.S. milk production growth remains at or below trend (+1.6 percent, 1999-2013) for eight of the past nine months. Dairy cow numbers continue to climb with an increase of 2,000 head January to February despite continued high cull rates. The total slaughter number for January (296,000 head) was the highest monthly total since 1986 which was the year of the whole-herd buyout. Total U.S. replacement heifer numbers are down vs. last year, but export of U.S. dairy replacements has recently declined so adequate replacement heifers should be available to continue growing the national herd.
Despite historically high cull rates the U.S. dairy cow herd has grown each of the past four months. This may be the most important number to watch in the industry. It just doesn't seem logical the U.S. dairy herd can continue to grow in the face of record culling and strong export sales of U.S. replacement heifers. Cull rates have been strongest in western dairy states and that trend is likely to continue as those producers face narrower margins than producers in the major dairy states east of the Mississippi River. Look for cow numbers to continue a slow, but steady growth as we move through 2013.
USDA measured feed prices were higher in March than last year (+11.6 as compared to March 2012). On the CME feed prices are mixed over the past month with corn up (~50¢/bushel) and soybean meal down (~$20/ton). Forage prices are at historical highs as heat, drought, and reduced hay acreage played havoc with hay and corn silage production in 2012. The USDA reported U.S. average alfalfa hay price was at $219/ton for March. Also a recent USDA report showed nationwide alfalfa/alfalfa mixed hay production down 15.0 percent (Michigan was down 17.5 percent); the lowest production since 1953. Much of this decline is due to planting decisions and is unlikely to change the hay outlook very soon. Current long range weather forecasts are calling for above average temperatures for most of the U.S. from May through September and above average precipitation for spring and early summer in the Corn Belt and Great Lakes regions. A band of below normal precipitation for the same time period is forecast from California extending eastward along the Gulf Coast all the way to Florida. How we actually fare is another matter. If 2013 is even a near repeat of 2012, as far as crop moisture conditions are concerned, feed prices will be making headlines once again. Feed prices, quality, and availability; along with continued high cull prices and cull rates, should keep milk per cow and total milk output below trend well into 2013 and support stronger milk prices, especially during the second half of the year.
The consumer confidence index fell to 59.7 in March down from 68.0 in February and 73.7 in November, far short of the 90 level which is indicative of a healthy economy. One expert is forecasting restaurant traffic in the U.S. to pick up by 3 percent in 2013, but average spending per meal is forecast to drop 4.7 percent as consumers cope with the weak U.S. economic recovery. It is important to remember that more than 45 percent of cheese consumption occurs outside the home. Total commercial disappearance finished 2012 slightly below trend increase (+1.5 percent, 2007-2012), but started 2013 on a strong note with January at +2.4 percent as compared with January 2012. However, the recent strong growth in cheese inventories is probably more indicative of slumping consumption for February and March than increased milk production. However, we are entering the spring flush and anecdotal reports are indicating plenty of milk available for cheese production.
Overall the U.S. dairy export market remains strong. World dairy product prices have increased for each of the past five consecutive Global Dairy Trade (GDT) dairy product auctions that set international dairy product prices. GDT dairy product prices are now above U.S. domestic prices and should help keep our export markets strong. Poor season ending milk production in Oceania and lower than expected milk production in the EU should virtually guarantee strong exports for U.S. dairy products for the remainder of 2013. Lower milk production in Oceania may continue into next year as drought conditions have pushed dairy cow cull rates above historical highs. Further support for our export market is found in the forecast that international demand for dairy products remains strong; for example, China is forecast to increase dairy exports 14 percent in 2013. Therefore, as long as prices don't get too high (i.e., >$20 U.S. Class III price) we should be able to get U.S. dairy exports back into the 13-14 percent of total U.S. milk solids production range and keep them there. Long term outlook for the export market is very bullish, but that doesn't preclude the potential for short term problems. The USDEC continues to do an excellent job developing foreign markets for U.S. dairy products and helping foreign customers appreciate U.S. dairy products are among the safest, highest in quality, and most consistent; all of which bodes well for the continued development of the U.S. dairy product export market.
I expect the block/barrel average cheese price to weaken as we move into the full swing of the spring flush to perhaps the mid $1.50's with possible strengthening as exports grow stronger and domestic consumption potentially strengthens with the on-set of warmer spring weather. I do believe there is a good chance of stronger dairy product prices as we move into summer and fall of 2013 since U.S. milk production growth should remain below trend for the foreseeable future. I expect butter prices to strengthen as increasing amounts of cream move to ice cream production. The Passover/Easter/spring break season which stimulates stronger butter and Class II product sales at a time when the ice cream industry gears up to build inventory for summer sales is nearly over. Therefore, butter prices may top $1.70 again by early April. In the longer term look for 2013 average dairy product and milk prices to be very close to the high end of the current USDA forecast (see table below).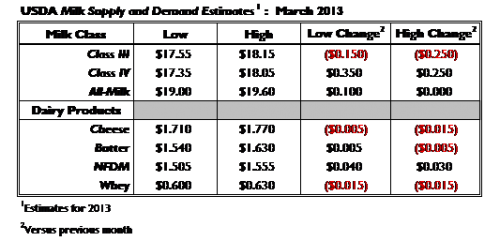 Producers should sharpen their pencils, calculate their latest cost of production and formulate their 2013-14 milk and feed marketing plan. The market consistently shows it is impossible to sustain Class III prices in the +$20 range for any length of time as both domestic and export commercial disappearance are negatively affected. So, don't wait hoping for consistent $20+ Class III prices. The USDA is forecasting record acreages of corn and soybeans for 2013 and a return to trend yields. Based on these assumptions, USDA economists are forecasting $4.80/bushel corn and $10.50/bushel soybeans for the 2013 crop. Sounds great, but what if those predicting a repeat of 2012 crop moisture conditions are correct? This uncertainty makes the development of a milk and feed marketing plan even more critical. I don't want to sound like a "chicken little" when it comes to feed prices, but I think this aspect of your marketing plan deserves very close scrutiny this year. As a Michigan State University Extension educator, I recommend that you don't procrastinate but get busy on your 2013 marketing plan now. Remember: marketing is first about price risk management and secondarily about profit enhancement. Work at increasing your overall average milk price rather than trying to hit the market high. To view a narrated PowerPoint based on this report go to www.msu.edu/~thomasc and click on the button "Narrated PowerPoint" on the front page.