Dairy Market Update, May 2011
Dairy market fundamentals and prices remain seasonally strong, but risk remains in the market.
Prices: On Wednesday, May 18, 2011 spot prices for cheddar cheese blocks and barrels at the Chicago Mercantile Exchange (CME) settled at $1.6675/lb and $1.6625/lb, respectively. CME cheese prices are up since mid-April (4/15/11) with blocks up $0.0400/lb and barrels up $0.0375/lb. During the same time period, CME spot butter price increased (+$0.0700/lb) to $2.0700/lb. CME Class III futures averages for 2011, the next 12 months, and 2012 were $17.28/cwt, $17.14/cwt, and $16.22/cwt, respectively. These Class III futures averages would correspond to potential USDA Michigan mailbox prices for 2011, the next 12 months, and 2012 of $18.27/cwt, $18.13/cwt, and $17.21/cwt, respectively. Figure 1 is a cumulative probability distribution of all USDA BFP/Class III monthly prices from 1995-present. The figure shows the current (5/18/11) CME Class III futures averages for 2011, the next 12 months, and 2012 are at the 91st, 90th, and 85th percentiles, respectively.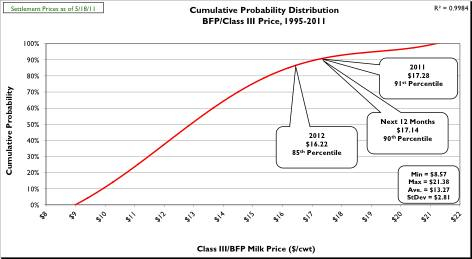 Supply: In April U.S. milk production increased below trend (+1.6%, 1995-2011) with April milk production +1.5% versus April 2010. April broke a string of ten consecutive months where milk production grew above trend increase. April production in Michigan was up versus April 2010 by +0.7%. The size of the U.S. dairy herd grew by 8,000 head from March to April, and was up 78,000 head versus April 2010. Dairy cow slaughter numbers in 2011 continue to run well ahead of last year, up 130,000 head compared to the same time frame last year (through 4/9/11). Average U.S. cull cow prices hit an amazing $79.80/cwt in April (+38.8% compared to April 2010). Milk production per cow January through April was slightly below trend increase. The USDA reported almost a 61% increase in dairy feed prices in April versus April 2010; however, income over feed costs are up 21% (+$1.29/cwt) due to an increase of $5.10/cwt in the "All-milk" price.
Demand:The USDA reports total commercial disappearance in 2010 increased 3.1% over 2009, well-above the 1995-2009 average increase (+1.6%). All categories of wholesale dairy products showed above trend increases in disappearance for 2010 except fluid milk products. Total commercial disappearance remains strong in 2011, up 4.8% through February. Through February, disappearance of individual product categories was: American cheese, +7.1%; other cheese, +8.6%; nonfat dry milk, +18.7%; butter, +11.3%; and fluid milk, -1.0%. U.S. dairy exports for 2010 totaled $3.71 billion in value, up 63% from 2009. U.S. dairy exports in 2010 represented a record of 12.8% of total U.S. milk production on a total solids basis. Dairy imports in 2010 were the lowest since 1997. U.S. dairy product exports in 2010 represented the following percentages of national production for each given product type: NDM/SMP, 47%; dry whey, 55%; lactose, 68%; cheese, 3.7%; and butterfat, 7.9%. U.S. dairy exports continue strong in 2011 with January, February and March 2011 totaling $335 million, $348 million and $421 million; +49%, +55% and +48% versus January, February and March 2010. January through March exports were equivalent to 13.2% of total U.S. milk solids production; while imports were equivalent to only 2.8% (very near record lows). So far in FY-2011 (Oct-Mar) U.S. dairy exports are valued at $2.114 billion (+48% versus FY-2010) with a dairy trade surplus of $659 million.
Dairy Product Inventories: The latest USDA Cold Storage Report showed inventory increases in March for American cheese (+2.0% at 614.1 million lbs.) and total cheese (+2.8% at 1,033.2 million lbs.) compared to March 2010. Both cheese inventories set all-time March highs, but were the lowest increases versus the same month in the previous year in many months (American cheese, June 2009; total cheese, November 2008). March butter inventory was 26.3% below March 2010, marking the fifteenth consecutive month butter inventory has been below the same month last year.
Outlook: Wholesale dairy product prices have increased over the past month, and remain well-above historical averages for this time of year. Chicago Mercantile Exchange (CME) Class III futures prices remain very strong. In fact, the 2011, next 12 months, and 2012 average prices have strengthened +$0.14/cwt, +$0.13/cwt, and +$0.15/cwt, respectively. April through June marks the spring flush of milk production in the U.S. which typically results in the lowest dairy product and milk prices of the year. Also, schools will soon be closing for summer break which will decrease fluid milk needs and release more milk to manufacturing plants. All dairy product wholesale prices and milk class prices should remain well-above historical averages for all of 2011, but expect all wholesale product prices and Class III prices to decline over the next 6-8 weeks. High feed and record cull cow prices should limit the growth of the U.S. dairy herd in 2011 and keep milk per cow growth at or below trend. As long as the U.S. dairy export market retains its current strength, dairy producers will be rewarded with milk prices well-above historical averages. The current CME Class III futures average ($17.28/cwt) for 2011 is at the 91st percentile of historical Class III prices (1995-present). This means that only about 9% of the monthly actual Class III prices since 1995 have been higher than $17.28/cwt. Although a crash in Class III prices is not anticipated, there is risk in the market. Most of this risk is on the demand side. Recent history has shown us that world events, whether natural, political, or economic; can have dramatic negative effects on commodity markets. With this in mind, dairy producers should give serious consideration to using price risk management tools (e.g., futures contracts, forward contracts, put options) to market some of their 2011 milk production and reduce their milk price risk exposure. Producers should calculate their latest cost of production and market milk in proportion to their risk attitude and degree of overall financial risk. Remember: milk marketing is about price risk management first; profit enhancement is only a secondary consideration. Visit my website for a full report and other dairy marketing information. For help calculating your cost of production send me an email.
You Might Also Be Interested In