Dairy Market Update, November 2011
Dairy fundamentals suggest a great deal of risk remains in the market.
Prices: On Friday, November 18, 2011, spot prices for cheddar cheese blocks and barrels at the Chicago Mercantile Exchange (CME) were $1.8325/lb and $1.8700/lb, respectively. CME block and barrel cheese prices are up since late October (10/21/11), +$0.1125/lb and $0.1800/lb, respectively. During the same time period, butter is down (-$0.2125/lb) to $1.6475/lb. CME Class III futures averages (11/18/11) for 2011, next 12 months, and 2012 were up (+$0.2342/cwt, +$0.3167/cwt, +$0.3725/cwt, respectively) to $18.33/cwt, $17.19/cwt, and $16.90/cwt, respectively. These Class III futures averages correspond to potential USDA Michigan mailbox prices for 2011, next 12 months, and 2012 of $19.32/cwt, $18.18/cwt, and $17.89/cwt, respectively. Figure 1 is a cumulative probability distribution of all USDA BFP/Class III monthly prices from 1995-present. The figure shows the current (11/18/11) CME Class III futures averages for 2011, next 12 months, and 2012 are at the 92nd, 88th, and 87th percentiles, respectively.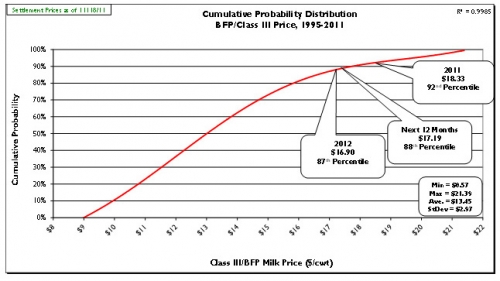 Figure 1: Cumulative probability graph of USDA announced monthly BFP/Class III prices (1995-present) and current CME futures averages.
Supply: In October U.S. milk production increased above trend (+1.6%, 1995-2011) at +2.1% compared to October 2010 (+2.5% in Top 23 dairy states). October was the third consecutive month milk production grew above trend increase. October production in Michigan increased 3.0% compared to October 2010. The size of the U.S. dairy herd grew by 9,000 head from September to October and is up 96,000 head versus October 2010. Dairy cow slaughter numbers in 2011 continue to run well ahead of last year, up 101,600 head compared to last year (through 10/29/11). Average U.S. cull cow prices are softening, but remain relatively high in October at $63.30/cwt (+20.6% compared to October 2010). Milk production per cow for January through October was below trend increase (+0.7%); however, it has rebounded nicely from the July heat-induced decline. USDA reported an increase in dairy feed prices in October of 48.8% compared with October 2010. October's income over feed costs was down 5.1% (-$0.40/cwt) as compared with October 2010.
Demand: USDA reports total commercial disappearance in 2010 increased over 2009 (+3.3%), well-above the 1995-2009 average increase (+1.6%). All categories of wholesale dairy products showed above trend increases for 2010 except fluid products. Total commercial disappearance for 2011 has weakened and is below trend increase (+1.3%) through August. All-time monthly records were set for January, February, March, April; but May through August was down 0.9% compared to May through August 2010 despite August setting another all-time monthly record. January through August disappearance of individual product categories was: American cheese, +1.0%; other cheese, +4.7%; nonfat dry milk, -3.3%; butter, +10.0%; and fluid milk, -1.5%.
U.S. dairy exports have been strong in 2011 with fiscal year 2011 (Oct-Sep) exports valued at $4.607 billion with a dairy trade surplus of over $2 billion. Calendar year 2011 (Jan-Sep) exports were equivalent of 13.3% of total U.S. milk solids production as compared to 12.4% for the same time period in 2010. Imports for CY-2011 were equivalent to only 2.8% of total U.S. milk solids production (the lowest since 1996). September dairy exports equaled 13.3% of total U.S. milk solids production down from 14.7% in September 2010. In the first nine months of CY-2011 (Jan-Sep) exports accounted for 49% of NFDM/SMP produced in the U.S., 4.7% of the cheese, and 8.7% of the butter.
Dairy Product Inventories: The latest USDA Cold Storage Report showed inventory decreases in September for American cheese (-1.1% at 632.6 million lbs.) and total cheese (-1.3% at 1,040.0 million lbs.) compared to September 2010. American cheese inventories set all-time monthly highs for each of the months from January through May, July, and August. September butter inventory was 16.3% above September 2010, marking the second consecutive month butter inventory was above the same month in the previous year.
Outlook: The normal fall holiday sales season (Thanksgiving and Christmas) will be winding down very soon. The recent strength in cheese prices was not entirely unexpected, but that it reached over $2.00/lb was unexpected by most in the industry. The rise in cheese prices has also translated into higher Class III futures prices. CME Class III futures averages for 2011, next 12 months, and 2012 are up $0.2342/cwt, $0.3167/cwt, and $0.3725/cwt, respectively. Dairy exports remain strong, but are unlikely to increase significantly.
Feed prices continue to moderate but USDA-measured feed prices for October were up 48.8% compared with October 2011. Compared to last October corn prices are down $0.45/bu at $5.92/bu, soybeans are down $0.30/bu at $11.90/bu, but alfalfa hay prices are up $7.00/ton at $203/ton. October income over feed costs were down 5.1% (-$0.63/cwt) compared with October 2010. USDA reports U.S. average milk cow prices in October were up $150/hd at $1480/hd, but industry reports indicate good quality dairy cattle are selling for $1,825 to $2,300/hd. Cull rate remains above trend, but I look for the national dairy herd to continue growing.
As the normal fall holiday sales season for dairy products winds down in late November and early December look for cheese prices to drop to $1.65/lb or lower and for butter prices to stabilize in the $1.50/lb range. These dairy product prices will necessitate a retraction in Class III futures prices so that front months will most likely be in the low to mid $16.00/cwt range. Hence, current Class III futures prices are offering strong selling opportunities for dairy producers. It now appears likely that additional funds will be allocated to the Livestock Gross Margin-Dairy insurance program. However, these funds will probably evaporate quite quickly due to the enhanced popularity of the program. Furthermore, dairy producers should be reminded that just because one purchases LGM-Dairy insurance does not mean that they should not use futures, options or forward contracts to protect milk and feed prices.
You Might Also Be Interested In