Dangerous currents in the Great Lakes
Tips for safely enjoying Michigan's beautiful beaches.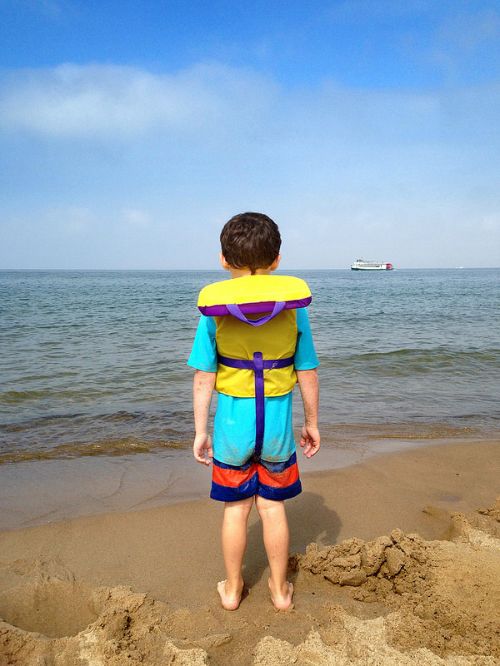 Residents of the Great Lakes are lucky to have many beautiful beaches to enjoy. However, it is important to recognize the risks of dangerous currents while taking advantage of recreation opportunities. Across the United States 80 percent of life guard rescues are related to rip currents. These currents are not only a problem in the ocean. In fact rip currents and other dangerous currents occur frequently in the Great Lakes. Between 2005 and 2015 there were 126 deaths and 302 rescues related to dangerous currents in the Great Lakes. Michigan State University Extension and Michigan Sea Grant are involved in a number of research efforts and public awareness campaigns to promote beach safety across the region.
Tips for identifying dangerous currents
Typically, dangerous currents form close to structures in the water like piers, docks and sand bars. There are several types of dangerous currents. One of the most common is the rip current. A rip current functions like a fast river that flows away from the coast at up to 5 miles per hour, faster than an Olympic swimmer is capable of swimming. Often rip currents can be identified as an area of calm water on a wavy day. You may see materials like sand or sticks flowing away from the coast towards the open lake or a strip of different colored water. While sometimes dangerous currents are visible, often they cannot be seen. Swimmers should be prepared by following the following recommendations.
Tips for safety beach safety
Small children should use life vests.
Pay close attention to children when they are on the beach.
Always have a flotation device on hand.
Never swim alone. Swim with a friend or close to other people.
Pay attention to the safety flags. A red flag indicates a high risk of dangerous currents and means you should stay out of the water.
Tips for swimmers trapped in dangerous currents
Remain calm.
Conserve your energy and do not fight against the current.
As soon as you are able, return to the shore by first swimming parallel to the shore to escape the current. Dangerous currents are often narrow and flow perpendicular to the shoreline. If you are too tired to make it back to shore yell for help and wave, float and remain calm.
Tips for helping others
There are many cases of people that die trying to rescue someone caught in a dangerous current. If you see someone caught in a current it is important to take action quickly but carefully.
Notify a lifeguard immediately.
If there is no lifeguard available call 911. Give a detailed description of your location. This information will help responders locate you quickly.
Throw a flotation device or something that floats like a cooler to the person in danger and yell instructions for how to escape the current.
Before visiting the beach you should always check the local weather and wave forecast. When at the beach pay attention to changes in the weather like strong wind or waves.
For more information on dangerous currents in the Great Lakes visit dangerouscurrents.org or currentsmart.org.
Michigan Sea Grant helps to foster economic growth and protect Michigan's coastal, Great Lakes resources through education, research and outreach. A collaborative effort of the University of Michigan and Michigan State University, Michigan Sea Grant is part of the NOAA-National Sea Grant network of 33 university-based programs.
This article is available in Spanish.
Este artículo está disponible en español.