Danish garden center trends: Topiaries, training and trellising plants
Training the growth of plants can reinvigorate a stagnant product category.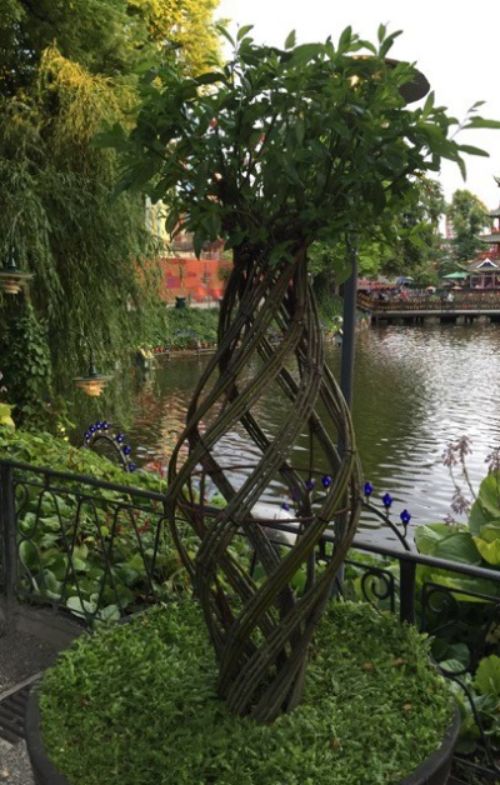 Garden center retailers sometimes see that the market for some types of plants becomes stagnant. For example, the gross sales of foliage plants for indoor or patio use grown in pots declined by 2.3 percent between 2012 and 2013 and by another 1.4 percent from 2013 to 2014, according to the USDA's 2013 and 2014 Floriculture Crop Summaries. American growers and retailers will then need to reinvent the product category to spark more sales. While attending the International Garden Center Congress held in Denmark, participants observed that every garden center on the tour showcased many species of plants that had been trained, trellised or pruned into topiaries. Danish retailers are revamping nursery stock and houseplants by altering their growth habits to provide products with unusual or manicured shapes to pique the interest of soon-to-be consumers.
Outdoor plants and nursery stock
Pruning and manipulating the growth habit of outdoor nursery plants was extremely common in Danish garden centers. Retailers are creating elaborate designs with plants (Photo 1) to add interest to container gardening. These trained plants added dimension, novelty and extravagance to the garden. Garden centers were also selling trees trellised and pruned to be flat on the bottom (Photo 2).
Very close by, retailers showcased to their consumers how the tree would fill out in a demonstration garden (Photo 3). Demonstration gardens provide consumers with inspiration of how to duplicate the design in their own spaces. Other common nursery plants, such as arbor vitae, willows, junipers and spruce, were pruned into topiaries (Photo 4). These topiaries also reflect the desire for sleek, manicured design in gardens in Denmark. These stylized plants are ideal for younger consumers and are well suited for smaller spaces in which younger, and some older, customers now live.
Houseplants
Houseplants are an important market for Danish retailers. According to an Ornamental Plants Market Study of the western European market from 1998, consumers in Denmark and Germany spent the most on potted plants in the European Union, an average of $40 per person per year. Based on my experience, houseplants are still an important part of Danish culture as you can almost always see potted plants on the windowsills of homes (Photo 5) and even on the windowsills of train stations.
Many of the houseplants were also trained to grow into unique shapes. The spikes of phaleonopsis orchids were curved around a heart-shaped wire (Photo 6). This product would be ideal for the American market as sales approached $19 billion in 2015 according to an article by U.S. News and World Reports. Similarly, Ceropegia was trained to grow around a circular wire (Photo 7). Also, a variety of mother-in-law's tongue (Sansevieria) was commonly braided to create a cute houseplant (Photo 8).
Michigan State University Extension recommends growers and retailers interested in distinguishing themselves from the competition and finding a niche market should consider these exciting Danish garden center trends. Offering consumers unique products will ensure a repeat buyer at your garden center.
For information on other ways Danish garden centers are attracting customers, check out "Twelve ways Danish garden centers enhance their consumer's experience."