De Grins Oer Dairy in Blanchard will host July 29 Breakfast on the Farm
Looking for a free, fun educational farm tour? Mark your calendars for July 29 when Michigan State University Extension and De Grins Oer Dairy partner to give consumers a taste of modern dairy production.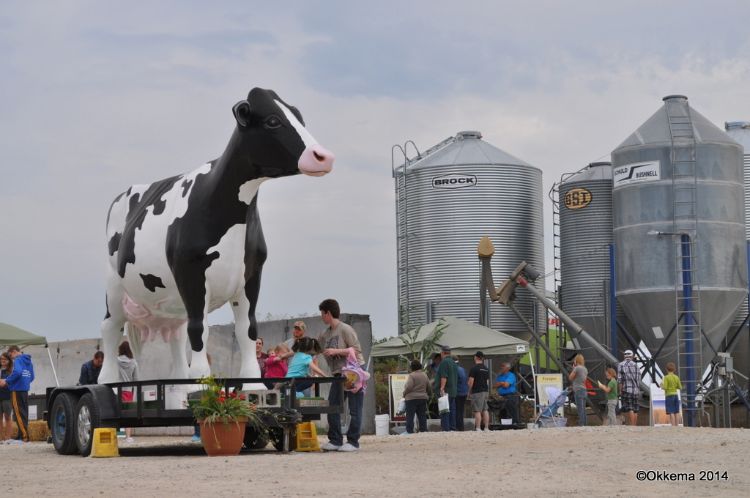 Breakfast on the Farm is a free, fun and educational event that provides an up-close look at modern agriculture. Rain or shine, the Okkema family of De Grins Oer Dairy in Blanchard will welcome visitors to their farm on July 29 from 9 a.m. to 1 p.m. A farm-cooked pancake breakfast will be served until 12 noon. After enjoying breakfast visitors will set foot on a self-guided walking tour of the modern dairy with educational stops along the way.
Since 2009, MSU Extension Breakfast on the Farm events have connected consumers with farmers to demonstrate how farmers care for animals, protect the environment and produce safe and nutritious food. Since its creation, more than 91,000 people have attended these events throughout Michigan. The events offer an opportunity for people to learn firsthand how their food is produced by meeting the farmers who do it. From calves all the way through to milk safety, participants see how farmers tend to the needs of their cows while keeping animal health and care at the forefront.
The Okkema family are experienced hosts and this year, they are excited to showcase the renovations they've made on their farm since first hosting Breakfast on the Farm in 2014. The most recent addition is a rotary milking carousel parlor with a robot that sprays and cleans the cows after milking. This investment supports the farm's ever-present commitment to cow health, milk quality and safety.
There will be many other highlights during the tour including seeing calves, cows, sheep and large farming equipment; learning about cow housing and care; riding aboard a horse-or tractor-pulled wagon and other surprises. Children will have the opportunity to participate in a kid's quiz scavenger hunt and other fun activities on the farm. Before leaving, all visitors will be treated to a delicious dairy ice cream treat.
Breakfast on the Farm is free, but tickets are required to eat breakfast. Tickets will be available online at events.anr.msu.edu/BOTF23/ and at various locations in central Michigan beginning June 29. A list of ticket locations can be found at www.canr.msu.edu/breakfast_on_the_farm/find_a_breakfast.
The program is funded by generous local donors and these statewide sponsors: Corn Marketing Program of Michigan, Dairy Farmers of America, Dairyland Seed, Michigan Wheat Program, Michigan Soybean Committee, Farm Bureau Insurance, GreenStone Farm Credit Services, Michigan Farm Bureau, Michigan Foundation for Agriculture, Michigan Milk Producers Association and United Dairy Industry of Michigan.
For more information about Breakfast on the farm, visit www.breakfastonthefarm.com. For questions, contact Ashley Decker at 586-469-7616, kuschela@msu.edu or Mary Dunckel at 989-354-9875, dunckelm@msu.edu.