Dealing with harvest ruts? Then tune in to the first Virtual Breakfast of 2020!
MSU's Tim Harrigan discusses strategies to deal with rutted fields ahead of spring planting on the April 16, 2020, Field Crops Virtual Breakfast meeting.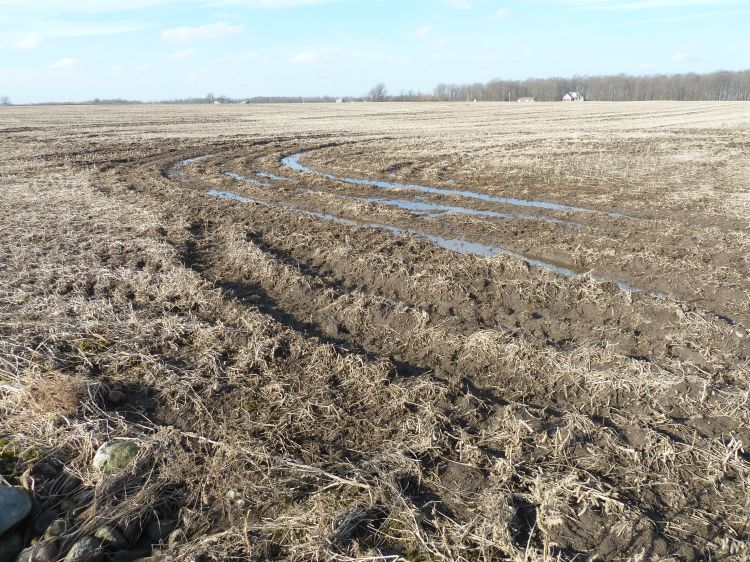 The 2019 harvest conditions will not soon be forgotten. As spring planting approaches, for many farmers this means deciding what to do with your rutted fields. There is no easy fix, but there are ways to reduce the problems associated with ruts before the 2020 planting season begins. Join us for the Michigan State University Extension Field Crops Virtual Breakfast on April 16, 2020, from 7-7:30 a.m. when MSU Extension specialist Tim Harrigan will discuss strategies to manage rough soil conditions.
Farmers will need to think through the fundamentals of tillage and consider the following questions: What are your soil conditions? Do you have deep ruts and compaction? What are your short-term goals to get the crop planted this spring? What should your long-term goals be to manage deep compaction? These and other questions will be discussed on the first Field Crops Virtual Breakfast of the 2020 season.
The Field Crops Virtual Breakfast sessions are held every week during the growing season via Zoom. These virtual meetings take place every Thursday morning from 7-7:30 a.m. from April 16 through Sept. 10, 2020.
Participating is easy and free! You can join the live meeting via Zoom using a computer, tablet, mobile device or regular phone line. If you are new to Zoom, simply download the Zoom app and you will be ready to join online every week to see visuals shared by presenters. A call-in by phone option is also available but note that you will only hear the audio portion.
Participants must sign up to receive an email notification with instructions for joining the Virtual Breakfast. You only need to do this once and you will receive the Zoom link and call-in phone number, as well as weekly reminders every Wednesday. Participants receiving emails can opt in or out at any time.
Sign up to receive Virtual Breakfast Zoom information
If you are unable to sign up online, call the Lapeer County MSU Extension office at 810-667-0341.
Follow MSU Extension Field Crops Team on Facebook, Twitter, Spotify, Apple Podcasts and YouTube and for breaking news.