Defining sustainable agriculture
During the upcoming Michigan Ag Commodities Educational Expo Dr. James McCarty will help farmers define sustainable agriculture and understand how sustainability may impact future production.
James McCarty from the Center for Agricultural and Rural Sustainability, University of Arkansas will be one of the featured speakers at the upcoming Michigan Ag Commodities Educational Expo. Dr. McCarty will be giving a presentation titled "Measuring what matters in sustainable agriculture".
The term sustainable agriculture may have been co-opted and thought to infer only certain production and cultural practices. In an online PowerPoint presentation, Dr. Marty Matlock, also from the Center for Agriculture and Rural Sustainability, provides five points he feels define what should be considered as sustainable agriculture:
Meeting the needs of the present while enhancing the ability of future generations to meet their needs

Increasing productivity to meet future food demands

Decreasing impacts on the environment

Improving human health

Improving social and economic health of agriculture communities
Current world population growth projections estimate a world population of 9.25 billion people by 2050. If increasing financial resources in developing nations are combined with the increased world population, some estimates point to doubling the world food needs also by 2050 (Keystone, 2009). Dr. Matlock establishes the goal for sustainable agriculture as "feeding 9.25 billion people without one more hectare of land and not one more drop of water".
The Keystone Center for Public Policy brings together leaders in public, private and civic sectors to solve problems and promote good public policy. The Center's Field to Market Alliance for Sustainable Agriculture is a diverse group representing producers, agribusiness, food companies and conservation organizations. The Alliance partners include Monsanto, Bayer Crop Science, John Deere, The Nature Conservancy, Natural Resources and Conservation Service (NRCS) and World Resources Institute as an indication of the diversity of opinion represented by the alliance's membership. Field to Market defines sustainable agriculture as "meeting the needs of the present while improving the ability to feed future generations focusing on increasing agriculture productivity while decreasing environmental impact, improving human health through access to safe, nutritious food and improving social and economic well-being of rural communities," a very similar definition to Dr. Matlock's five points. An important component of the Alliance's mission is to be "grounded in science, focused on outcomes and open to the full range of technology choices".
The Alliance's first report dated January 2009 (Keystone, 2009) identified 17 metrics they felt could be evaluated and were important to measuring the sustainability of current production practices. The five metrics that were evaluated thus far and included in the 2009 report are:
Land use indicator

Soil loss indicator

Water indicator

Energy use indicator

Climate impact indicator
In this first report the alliance reported on four crops: corn, cotton, soybeans and wheat. The four crops were selected because, according to the report, they represent a majority of all crops harvested in U.S. While the report does not provide benchmarks for achieving sustainability, it does provide data for measuring improvements, or lack of progress, over time. Based on unit of production the 2009 report shows improvement has been made in most indicators for the four crops across the 20 years included in the study. This report confirms progress is being made towards increased yields utilizing fewer inputs and a more sustainable food production system. The spidergraph below shows the extent of improvement for United States production of soybeans.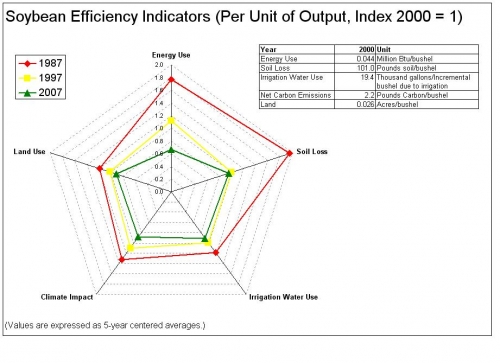 The nitrogen cycle and agricultures contribution to reactive N (Nr) is one threat to sustainable production. Rockström et al (2009) proposes there are nine earth systems that must be kept within boundary limits to ensure a safe planetary system for future generations. Rockström's identified systems are:
Climate change

Ocean acidification

Stratospheric ozone depletion

Nitrogen and phosphorus cycles

Global freshwater use

Change in land use

Biodiversity loss

Atmospheric aerosol loading

Chemical pollution
Rockström reports three of the nine systems have already exceed his estimated boundary limits; climate change, biodiversity loss and the nitrogen cycle (at the time of his report atmospheric aerosol loading and chemical pollution had not been reported).
Agriculture, with its dependence N for the production of food, fiber and fuel, is a significant contributor to Nr in the environment. Outside of its productive uses the increasing levels of Nr in the environment are leading to environmental concerns. Nitrate, NO3, has long been a concern in ground water, excess Nr contributes to eutrophication and algae blooms in lakes and coastal areas, nitric oxide (NO), and nitrogen dioxide (NO2), collectively referred to as NOx, contribute to smog and haze, nitrous oxide (N2O), is a greenhouse gas with 298 times the global warming potential of carbon dioxide and ammonia (NH3) deposition has been associated with the undesirable changes in forest growth. For more information on N in the environment see What is Reactive Nitrogen and Why Should I Care.
For more on sustainable agriculture and other issues important to Michigan agriculture be sure to attend the January 26, 2012 Michigan Ag Commodities Educational Expo (MACEE). The Expo will be held from 9:00am to 3:30pm at the Lansing Center, Lansing, MI. Early registration is $75.00 through January 5, 2012 and $90.00 thereafter. To register for the Expo go to: http://bit.ly/MACEE.
Sources:
Keystone, Keystone Alliance for Sustainable Agriculture, Available online at:
http://www.keystone.org/spp/environment/sustainability/field-to-market
Keystone, 2009, Environmental Resource Indicators for Measuring Outcomes of On-Farm Agricultural Production in the United States, Available online at:
http://keystone.org/files/file/SPP/environment/field-to-market/Field-to-Market_Environmental-Indicator_First_Report_With_Appendices_01122009.pdf
Matlock M., Sustainable agriculture: Measuring what matters, Available online at: http://www.usarice.com/doclib/233/4940.pdf
Rockström, J., W. Steffen, K. Noone, Å. Persson, F. S. Chapin, III, E. F. Lambin, T. M. Lenton, M. Scheffer, C. Folke, H. J. Schellnhuber, B. Nykvist, C.A. de Wit, T. Hughes, S. van der Leeuw, H. Rodhe, Sverker Sörlin, P.K. Snyder, R. Costanza, U. Svedin, M. Falkenmark, L. Karlberg, R. W. Corell
http://www.nature.com.proxy2.cl.msu.edu/nature/journal/v461/n7263/full/461472a.html - a19, V. J. Fabry, J. Hansen, J. A. Foley, 2009, A Save Operating Space for Humanity, Nature, 46, 472- 475. September 24, 2009
Did you find this article useful?
---