Demonstrating composting with paper mill residuals
Paper mill residuals are a soil amendment available to farmers in Michigan's Upper Peninsula.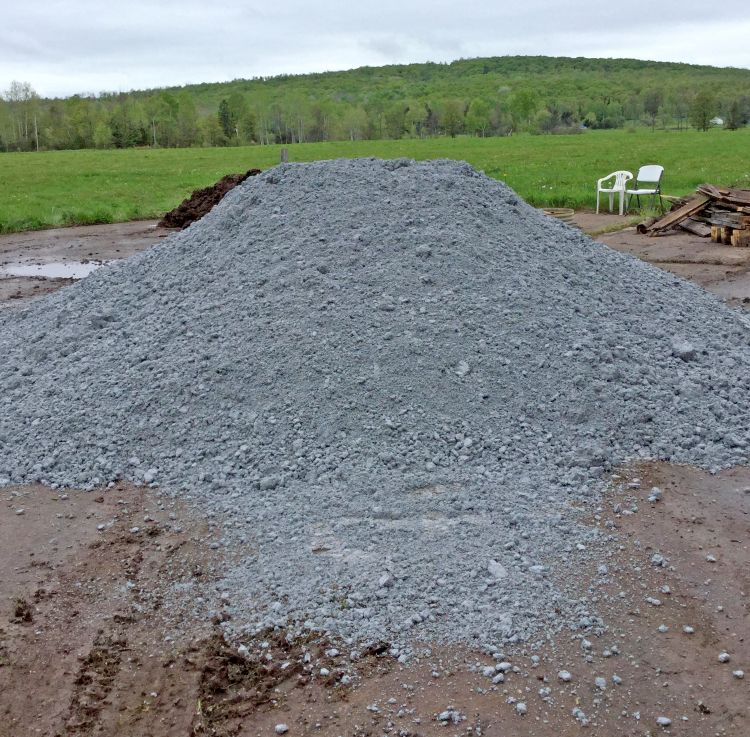 Paper mill residuals, commonly referred to as mill sludge, are a product of the wastewater treatment process of wastepaper recycling, wood pulping and papermaking. The residuals available to Michigan's Upper Peninsula farmers are produced at three different mills: Resolute Forest Products in Menominee County, and Verso in Delta and Dickinson counties. To learn more about paper mill residual products, see my article "Paper mill residuals: Free soil amendment available to Upper Peninsula farmers."
Michigan State University Extension coordinated and carried out a demonstration trial on a cooperating farm in Pelkie, Michigan, to investigate the feasibility of composting paper mill residuals with manure. Resolute donated the paper mill residual and provided funding for this composting trial. Resolute Forest Products recycles waste paper to produce pulp that is sold to other mills to manufacture paper products.
The paper mill residual was delivered to the cooperating farm on May 31, 2017, weighing 38,920 pounds. Two equal volume piles were created with the residual and manure provided by the cooperating farm. The three treatments included a pile of one part residual and two parts manure (1R2M), a pile of one part manure and two parts residual (2R1M) and a pile of manure.
The manure treatment was composed of manure and bedding mixture from a beef pack. The 1R2M pile was two-thirds manure and one-third residual by volume account for approximately 25,000 pounds of the residual. The 2R1M pile was two-thirds residual and one-third manure accounting for approximately 13,000 pounds of residual.
Random sampling of the piles took place at the beginning and end of the trial to test for nutrient content (Table 1), carbon content (Table 2) and lime content (Table 3). Temperatures and turning of the piles happened one to three times a week depending on the weather. Pile temperatures started at 70 degrees Fahrenheit but rose to 115 F by the end of June. Greater than normal rainfalls occurred in Pelkie in July, putting a damper on our temperatures and microbial activity. Piles were covered in late July, allowing the piles to dry out with hopes of completing the trial. Temperatures did rise again, reaching internal temperatures of 115–120 F for the residual piles and 150 F for the manure pile on Aug. 9. Final sampling took place Aug. 25.
A 60 percent reduction in volume was estimated for the residual piles. The 1R2M was more homogeneous, making it hard to pick out the residual portion. The 2R1M pile still had a blue tinge and the residual portion was easy to pick out. The reduction or volume and change in texture (Photos 1-2) was not apparent until August. The carbon to nitrogen ratio directly effects the amount of available nitrogen, causing nitrogen to be tied up when large amounts of carbon are applied. Having a smaller portion of residual did improve the carbon to nitrogen ratio (Table 2).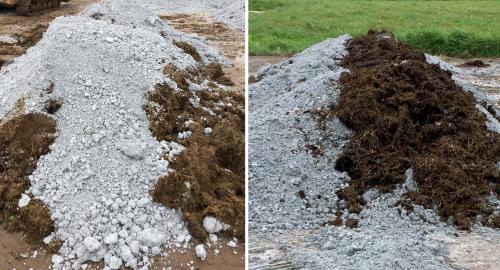 To assist with the breakdown of residuals, consider the application type, timing and amount of nitrogen needed to compensate for the large flush of carbon. The residual component included a liming component with a low neutralizing value and calcium carbonate that would be available in small amounts over a long period of time (Table 3).
The composted residual piles and manure pile were applied in replicated strips to a hay field. Forage yield samples will be collected in the spring of 2018.
For questions, call or email Monica Jean at 906-786-3032 ext. 106 or atkinmon@anr.msu.edu .
Table 1. Nutrient content summary for 1R2M, 2R1M and manure plus bedding (manure).

Nutrient/value

Manure

2M1R

1M2R

Start

End

Start

End

Start

End

Nitrogen, %

1.16

-0.09

1.14

-0.03

0.87

-0.06

Phosphorus, %

0.25

+0.02

0.2

0.0

0.13

-0.02

Potassium, %

1.5

-0.4

1.13

-0.31

0.59

-0.05

Sulfur, %

0.11

+0.01

0.11

+0.01

0.08

+0.01

Boron, ppm

13.0

+10.0

14.0

+5.0

9.0

+5.0

Bulk density, g/cc

0.27

-0.01

0.27

+0.13

0.41

+0.12
ppm = parts per million
g/cc = grams per cubic centimeter
Table 2. Carbon report summary for 1R2M, 2R1M and manure plus bedding (manure).

Nutrient/value

Manure

2M1R

1M2R

Moisture, %

63.6

54.7

43.9

Organic matter, %

47.2

34.1

26.7

Carbon, %

24.4

19.8

15.5

Carbon to nitrogen*

25:6

17:8

19:1
*Carbon to nitrogen ratio of approximately 20:1 is dividing line between immobilization and mineralization.
Table 3. Liming report* summary for 1R2M and 2R1M.

Nutrient/value

2M1R

1M2R

Neutralizing value, %

48.1

55.6

Moisture, %

54.2

44.3

Calcium, %

9.1

14.4

Magnesium, %

0.6

0.6

CaCO3, pounds per cubic yard

371

522
*To be approved for the use in Agricultural Conservation Programs, the minimum requirements are: Lime—80 percent neutralizing value; or Marl—800 pounds CaCO3 cubic yard.