Dennis Fulbright receives Chestnut Pioneer Award from chestnut industry
The Midwest Nut Producers Council honored Dennis Fulbright, Michigan State University professor emeritus, at their annual meeting in March.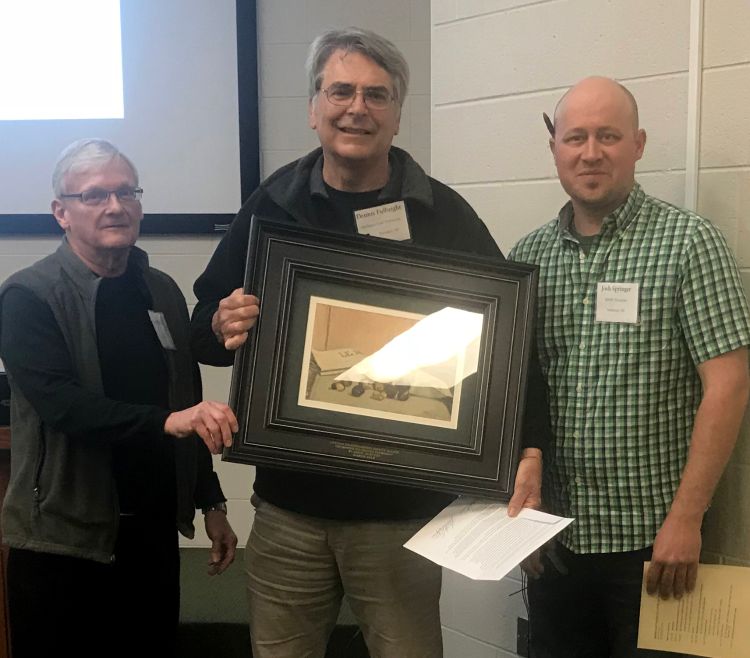 Michigan's chestnut industry would not exist if it were not for the efforts of Dennis Fulbright, professor emeritus, Michigan State University. Fulbright tirelessly dedicated much of his professional and personal time to advance the industry not only in Michigan, but also nationally and internationally. Fulbright answered the call made by early chestnut growers who desperately needed scientific leadership in the form of university support. Over the decades that followed, he oversaw an impactful and dynamic research and outreach program that spanned projects addressing everything from horticulture to market development.
His most impactful research included identifying cultivars suited to Michigan production, developing a biocontrol for chestnut blight and discovering a pollen incompatibility between chestnut species that threatened the nascent Michigan industry. His research has had a profound effect on the Michigan chestnut industry and provides a legacy of success for Michigan producers. Internationally, Fulbright is an expert in demand throughout the chestnut world and regularly consults in Europe, Eastern Europe and the Middle East.
Because of his many prolific contributions to the chestnut industry, the Midwest Nut Producers Council and Chestnut Growers Incorporated have passed a joint resolution honoring Fulbright with a Lifetime Distinguished Service Award naming him Chestnut Industry Pioneer. The award was presented by the industry on March 9, 2018, at the Kellogg Biological Station during the annual spring membership meeting of the Midwest Nut Producers Council.
Congratulations, Dennis Fulbright!
This material is based upon work supported by the USDA NIFA under Award No. 2017-700006-27175. Any opinions, findings, and conclusions or recommendations expressed in this publication are those of the author and do not necessarily reflect the view of the US Department of Agriculture.