Developing a passion for reading in young children
Explore suggestions to encourage reading skills and to develop a love of reading from infancy.
December 12, 2012 - Author: Rachel Meyers, Michigan State University Extension
Updated from an original article written by earlychildhood@anr.msu.edu..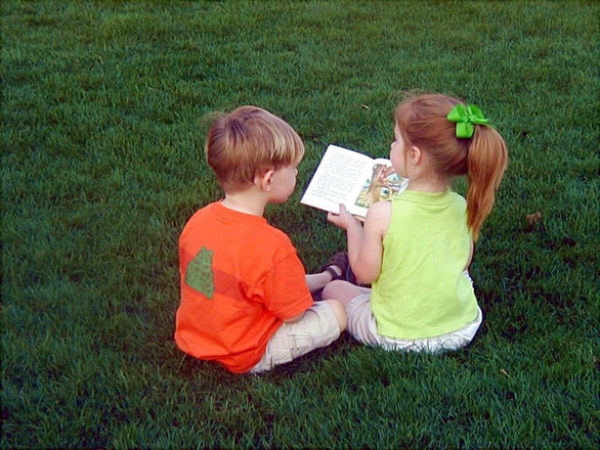 We know good reading skills are important. Parents and caretakers can start to foster the love of books and reading very early in a child's life. So, where is a parent to start? With young children that are not reading yet, I would suggest the parent and caregivers read regularly to them. Caretakers can start as early as birth, singing and reading rhymes to infants. The high-pitch and the low-pitch sounds that are common in rhymes helps develop sounds used in forming words.
Young children can be cuddled and read to, an experience that your child is sure to want to repeat. At that age, typically children want to repeat the experience because they want to be close to the parent again, not so much for love of being read to. However, setting a routine helps to assure that reading takes place and children are more apt to roll into the routine of reading regularly on their own without much difficulty. At around 2.5-years-old, children are starting to develop long-term memory; they will use this to start making sense of the stories you read. They'll also be able to recall events in the story. As children are read to, it is helpful to run your finger from left to right over the words.
Parents and caretakers can continue to have fun while reading, too! According to HealthyChildren.org, a website from the American Academy of Pediatrics, reading does not need to be a drill on numbers, colors, shapes or words, but can be a fun experience. Parents don't always have to follow the story or finish it. Pointing out the "purple shoe" or the "big eye" you run across in the illustrations, for example, engage the child, encouraging her to pay attention to the drawings and being more active participants.
Try choosing books that have pictures built into the sentences. The parents read the sentence first to assure the child understands what the picture is. As he learns and recalls what the picture is, read the written words, having him supply the word for the picture as you progress through the story. This makes the child feel like he's a reader; it makes the child feel so proud that he can "read."
At around 4-years-of-age, parents can continue with books that repeat words, for example, "I like ice cream;" "I like jello;" "I like popcorn." The children can point out one word, for example "I" the parent would read the rest. I suggest starting with beginning words. Again, parents would always read it first. If children hesitate, it is possible they don't know the words. At this point, help the child identify the picture before she gives up and feels unsuccessful. Some common signs children display when they are having difficulty are lack of interest, wanting to do something else or trying to walk away. If it does happen, try again later.
Finally, it is important that parents and caretakers are always interested in their children's readings. Before you know it, you will have a child who loves reading.
For more articles on child development, academic success, parenting and life skill development, please visit the Michigan State University Extension website.