Discover a free family learning experience this summer at five Breakfast on the Farm events
Breakfast on the Farm is hosting a fun and free learning opportunity for you and your family. These events are open to all ages interested in learning about where their food comes from and how it is produced.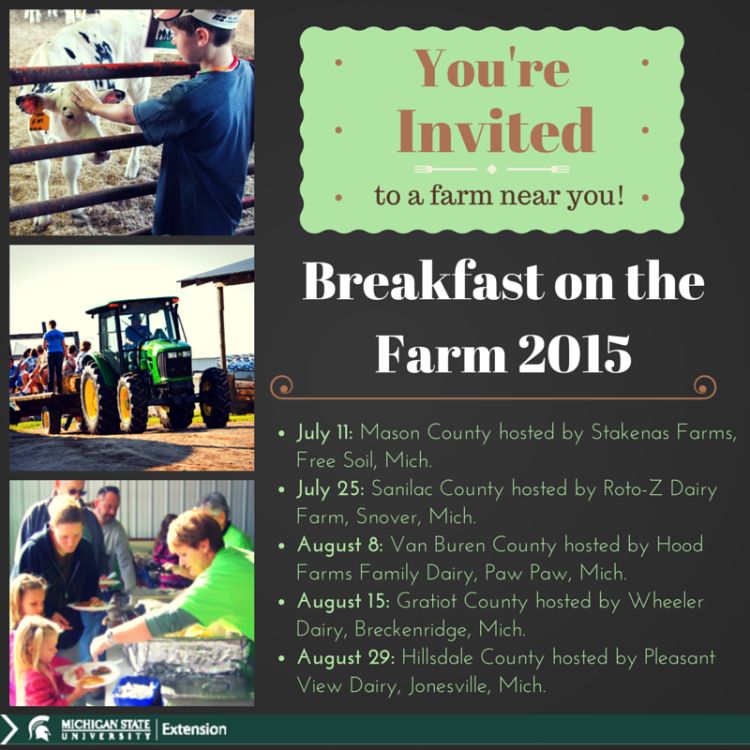 Do you want to know how your food gets from the farm to your dinner table? Then you'll want to take advantage of a free family learning experience this summer, Breakfast on the Farm (BOTF). Five BOTF events are scheduled for July and August. These events are open to people of all ages and provide a great family learning environment. Chances are there's one at a farm near you.
Michigan State University Extension started BOTF in 2009 to help educate consumers about modern day farming practices. To date, BOTF has reached more than 61,000 children and adults. Attendees at past events have been able to learn about topics such as proper animal care, crop production, milk production and operation of farm equipment.
Breakfast on the Farm gives Michigan farmers a chance to open their doors so consumers can come in and see how farmers care for animals and the environment and how they produce safe and nutritious food. Visitors will be able to meet the families behind the food that's on their dinner table each night and learn about agriculture from experienced and knowledgeable agricultural producers.
The day includes a free breakfast featuring Michigan-grown food products and a self-guided tour of the farm, with volunteers from the local community available to answer questions.
"This year, we are excited to be working with five Michigan farms that will open their doors to the public to help educate them about modern agriculture," said Ashley Kuschel, MSU Extension BOTF program coordinator. "Each farm family is looking forward to helping people in their community learn more about where their food comes from."
One of the goals of BOTF is to build trust between consumers and farmers and reassure consumers that farmers are producing our food safely. Evaluations done after last year's events showed that 97 percent of participants said they had high or very high trust that farmers do the right thing in animal care. Attendees' trust in modern day food production increased from 66.3 percent before they attended BOTF to 91 percent afterward on dairy operations.
Upcoming Breakfast on the Farm dates and farm hosts are:
July 11: Mason County -- Stakenas Farms, Free Soil, Michigan.
July 25: Sanilac County -- Roto-Z Dairy Farm, Snover, Michigan.
Aug. 8: Van Buren County -- Hood Farms Family Dairy, Paw Paw, Michigan.
Aug. 15: Gratiot County -- Wheeler Dairy, Breckenridge, Michigan.
Aug. 29: Hillsdale County -- Pleasant View Dairy, Jonesville, Michigan.
All of the events will be held from 9 a.m. to 1 p.m., with the breakfast ending at noon. Although this is a free event, tickets are required for the breakfast. Ticket pick-up locations will be announced approximately one month before each event.
To find out more about a Breakfast on the Farm event in your area or to see pictures from past events, please visit the BOTF webpage. Questions can be directed to Ashley Kuschel at 586-337-4985 or kuschela@anr.msu.edu.