Documentaries about Flint area urban agriculture will be featured January 30 on PBS!
The Emmy-nominated "The Kings of Flint" and its sister film, "Flint River Farm," were selected by WTTW-TV in Chicago to be part of its national series, "Local USA."
Two documentaries produced by MSU's College of Communication Arts and Sciences on urban farming in Flint, Mich. are getting national airtime this week. They will air Thursday, Jan. 30, 2014 at 11 p.m. on local PBS stations as part of the "Local USA" series, which is co-produced by the WORLD Channel.
The Emmy-nominated "The Kings of Flint" and its sister film, "Flint River Farm," were selected by WTTW-TV in Chicago to be part of its national series, "Local USA" which is a 13-week, half-hour series showcasing various segments from regional public television stations across the country, along with the work of independent filmmakers.
The documentaries were co-directed by Geri Alumit Zeldes, Associate Professor of Journalism and Troy Hale, Academic Specialist in the School of Journalism and the Telecommunication, Information Studies and Media department at Michigan State University.
Zeldes and Hale came up with the idea for "The Kings of Flint" after meeting Jacky and Dora King, owners of King's Karate, who are using farming to help their community. Increasing healthy food access, improving declining neighborhoods, and teaching youth employment skills are some of the positive outcomes that have resulted. By teaching young adults to farm, the Kings say they are growing food and growing hope.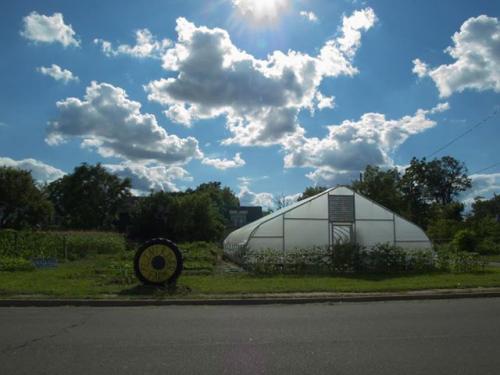 "I wanted to tell a story about my hometown that contradicted the usual narrative of Flint that it is a down-and-out city," Zeldes said.
"This broadcast is a pretty big deal," Hale said. "Having your work broadcast to a national audience is a big accomplishment."
The documentary shows how the King's Karate owners and their students are transforming Flint into a healthy, agricultural community. The Kings, who have taught self-defense to the youth of Flint for 25+ years, also incorporate the principals of karate into their daily farming routine, teaching students about a strong work ethic and character building.
Work on the documentary began in the summer of 2009 and started with a short video clip. Then with the help of about a dozen students and funding from the Ruth Mott Foundation, MSU's Humanities and Arts Research Program and College of Communication Arts & Sciences' undergraduate program, a 30-minute version was created for WKAR-TV.
"The Kings of Flint" received a 2012 Best Mini-Doc in Public TV by the Michigan Association of Broadcasters, a Broadcast Education Association award and an Emmy nomination.
During the making of the film, Zeldes and Hale found many Flint residents growing their own food and at least one other story to tell: "Flint River Farm" about Flint's largest urban farm and its creators, Roxanne Adair and Joanna Lehrman. A short version of "Flint River Farm" premiered to an online audience in November 2012. Zeldes and Hale are finishing the film with funding from MSU's Office of University Outreach and Engagement and Mike Hamm, C. S. Mott Professor of Sustainable Agriculture, and Director of the MSU Center for Regional Food Systems. They hope to release it in Spring 2014.
Michigan State University Extension Community Food Systems educators engage with urban farming and local food systems work in Flint in several ways, offering educational programming, technical assistance and facilitation support to the various individuals and organizations involved in producing food in the city.