Downy mildew confirmed on cucumber in Michigan and Ohio
Growers should scout fields and protect their crops from downy mildew, now confirmed in Michigan in 2017.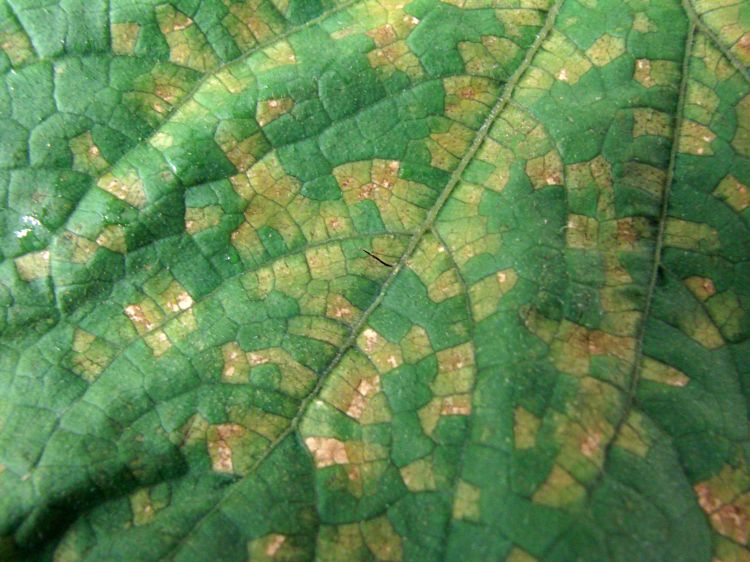 Downy mildew has been reported in Monroe County in Michigan and Wayne County in Ohio for the 2017 season. The sample from Michigan had well-developed lesions; the crop had been sprayed with a protectant fungicide. If fungicide sprays have not been applied to the most susceptible crops including cucumbers, cantaloupe and watermelon, this is an appropriate time to consider beginning a fungicide program (see table, below).
For downy mildew symptoms on other cucurbit crops including cucumber, cantaloupe, melon and squash, see our tip sheet, "Monitoring and Managing Cucurbit Downy Mildew."
The downy mildew pathogen spreads via air currents; overcast and humid conditions allow the spores to stay viable for a longer period of time during their travels. Several hours of leaf wetness are needed for a spore to germinate and infect once it lands on a suitable host such as a cucurbit leaf.
Michigan State University Extension encourages all growers to scout their crop carefully for downy mildew symptoms. My lab is interested in collecting samples of diseased leaves from commercial growers and homeowners. Please contact me at hausbec1@msu.edu to arrange the pickup of downy mildew samples or to ask questions regarding the identification or control of this disease.
Spore trapping for the pathogen has been ongoing in Michigan and downy mildew spores have not been found in significant numbers. This information is posted and updated each day at the MSU Downy Mildew News webpage.
Reports of downy mildew have increased across many counties in the southeastern U.S. in the last 10 days. States with the disease include Georgia, North Carolina, Alabama, Florida, South Carolina and Texas. In the northeastern U.S., downy mildew has been reported in Maryland. You can view confirmed outbreaks across the U.S. at the Cucurbit Downy Mildew Forecasting website.
Preferred downy mildew fungicides

Product

Active ingredient

FRAC

Comments (maximum applications per season)

Orondis Opti*

oxathiapiprolin/ chlorothalonil

45/ M05

Make no more than two sequential applications before rotating to a fungicide with a different mode of action (FRAC). Use either soil applications of Orondis or foliar applications of Orondis Opti A, but not both for disease control. Do not use for more than one-third of the total foliar fungicide applications. (6)

Ranman 4SC*

cyazofamid

21

Mix with chlorothalonil or mancozeb. (6)

Gavel 75DF

mancozeb/ zoxamide

M03/ 22

Mix with chlorothalonil or other downy mildew fungicide. (8)

Zampro 4.4SC

ametoctradin/ dimethomorph

45/40

Mix with chlorothalonil or mancozeb. Labeled for application via drip as a foliar spray. (4)

Zing! SC

zoxamide/ chlorothalonil

22/ M05

Mix with mancozeb or other downy mildew fungicide. (8)
*Orondis Opti and Ranman have performed exceptionally well in Michigan trials.
This material is based upon work that is supported by the National Institute of Food and Agriculture, U.S. Department of Agriculture, under award number 2016-68004-24931.