Early irrigation topic for June 3 Field Crops Virtual Breakfast
The Field Crops Virtual Breakfast on June 3 will feature MSU irrigation specialists Younsuk Dong and Lyndon Kelly discussing early irrigation strategies.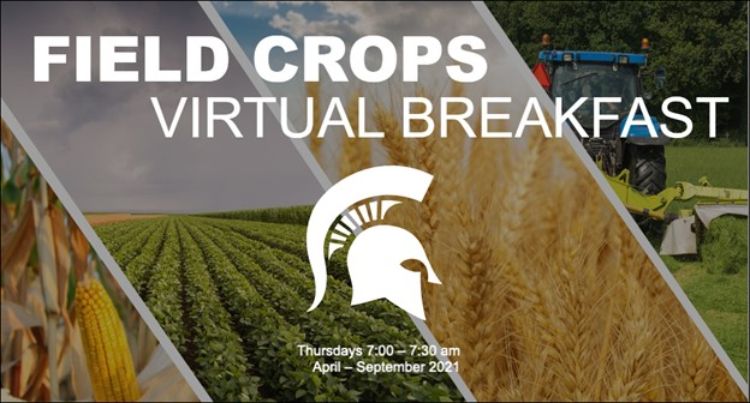 On the June 3, 2021, Michigan State University Extension Field Crops Virtual Breakfast, MSU irrigation specialists Younsuk Dong and Lyndon Kelly will give a presentation on the role of early irrigation. We all think of irrigation as applying water that crops need to maintain adequate growth, but June irrigation applications can serve two other major functions. Irrigation can play a beneficial role in improving planter function in dry conditions and help seeds germinate and emerge in dry and crusted soils. Early season irrigation can also be used to reduce nitrogen fertilizer losses and improve herbicide effectiveness by watering in products to activate them and reduce volatilization.
Early June crop growth takes only a small amount of water. Typically, on early June days, corn and soybeans with three or four weeks of growth use on average 0.15 inches of water or slightly over 1 inch of water per week. MSU has several tools available to help producers estimate their crop water use and schedule irrigation applications. Recent advances in technology are making soil moisture monitoring a more useable irrigation management and decision-making practice.
Sign up for the free Field Crops Virtual Breakfast
The Michigan State University Extension Field Crops Virtual Breakfast Series are held every week during the growing season via Zoom video or phone conference. These virtual meetings will take place every Thursday morning from 7-7:30 a.m. April 1 through Sept. 23, 2021. There will be a 30-minute Q&A session following the presentations.
Participating is easy and free! You can join the live meeting via Zoom using a computer, tablet, mobile device or regular phone line. If you are new to Zoom, simply download the Zoom app and you will be ready to join online every week to see visuals shared by presenters. A call-in by phone option is also available but note that you will only hear the audio portion.
Restricted use pesticide (RUP) credits and Certified Crop Advisor (CCA) CEUs are now available for attendees who attend the live meeting.
Participants must sign up to receive an email notification with instructions for joining the Virtual Breakfast. You only need to do this once and you will receive the Zoom link and call-in phone number, as well as weekly reminders every Wednesday. Participants receiving emails can opt in or out at any time.
Sign up for the free Field Crops Virtual Breakfast
If you cannot participate in the live session at 7 a.m., you can view the recorded version at any time. However, only the live session will be eligible for RUP and CCA credits. Recordings will be closed-captioned and available at the Field Crops Virtual Breakfast webpage and the MSU Extension Field Crops Team social media platforms: Facebook, Spotify, YouTube, Apple Podcasts and Twitter.
If you are unable to sign up online, call the Lapeer County MSU Extension office at 810-667-0341.