Early bird registration rate for the 2016 Michigan Inland Lakes Convention ends March 15
Don't miss this year's best opportunity for hands-on learning and networking opportunities for those passionate about Michigan inland lakes.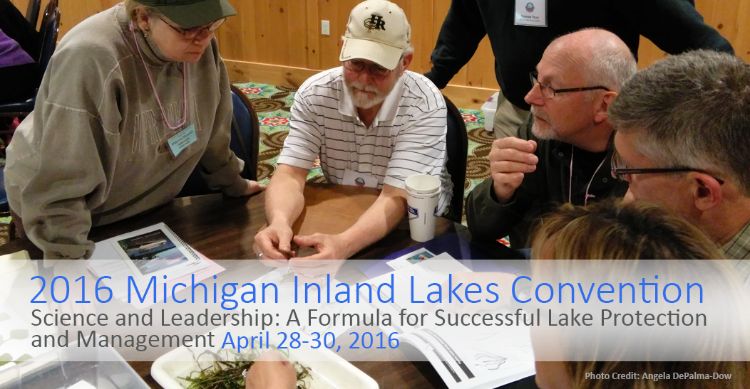 Back after its inaugural success, the biannual Michigan Inland Lakes Convention invites lake enthusiasts of all kinds—researchers, water resource professionals, local leaders, residents and vacationers alike—to partake in workshops and presentations that will engage, educate, and empower. The convention will be held in Boyne Falls, Michigan from April 28–30, 2016 at the Boyne Mountain Resort.
Those who live, work, and play in Michigan have witnessed the growing interest in the state's incredible beauty and each, in their own way, take pride in knowing that Michigan is the Great Lakes state and home to over 11,000 inland lakes.
The 2016 Michigan Inland Lakes Convention is a cooperative effort between the many public and private organizations that make up the Michigan Inland Lakes Partnership (MILP), including the Michigan Chapter of the North American Lake Management Society, Michigan Lake and Stream Associations, Inc., Michigan State University Extension, Michigan Natural Shoreline Partnership, Michigan Department of Natural Resources, Michigan Department of Environmental Quality and the Michigan State University Institute of Water Research.
In 2014, 372 lake enthusiasts, professionals, researchers, local government officials and students attended the inaugural convention, many of whom expressed strong interest in learning about the latest developments in lake science and in developing their own skills to become better stewards of Michigan's lakes. The focus of the 2016 convention has been planned to bring participants the latest scientific advancements and leadership tools for successful lake protection and management. The conference theme is "Science and Leadership: A Formula for Successful Lake Protection and Management."
Three days of educational presentations, discussions and in-depth workshops focusing exclusively on Michigan's inland lakes will be offered. Dozens of nonprofit, business and governmental exhibitors will showcase their projects, resources and services at the Convention. Participants will have ample opportunities to meet and network with fellow lake enthusiasts and experts throughout the convention.
The event will kick off on Thursday, April 28 with a full day of workshops, including the annual Cooperative Lakes Monitoring Program volunteer training. Other workshops will give participants the opportunity to develop knowledge and skills by exploring aquatic plant identification, fish ecology and management, and local government tools for lake and wetland protection, including a volunteer training for the Cooperative Lakes Monitoring Program.
Two outstanding keynote speakers will energize the Convention on Friday morning. Rebecca Williams, reporter and producer of "The Environment Report" for Michigan Radio, will share her experience communicating with the public about complex scientific issues and share tips to help us better tell the story of Michigan's lakes. David Mifsud, an expert herpetologist and wetland ecologist, will speak about the amphibians and reptiles that call Michigan's lakes and shorelines home, as well as how we can protect these fascinating animals.
Friday afternoon and Saturday morning will include presentations and discussions on an array of inland lake management topics and plenty of networking opportunities. Breakout session topics will include aquatic invasive species management, riparian law, septic systems, climate change, effective communication skills, natural shorelines, and current lake research. A complete list of session descriptions is available at the convention website.
Attendees can choose to attend all three days or register for single days. Additional details can be found on the Michigan Inland Lakes Convention website. Stay up to date on the latest convention developments through Facebook and Twitter (@Mich_Lakes).
Register by March 15, 2016 to receive the discounted "Early Bird" registration rate. Online registration closes on Thursday, April 21 at 5 p.m.
The MILP promotes collaboration between locals, professionals, researchers, and agencies in order to advance stewardship of Michigan's inland lakes. For the latest information on the Michigan Inland Lakes Convention, including registration details, visit their website.
For more information about inland lakes, visit the Michigan State University Extension Natural Resources website.