Easter cascarones
Celebrate Easter with your family by creating cascarones.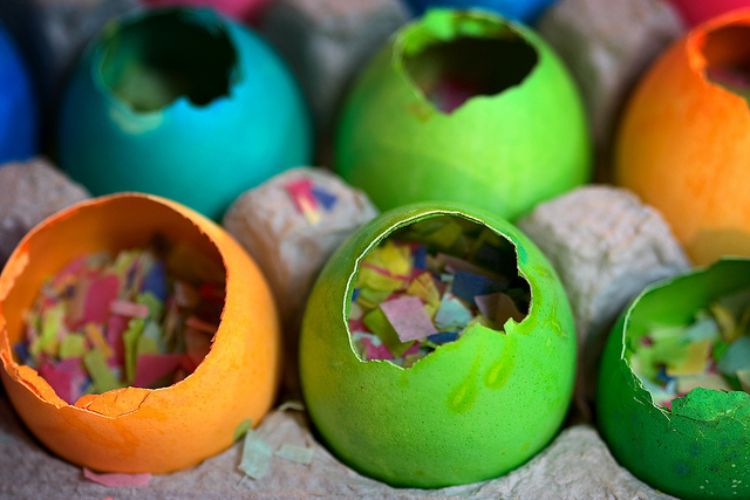 Easter Day for many Latin American communities is a time of family gathering, feasting and cascarones! You might be asking yourself, "What are cascarones (cas-ca-ro-nes)?" In the Spanish language, cáscara means shell and cascarón means egg shell. Cascarones are hollow eggs filled with colorful confetti. Making cascarones is traditionally a family affair.
Michigan State University Extension encourages all cultural backgrounds to practice safety measures when preparing cascarones. Whether you decide to make them the day before Easter or on Easter day, follow these simple steps:
Choose the amount of eggs you wish to use
Carefully make a small hole on top of the eggs by gently tapping the egg with a butter knife
Remove the raw egg and drain into a bowl for later use (store raw egg in a seal container and refrigerate to use later)
Rinse out the inside of the egg with a little bit of antibacterial soap and let them dry
Once eggs have dried, paint the eggs with water colors and let the paint dry
Fill dried eggs with colorful confetti and cover hole with taped paper
Traditionally, families take the cascarones to an open outside area such as a yard or park and crack them over the heads for a fun game of chase. This is not only fun, but is a great way to incorporate physical activity for you and your loved ones. If a game of chase is not in your Easter plans, use the cascarones in a game of egg hunt or simply use them as decorations for the day. Looking for a healthy recipe for your leftover eggs? Try the USDA honey flan recipe, which is a delicious and healthy Latino favorite.
MSU Extension offers various educational programs for adults, families and children that focus on lifestyle changes to promote healthy eating. For more health and nutrition tips, visit the MSU Extension nutrition page.
Photo credit: David W., Flickr