Purple grapes make a great summer treat and you can enjoy the health benefits
Red and purple grapes taste great and have many health promoting effects.
August 19, 2018 - Author: Leatta Byrd , Michigan State University Extension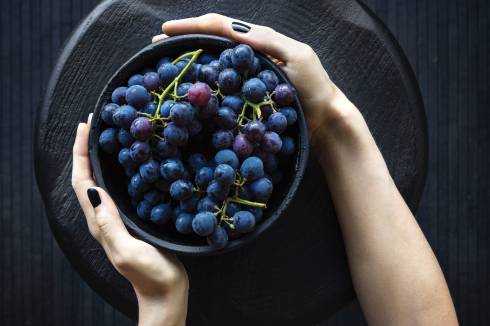 Grapes are coming into season and are one of the main natural dietary sources of resveratrol, which is a phytochemical or nutrient that is a plant-based nutrient that appears to have health promoting effects. According to food science researchers, resveratrol is a natural compound found in the skins of deep-purple Concord grapes. It has a protective effect on brain and heart health along with promoting immune health. Grapes contain a mix of phytonutrients (active substances that give fruits their color and flavor) that help support a healthy heart by potentially lowering blood pressure, reducing inflammation, and preventing clots from forming in the blood vessels.
A recent published report in the Journal of Agricultural and Food Chemistry showed that Concord grape juice has a positive impact on memory in older adults with mild memory decline. The study also stated that there is evidence that daily consumption of Concord grape juice can benefit cognitive function in older adults. Michigan State University Extension cites grapes as a healthy snack choice.
There are many ways to consume a single serving of grapes (about 30 calories) in your daily lifestyle. If you prefer snacking on whole grapes, one serving is about 16 grapes or about a handful. Choose plump, firm grapes at the store that are attached firmly to the stem to make sure you are getting a fresh, tasty product. A serving of 100 percent grape juice is four ounces and is another easy way to increase dark-colored grapes in your diet.
Check out these serving ideas from Ohio State University Extension:
Include grapes in tuna, shrimp or chicken salad as well as leafy, green salads.
Cut and freeze grapes as a quick, cool snack for children.
Slice green, red and blue-black grapes in half and arrange on top of a store-bought or homemade cheesecake.
Top your favorite grapes in a crystal glass with plain yogurt and honey whipped together.
Add grapes and pieces of cantaloupe, apple or pineapple to a blunted wooden toothpick to create fruit kabobs.
Grapes, a variety of cheeses and dessert wine makes an elegant dessert. For children, pair grapes with string cheese and some crackers.
Garnish appetizers, main dishes and desserts with bunches of grapes.
Serve grapes with cottage cheese for a low-calorie, light lunch. To the cottage cheese, add a dash of lime juice, cinnamon and a few coarsely chopped toasted walnuts.
Spread cream cheese on a bagel half and top with sliced grapes and chopped nuts.
As you try to increase your grape consumption, make sure you are properly storing your grapes. Unwashed grapes can be stored in a plastic bag in the refrigerator for up to a week, although their quality diminishes the longer you keep them. You should remove grapes from the refrigerator about 30 minutes before serving to get them to their ideal temperature of 60 degrees Fahrenheit. Before eating, wash them thoroughly (most supermarket grapes have been sprayed with insecticide) and blot dry. Enjoy eating a nutritious food while reaping the many health benefits!
---