Encouraging youth to take the lead in educating fairgoers
Empower youth to answer questions and speak with attendees in the animal barns at your next agricultural event.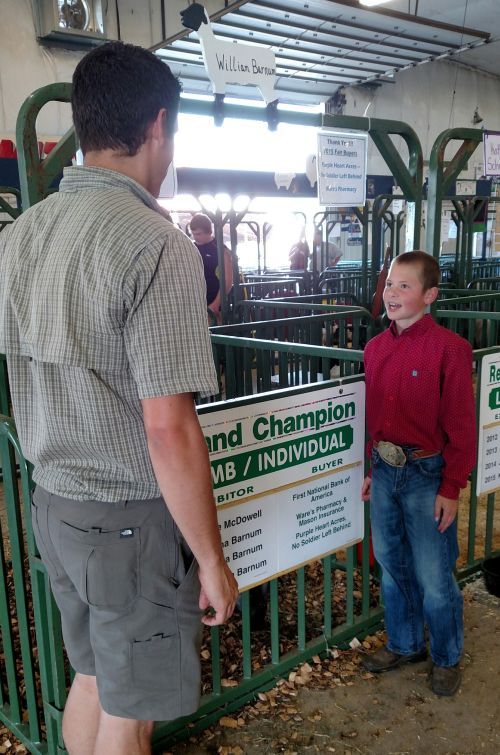 With county fair season in full swing, it's an enjoyable experience to attend different fairs and see youth and the projects they have been working for months to prepare for exhibition. Having an animal background, I appreciate the other barns and events on fairgrounds, but always tend to see the livestock first.
Youth in the barn, usually having at least a few decks of cards on hand, are hard at work preparing to show their project animals or taking a moment to relax until their next event. In an effort to make sure their barns are always clean for spectators, many fairs and clubs have moved to having youth in charge of "barn duty." Whether each club is wanting to look their best for herdsmanship or fairs just expect the barn to look clean, youth make an added effort to clear aisles for the public to walk through. In some cases, there is even a person on "barn duty" to make sure the barn is clean for either a few hours or even the entire day.
In thinking about societal trends and where our agricultural industry is at, fairs and clubs should consider having a second person on barn duty. Instead of having the person sweep the isle or pick-up manure, this person would have a different task, greeting attendees and answering questions. With less than 2 percent of the population living on farms, the general public is left with many questions. Youth at fairs and other events are perfectly positioned to answer questions of attendees as those individuals have already come to an agricultural event.
Wondering if youth are up to the challenge of educating consumers? The answer is a resounding yes. These youth have raised a project and been part of the animal industry by producing a consumable product. Additionally, there are many resources to help youth feel prepared to answer consumer questions. The Michigan 4-H Animal Care and Well Being resources, released earlier in 2015, are a great way to help youth feel prepared for questions they may be asked. The bookmarks, featuring 10 frequently asked questions, are also a way to start a conversation with fair attendees.
In addition to the youth connection, other agricultural groups are also willing to help with educating the general public. Michigan Farm Bureau recognizes how removed a large portion of the population are from production agriculture and even have "I met a Farmer Today" stickers to help increase awareness. Michigan fairs are a great opportunity to reach an audience that is sometimes harder to directly connect with.
If you are looking for a fair in your area, a detailed list of all 2015 Michigan fairs and events is on the Michigan Association of Fairs and Exhibitions website. Michigan State University Extension also provides numerous resources including agricultural literacy and animal science anywhere lessons that can assist youth and adults in learning more about production agriculture.