Engaging youth as leaders and global citizens to help end poverty
Through education and engagement, youth can be leaders in helping to achieve the first goal of the U.N. Sustainable Development Goals, "ending poverty in all its forms everywhere."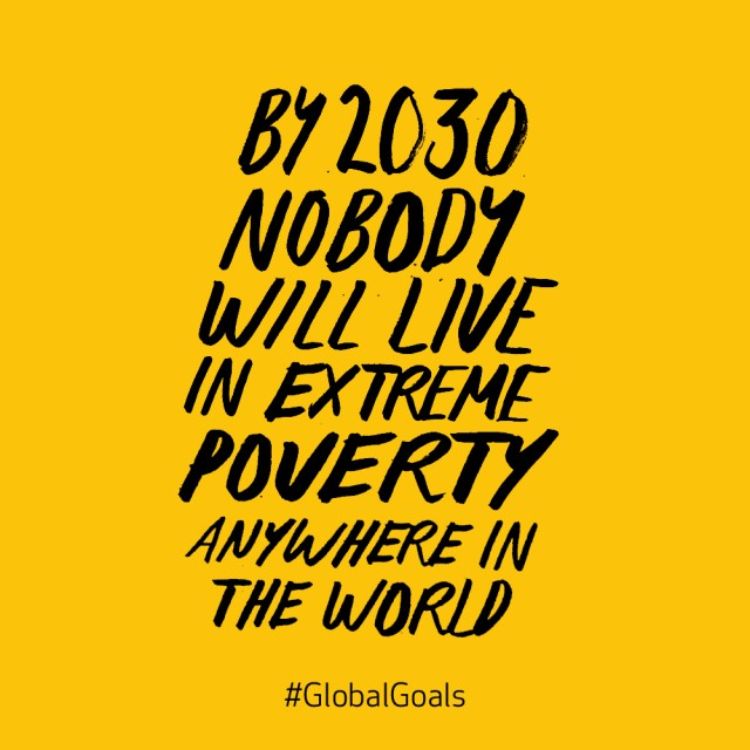 Youth have an important and valuable role to play in leadership roles and as engaged global citizens in addressing some of the world's most significant, and interrelated, challenges. Ensuring that all people have the means and resources to ensure their livelihood has been a goal of many domestic and international efforts and programs over the past century, and it continues to be a central goal of international development today and into the future. While "solving" global poverty may not be something youth can accomplish on their own, Michigan 4-H and many others believe that helping youth to develop an understanding of global issues and engaging in efforts as active global citizens is incredibly valuable for individual youth as well as our global community as a whole.
"Ending poverty in all its forms everywhere" is Goal 1 of the 17 goals that, together, make up the U.N. Sustainable Development Goals. The Sustainable Development Goals, which went into effect January 2016, are 17 goals that have been adopted by world leaders to be achieved in the next 15 years in order to "end all forms of poverty, fight inequalities, and tackle climate change, while ensuring that no one is left behind." The Michigan State University Extension article, "Youth play leadership role in achieving 17 global goals for sustainable development," provides an overview of the 17 Sustainable Development Goals. Youth can contribute to the achievement of Goal 1 of the Sustainable Development Goals by developing an understanding of global poverty and being engaged as global citizens to help ensure all people have an adequate means of achieving a sufficient level of livelihood.
According to the U.N., the effects of living in conditions of extreme poverty include "hunger and malnutrition, limited access to education and other basic services, social discrimination and exclusion as well as the lack of participation in decision-making." Goal 1 of the Sustainable Development Goals includes a target of eradicating extreme poverty by the year 2030. Extreme poverty is measured as living on less than $1.25 per day ($456.25 annually). Efforts to address the rates of extreme poverty have been successful in recent years, as the number of people living in these conditions globally has been reduced by more than half since 1990. While this reduction in rates of extreme poverty has been significant, 836 million people still remain in the category. By comparison, people in the U.S. live on an average of about $83 a day ($30,176 annually) according to the U.S. Census Bureau's 2014 measurement of per capita money income.
Additional targets of Goal 1 include reducing half the proportion of people living in poverty, implementing nation-based social support systems for the poor and vulnerable, developing resilience and reducing the effects of "climate-related extreme events and other economic, social and environmental shocks and disasters," and creating policies to increase financial investment in programs aimed at eliminating poverty, all within the next 15 years.
A variety of lesson plans are available to help youth develop an understanding of global poverty and possible responses to the problem.
The lesson plan "Global Poverty Requires Local Solutions," available as a free download from World's Largest Lesson, is a resource that adults and older youth leaders can use with middle school aged youth to begin exploring the theme of global poverty. The lesson plan focuses on poverty and inequality by examine the differences between two different neighborhoods in Hyderabad, India.
Another excellent set of resources for educators to use to introduce young people to the themes of global poverty is available from Oxfam UK. Oxfam UK offers a set of free downloadable lesson plans focused on global poverty and inequality titled "More or Less Equal?" The lesson plans are available in three sets of lessons which are organized around the educational themes of English, Geography and Math. The lesson plans use real-life stories from data gathered in Ethiopia, India, Peru, Vietnam and the U.K. to offer young learners ages 11-16 an authentic perspective on the lives of young people living in poverty around the world. While the lessons and resources are directed primarily at learners in the U.K., the content could easily be adapted for learners in the U.S.
Planning and hosting an Oxfam America Hunger Banquet is a highly engaging and memorable way for youth to learn about global poverty and the distribution of income worldwide, and to help spread knowledge about global poverty to others in their community. Oxfam America offers free resources to those interested in planning a Hunger Banquet. To read about a group of Michigan 4-H youth who hosted an Oxfam America Hunger Banquet, see "Michigan youth educate others on realities of global hunger and poverty."
Additional news articles providing overviews and resources for educators to use to help youth learn about each of the other 17 Sustainable Development Goals will be posted at the MSU Extension website throughout 2016. Michigan 4-H also provides opportunities for youth to develop their leadership skills through workshops, curriculums and resources.
Other articles in this series: