Enjoy citrus fruits as part of your diabetes meal plan
Options for fresh fruits are limited for those who live in northern states. Luckily, citrus fruits are in season and not too high in carbohydrates.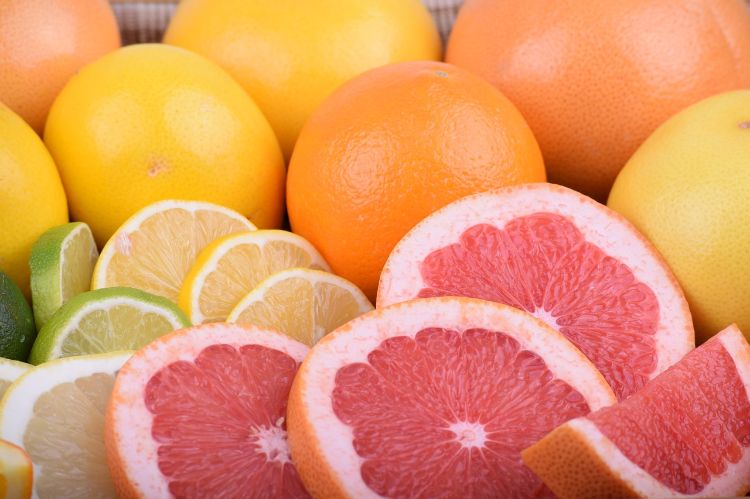 Fresh fruits are a delicious part of any meal and also make healthy snacks. Farmers' markets in Michigan are overflowing with a bounty of fruits in the summer but as winter approaches options diminish. Luckily, citrus fruits from warmer climates come into season as snow flurries begin in northern states.
Citrus fruits have a moderate amount of carbohydrate and are high in vitamin C.
Medium orange = 18 grams of carbohydrates
Half grapefruit = 13 grams of carbohydrates
Medium tangerine = 13 grams of carbohydrates
Medium clementine = 9 grams of carbohydrates
Medium lime = 7 grams of carbohydrates
Medium lemon = 4 grams of carbohydrates
Besides being tasty, citrus fruits are good for health and the American Cancer Association states that "Many studies have linked intake of foods rich in vitamin C to a lower risk of cancer." They explain that while this is true for studies of whole foods, "the few studies in which vitamin C has been given as a supplement have not shown a reduced risk for cancer."
If you have diabetes, it is important to balance the amount of carbohydrates you eat throughout the day. Eating a whole fruit is generally better than drinking fruit juice. This is because the whole fruit contains fiber which delays digestion. This will help you feel full and will not spike blood sugar levels as quickly as drinking fruit juice can. So enjoy a citrus fruit as a snack between meals or try this recipe from The Food Advisor from the American Diabetes Association website. Try adding some grilled chicken breast to make this salad more of a meal.
Start to finish: 15 minutes
Servings: 8
Ingredients:
Salad
6 cups mixed greens
1 cup grapefruit sections
1 cup orange sections
1 cup thinly sliced red onion
1/4 cup coarsely chopped toasted walnuts
Dressing
2 tablespoons raspberry vinegar
1 tablespoon orange juice
1 tablespoon balsamic vinegar
1 tablespoon olive oil
1/2 teaspoon sugar
1/4 teaspoon pepper
1/2 teaspoon soy sauce
1/4 teaspoon dry mustard
1/8 teaspoon salt
Directions
Combine the dressing ingredients in a bowl. Combine the greens, grapefruit, oranges, onion and walnuts. Add dressing and toss to coat.
Nutrition information for one cup: Calories 80, Carbohydrate 10 g, Protein 2 g, Fat 4.5 g, Saturated Fat 0.5 g, Sugars 6 g, Dietary Fiber 2 g, Cholesterol 0 mg, Sodium 65 mg.
For the best diabetes care, always check with your healthcare team. For more information on diabetes visit the MSU Extension webpage on diabetes.