Enjoy free family fun and learning at Breakfast on the Farm this summer
Learn more about where your food comes from and how it is produced at one of the scheduled Breakfast on the Farm events this summer. An experience that gives consumers a hands-on look at modern farming.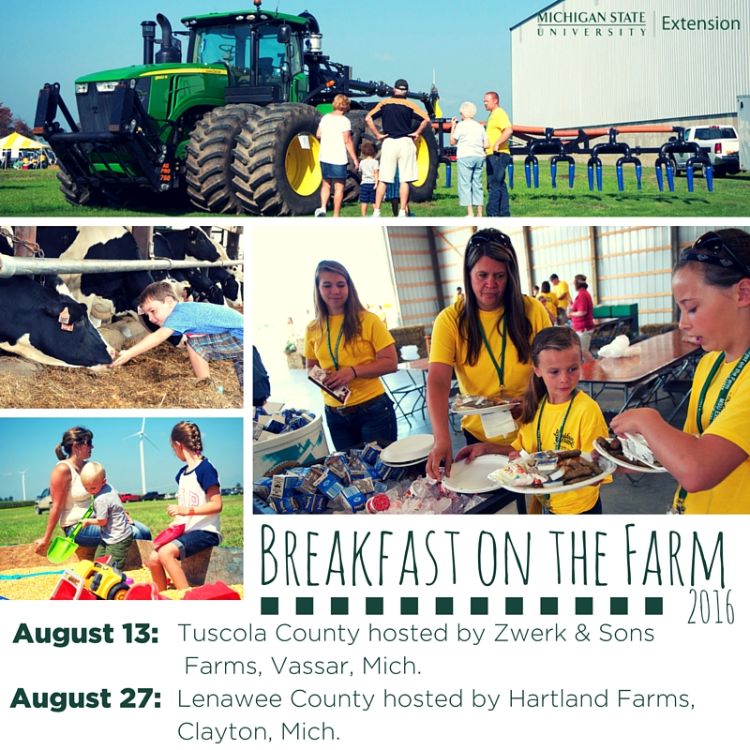 Curious about the food you eat? Wonder how it gets to your dinner table every night? Join us for a Breakfast on the Farm (BOTF) event this summer. This is an opportunity to learn about where your food comes from and how Michigan farms bring your family safe and nutritious meals. BOTF is a free, fun and family-friendly event for people of all ages to enjoy. This year there are two BOTF events scheduled in August.
Breakfast on the Farm is a program that was created by Michigan State University Extension in 2009. Its goal is to connect local consumers to farmers, giving families a chance to visit farms and meet the people who live and work there. Since its creation, more than 74,740 kids and adults have attended these events to learn about modern food production. These events give people the chance to ask local farmers questions about how food is grown, as well as learn more about animal care and farm equipment operation.
"For our 2016 BOTF season, we are very excited to be working with both a dairy and a crop farm. Along with the host farms, each local planning committee has put a lot of time and effort into preparations for the events," said Ashley Kuschel, MSU Extension BOTF program coordinator. "Both farms are looking forward to showcasing how important agriculture is to Michigan and are eager to talk with their neighbors about their family-owned operations."
A major goal of BOTF is to explain how food is grown and raised. More knowledge in this area builds trust between consumers and farmers. Visitors how hard farmers work to ensure they produce safe, high-quality to sell to wholesalers, stores and consumers. BOTF is also a fun way to get kids interested in their food and establish the importance of farms in modern agriculture.
At past BOTF events, visitors have participated in various hands-on activities: taking wagon rides, seeing how cows are milked, sitting on tractors, petting baby calves and eating ice cream. Even though every farm is slightly different, each BOTF offers a self-guided tour of the farm and a complimentary breakfast featuring locally-produced food.
Upcoming Breakfast on the Farm dates include:
Aug. 13: Tuscola County—Zwerk & Sons Farms, Vassar, Michigan.
Aug. 27: Lenawee County—Hartland Farms, Clayton, Michigan.
The events are held from 9 a.m. to 1 p.m. with breakfast ending at noon. BOTF is a free event and everyone is welcome, but tickets are required for the breakfast. Locations for ticket pick-up will be announced on the BOTF website approximatively one month before each event.
For more information or to check out pictures from past events, please visit the Breakfast on the Farm website. Questions can be directed to Ashley Kuschel at 586-469-7616 or kuschela@anr.msu.edu, or Mary Dunckel at 989-354-9870 or dunckelm@anr.msu.edu.