European corn borer resistance confirmed to Cry1F Bt corn
This is the first case of European corn borer resistance to any type of Bt corn. Watch out for and report unexpected corn borer damage in any type of Bt field and follow these recommendations.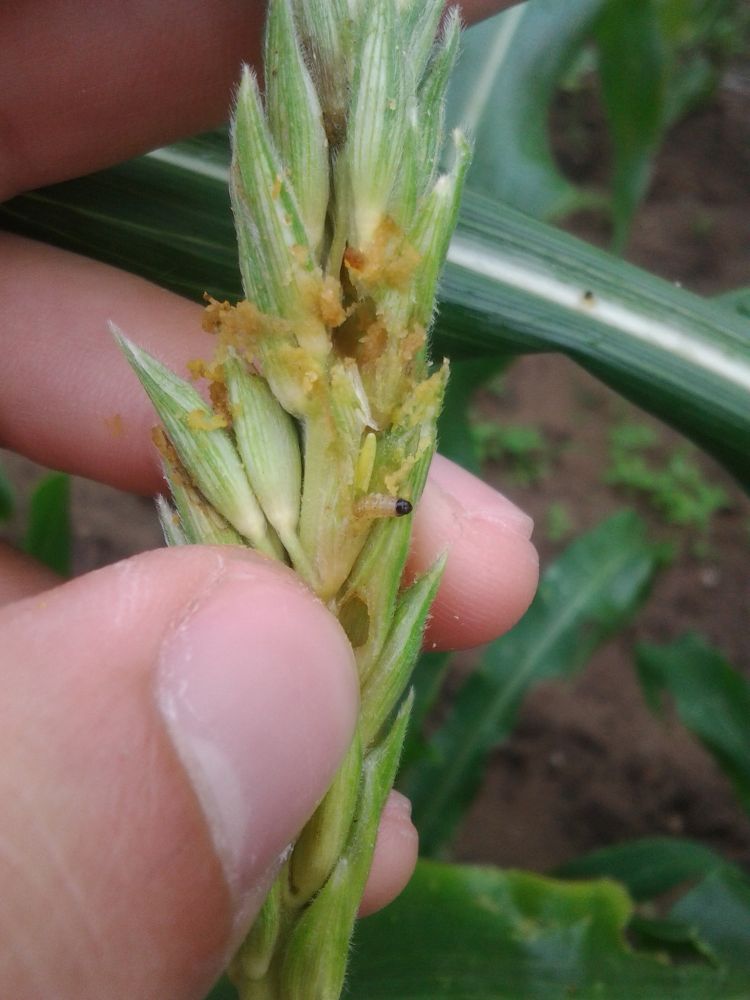 Entomologists at the University of Guelph in Canada have confirmed European corn borer resistance to Cry1F Bt trait (Herculex 1) in corn. This is the first case of European corn borer resistance to any type of Bt corn. The registrant for the trait independently confirmed the results from additional field locations. The resistant populations were collected at the end of the 2018 field season from multiple sites in Nova Scotia and Prince Edward Island in Eastern Canada and screened for resistance in the lab this winter. Assay results were described to me as showing "100% resistance." I will be updating the Bt trait table to reflect this report.
An extension press release on this news can be found at "European Corn Borer Resistance to Bt Corn Found in Canada" by Field Crop News.
Where the resistance developed, single trait hybrids were still being sold and planted. In a perfect world, hybrids with only one Bt trait were supposed to be phased out by now, in favor of pyramided hybrids with multiple Bts (i.e., multiple "hammers" to kill European corn borer). The planned phase out was part of what enabled the switch from inconvenient 20% block refuge to simpler 5% refuge in a bag/RIB. To reduce the refuge to 5%, both Bts in a pyramid are supposed to function as separate hammers to kill corn borer. Since there was a greater chance for insects to develop resistance to single Bts in corn, the single Bt hybrids were supposed to go away to protect the two hammers in the 5% RIB.
So why are single trait hybrids still being sold? Good question. Pyramids with 5% RIB are pretty much the only Bt hybrids available in the central Corn Belt. But in smaller markets (areas with less intensive corn production on the edge of the corn belt), appropriate pyramids apparently are in short supply or perhaps not economically viable. Nova Scotia and Prince Edward Island are smaller markets, as are many states in the northeast, as well as states and provinces in the Great Lakes region. Depending on the location, growers may be able to buy single trait hybrids, increasing the chance of developing resistance. To date, I've been unable to get stats on the acreage of single-trait hybrids sold in Michigan, particularly the Upper Peninsula and northern Michigan.
My recommendations to growers are similar to those from colleagues in Canada. First, don't plant single trait hybrids! If you do use a single trait hybrid this year, be sure to plant the required 20% refuge and scout your fields. Everyone needs to be on watch and report unexpected corn borer damage in any type of Bt field. Finally, educate yourself: Purchase the new European corn borer extension guide for the region and access the expanded Great Lakes and Maritimes Pest Monitoring Network (more information on both below). Consider trapping for corn borer and reporting counts in the regional network. We are rapidly needing to go back to school!
Great Lakes and Maritimes Pest Monitoring Network
The Great Lakes and Maritimes Pest Monitoring Network is an expanded, online trapping network that is a collaboration of Manitoba, Michigan, Ohio, New York, Ontario, Quebec, New Brunswick, Prince Edward Island and Nova Scotia. This year, the network will accept trapping data for western bean cutworm (WBC), European corn borer (ECB), corn earworm (CEW), black cutworm (BCW), true armyworm (TAW) and fall armyworm (FAW) in field corn, sweet corn, dry beans and snap beans. You will be able to see trap captures and report them.
European corn borer guide
"European Corn Borer - Ecology and Management and Association with other Corn Pests" has all you need to know about a pest we've been able to ignore for many years, but no longer. It's sold by the Iowa State University publications office for $8 per copy. Discounts for ordering 50 or more copies are available by contacting extstore@iastate.edu or 515-294-5247.