Event for teens to learn about voice in government to be held in Lansing
Registration is now open for 4-H Capitol Experience, April 15-18, 2018.
March 1, 2018 - Author: Jackelyn Martin, Michigan State University Extension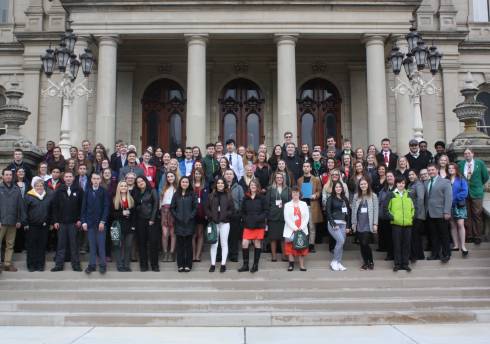 Fed up with what they perceive as ineffective policy-making, youth across the nation are using their voices to make change. But are youth equipped with the knowledge they need to make a difference in politics and government? 4-H Capitol Experience is a Michigan State University Extension pre-college program designed to do just that—empower youth to find their voice and use it effectively to change and influence policy.
4-H Capitol Experience engages high school youth throughout Michigan in exploring the process of making public policy. Youth who participate in this program learn about our state policy through multiple experiences.
Throughout the four-day program, youth work in "issue groups" of eight to 12 participants themed after state legislative committees. Examples of issue groups include education, technology, health and agriculture. Issue groups work together to determine a statewide issue that is relevant to their group topic and then work through a mock legislative simulation to turn that idea into a bill, debate it in a committee and propose it to the mock House of Representatives or Senate for voting.
The other part of this program that makes it unique from other youth policy programs in the state is that each issue group goes on a series of visits with stakeholders that work in or are related to their group's theme. Every issue group visits with a legislative aide and a state agency or community organization.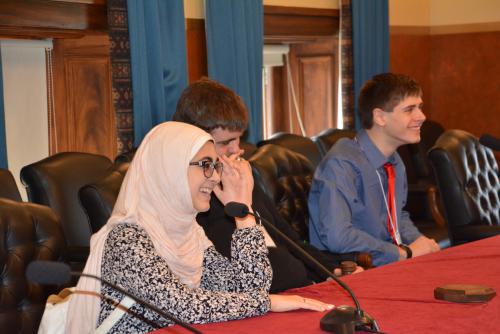 The goal of these visits is twofold. First, the visits create an opportunity for youth to explore a variety of careers in civil service. Second, these visits help youth understand the diversity of roles in Michigan's political system. As a bonus, the visits offer issue groups insight on the mock legislation they are drafting, making their arguments more informed with current information.
Consider inviting a youth you know to attend 4-H Capitol Experience April 15-18, 2018, equipping them with confidence and knowledge to make a difference. The event is $350 for Michigan 4-H members and $370 for all other youth.
For more information on 4-H Capitol Experience, please visit the 4-H Capitol Experience website. Online registration for the 2018 4-H Capitol Experience is open until March 16, 2018.
Any questions on this program can be directed to Jackie Martin at marti623@msu.edu or 734-222-3877.
---