Explore winter on snowshoes
Try snowshoeing for a fun activity for youth to explore winter where others don't usually go.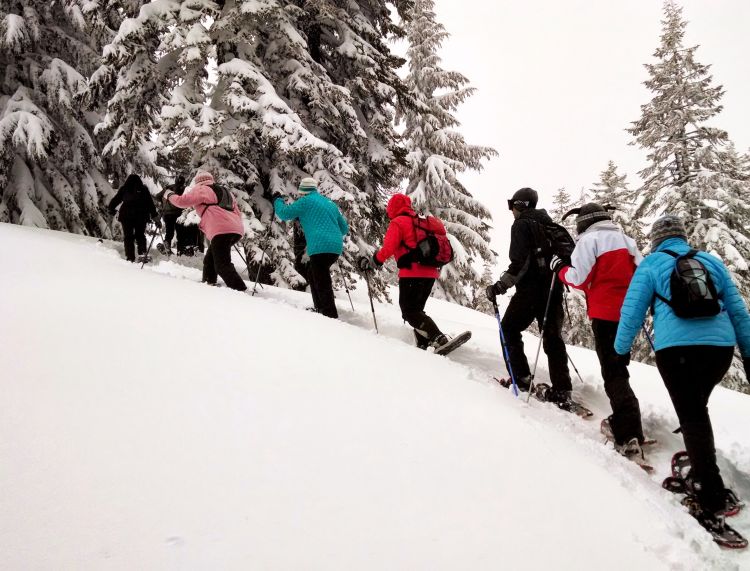 Many locations accessible in spring, summer and fall are not accessible during the winter months. Snowshoeing is an excellent means of getting off the beaten path to see aspects of winter that few experience. This can be a truly solitary experience allowing time for reflection and to witness first-hand winter's effect on the landscape. The mental and physical benefits are an added bonus as well!
Youth can learn much about snowshoes from their historical use, construction and applications. Snowshoeing has a long history of use from Native Americans, explorers, trappers and surveyors. The use and construction of snowshoes was often dictated by the intended use and materials available. Snowshoes have proven to be a reliable, practical and effective means of travel for thousands of years. Snowshoes are effective in snow by displacing weight over a larger area, therefore keeping the traveler from sinking completely in the snow.
Snowshoeing allows the opportunity to get to places in winter that seldom gets visitors. Numerous parks, river ways, woodlots and vacant areas offer great places to visit with snowshoes that ordinarily would see few or no visitors during winter. This also provides a chance to see wildlife in an undisturbed manner and experience the outdoors in an undisturbed state. These types of settings can offer a "semi-wilderness" experience even though it may be in close proximity to urban or human development. Youth may particularly enjoy this opportunity that may not be available other times of the year.
Snowshoes are available in a variety of sizes, shapes and materials. Until recently, snowshoes were constructed of wood, mainly ash, and moose or caribou hide. Today, snowshoes are made of lightweight and durable materials such as aluminum, titanium, neoprene and nylon. Newer, advanced binding systems have replaced the traditional leather straps used for centuries. Some sport shops and outfitters offer rentals for those wanting to try snowshoeing without the investment. Otherwise, snowshoes can be purchased at local retailers, online or used at some thrift stores. Prices for snowshoes are relatively inexpensive and range from $100 for lower-end models to $300 for a higher quality pair.
Many types of winter clothing can be used for snowshoeing. Most boots can be used for snowshoeing provided they fit the bindings, are comfortable and keep out snow. Lots of winter pants and jackets are acceptable for snowshoeing provided they do not hold moisture and keep out snow. Wool, synthetic blends and nylon are all good choices. Avoid cotton as it will absorb moisture and make you cold. Be careful not to dress too warm as the exercise will help keep your body warm.
Getting youth outside in winter can be a challenge, but if presented properly it can be rewarding and fun! Snowshoeing is just one of many ways to engage youth in the great outdoors and it can be done just about anywhere. Strap on some snowshoes soon and get outside to embrace Michigan's winter season! Share the experience with a youth and keep this long-time tradition alive!
Michigan State University Extension offers outdoor skills through the 4-H Outdoor Adventure Challenge program and science involvement with 4-H Science: Asking Questions and Discovering Answers. For more information, contact me at baumga75@anr.msu.edu.