Exploring careers in dairy science series: Professional writer
The career paths and options related to dairy science and the dairy industry are limitless! No matter what talents or interests a person possesses, there is a dairy-related position waiting to be claimed.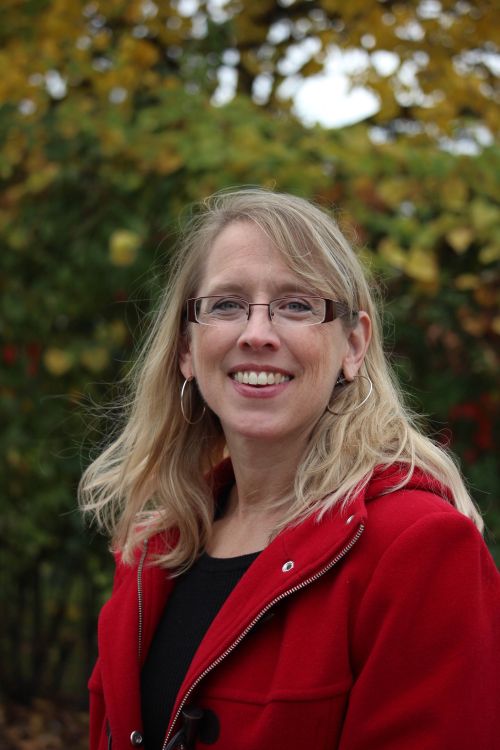 This is part of a new series of articles by Michigan State University Extension that will explore careers in dairy science that are not typical or commonly known. From animal care to advertising, professors to public relations, there is a career path in dairy for everyone! I recently sat down with Michele Ackerman, senior writer for Jersey Journal, the official publication of the American Jersey Cattle Association (AJCA) and JerseySites coordinator for breeder websites hosted by AJCA to ask her some questions.
Melissa: What is your position and how does it relate to the dairy industry?
Michele: In my position, I write feature articles and other editorial, including public auction reports, obituaries and a monthly column, for the publication. I create advertisements for the magazine as needed and design greeting cards for its annual Christmas card project. I also design, write text, build and update Jersey breeder websites.
Melissa: What is your background with dairy?
Michele: I grew up on a 60-cow registered Holstein farm in Hillsdale County. I was very involved with Michigan 4-H, showing cattle at county, district and state levels. I was a member of our county dairy judging and quiz bowl teams. I competed at national contests for each as a 4-H youth, including the 4-H judging contests at the All-American Dairy Show in Harrisburg, Pennsylvania, the World Dairy Expo in Madison, Wisconsin, and the North American 4-H Invitation Dairy Quiz Bowl contest in Louisville, Kentucky during the North American Livestock Exposition. I belonged to Michigan State University's Dairy Club and Block and Bridle Club and was a member of both the dairy and livestock judging teams. As a member of the collegiate dairy judging team, I once again earned the opportunity to compete at the All-American Dairy Show and World Dairy Expo, as well as the Eastern States Expo, or "Big E," in West Springfield, Massachusetts.
It was my love for the dairy industry and strong involvement since childhood that led me to my career path in dairy. Before I was a senior writer with AJCA, I worked in the dairy industry as advertising and promotions specialist at the Holstein Association USA. I began my dairy career as director of communications for the Michigan Holstein Association, which included responsibilities as editor of the Michigan-Indiana News, which was a 10-times a year publication for members of the Michigan and Indiana Holstein Associations.
Melissa: What educational path brought to your current role related to dairy?
Michele: I graduated from Michigan State University in 1986 with a bachelor's degree in agriculture communications. I also attended the University of Hartford on a merit scholarship for fine art to gain skills for a career in freelance illustration.
Melissa: Why did you choose to work in a dairy field?
Michele: I have always loved cattle, which I surely inherited from my father, and am also happiest when I am creating in some manner. A career in agriculture communications was the ideal means of melding my passions into a lifelong occupation. I did not have the opportunity to return home to dairy and this career path off the farm allowed me to keep ties with the industry.
Melissa: What advice would you have for someone wanting to pursue a career similar to yours?
Michele: Gain experience and skills that will make you an asset to any company. This may mean you have to volunteer both time and energy without pay.
Become involved with organizations that will allow you to develop skills, work with others in a team environment and learn what you enjoy. This may be where you discover unrealized skills outside of the classroom. It wasn't in a classroom that I learned that I am an organized person. I discovered this through volunteer work and the time I was self-employed.
Be open to learning new things throughout life, because everything changes. When I started my career in the dairy industry, there were no personal computers and the internet wasn't even on the horizon. I became adept at using both Photoshop and DreamWeaver by reading a book.
Work on relevant materials for your writing, illustration, or other career portfolios. When submitting materials for employment, have a specialist check your grammar. You would not believe how many resumes and cover letters submitted for writing positions have errors.
Melissa: Is there any other information you would like to share?
Michele: One of the things I find most interesting is that people, in general, are intrigued by agriculture and farming. Even the smallest, most mundane things that happen on the farm are often of interest to non-rural audiences. Growing up, it wasn't so "cool" to be involved with agriculture and be different from everyone else. Today, as an adult, uniqueness can be celebrated and is something others often appreciate.
MSU Extension would like to thank Michele Ackerman for sharing her passion and commitment to the dairy industry!