Exploring nature: Kids being scientists
Explore nature with kids and bring out the scientist in them.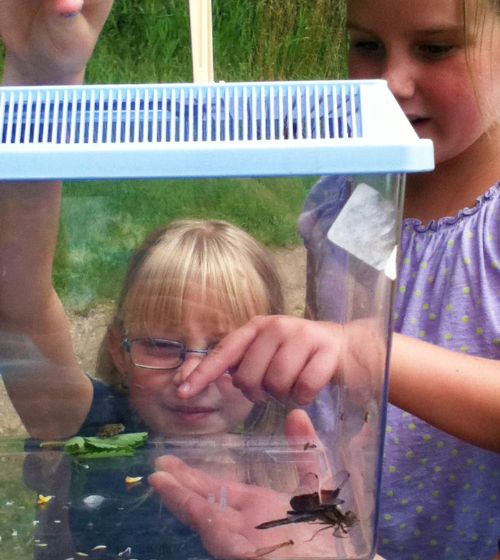 Nature is all around us and kids are excellent scientists because their curiosity leads to questions. Why are male birds so colorful and female birds are not? Why do deer and rabbits have a white tail that flashes when they run away? Do snakes eat fish? How? Don't worry if you don't have the answers to these questions. The next part of being a scientist is gathering data to answer your question.
Observation is a great way of gathering data. Want to learn more about the colors of a bird? Sit and watch the birds in your yard for a while. Do the males and females act differently? How? Make a list of behaviors you see and whether the male or female is exhibiting that behavior. This will give you data to work on answering the question about the difference in color between male and female birds.
Scientists also share their data and findings. After exploring nature, answering questions, collecting data and coming up with conclusions, make sure to share your findings with others. Call your grandparents, share with your 4-H club, contact your friends or share with siblings around the dinner table.
If woods or nature are not available locally to explore animal science, experience the Michigan outdoors and take a daytrip to local nature centers like the Kalamazoo Nature Center in Kalamazoo, Michigan. You can also visit local zoos or parks like the Binder Park Zoo in Battle Creek, Michigan, or the John Ball Zoo in Grand Rapids, Michigan. Aquatic science can be explored at an aquarium. To explore avian, or bird, science, a great educational experience can be found at the W.K. Kellogg Bird Sanctuary in Augusta, Michigan, which is part of the W.K. Kellogg Biological Station.
Participate in a summer camp and explore nature with friends like at 4-H Camp Kidwell in Bloomingdale, Michigan, 4-H Great Lakes and Natural Resources Camp in Presque Isle, Michigan, or join others for summer science-focused camps like the Kellogg Bird Sanctuary's Kids Being Scientists Summer Camp. These are all perfect opportunities to get youth outside and connecting with nature and asking those scientific questions.
Join a Michigan 4-H club which has many 4-H science programming areas to explore as youth scientists impact our future. Science is everywhere; explore nature this summer and bring out the scientist in you!