Extension staff member receives the Michigan State University Extension Outstanding Service to Extension Award
Matt Shane received the 2018 Outstanding Service to Michigan State University (MSU) Extension Award on Oct.16, 2018.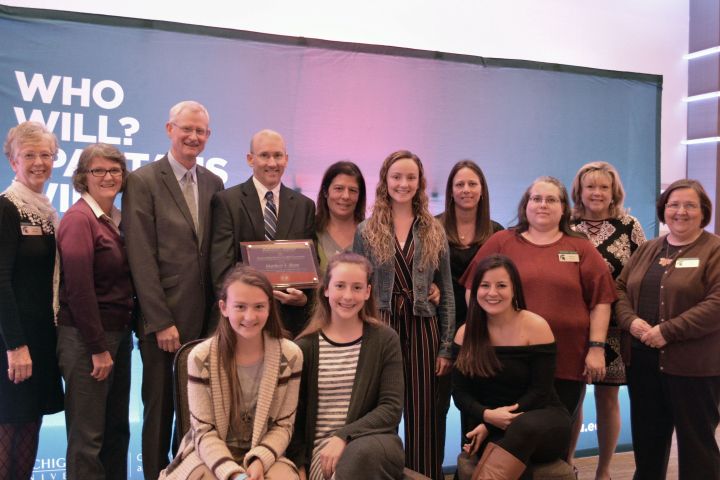 EAST LANSING, Mich. – Matt Shane received the 2018 Outstanding Service to Michigan State University (MSU) Extension Award on Oct.16 at the organization's annual conference in Lansing, Michigan. Shane is the district director for MSU Extension's District 12, made up of Hillsdale, Jackson, Lenawee, Livingston, Monroe and Washtenaw counties.
"I am honored to receive the Outstanding Service to Extension Award," said Shane. "During my years with MSU Extension I have been given the opportunity to learn, develop and use leadership skills, and have been privileged to use these skills to work with a knowledgeable and dedicated staff. Together our commitment to serving the needs of Michigan's individuals, communities and businesses is helping Michigan shape a positive future."
The Outstanding Service to MSU Extension is the highest honor given to staff members who have been with the organization for at least 20 years, and who have consistently exhibited leadership, service and excellence in programming or administration. Throughout his career, Shane has earned this recognition by leading innovative programs, building strong partnerships, and serving MSU Extension staff and Michigan residents so well.
"Whether it's Extension leadership, his peers, staff or community constituents – they all appreciate Matt for his integrity, his knowledge of Extension, his leadership ability, his wisdom and his people skills," said Laura Trombley, MSU Extension staff member, who nominated Shane for the award. "Matt leads with humanity and compassion. Trust is everything, and people trust Matt, so they trust Extension."
Shane hasn't always been a district director. He joined MSU Extension 21 years ago as a livestock educator and then became a county Extension director. In a range of roles, including collaborator on a project to produce electricity for about 28,000 Michigan homes; advisory committee member; interim District 10 coordinator in Huron, Lapeer, Sanilac, St. Clair and Tuscola counties; and MSU Extension representative on an exchange trip to India – Shane has made a difference in his organization, in the state and globally.
MSU Extension helps people improve their lives by bringing the vast knowledge resources of MSU directly to individuals, communities and businesses.
For more information on MSU Extension in your area, visit canr.msu.edu/outreach.
Did you find this article useful?
---