Facilitative Leadership September 2015 session now open for registration
Meetings have you frustrated? Does poor leadership diminish team morale? Facilitative Leadership skills can help move groups to closure.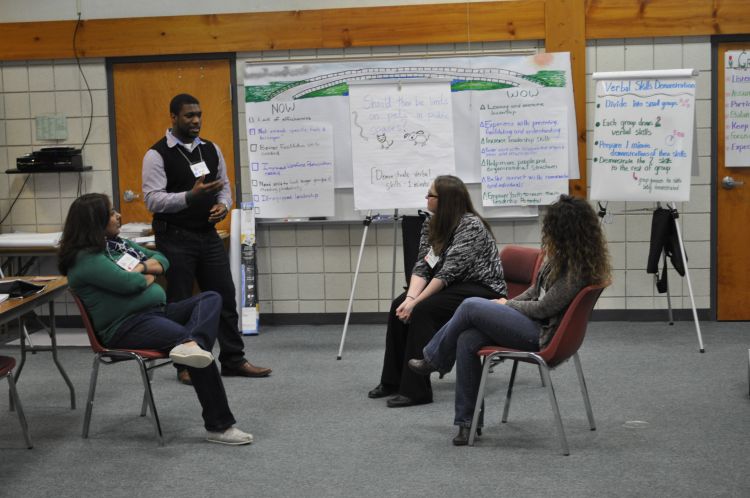 Have you ever led or been part of a meeting where you left feeling frustrated? Have meeting objectives and purpose not been met and therefore diminished team morale?
Chances are you have led or been part of a meeting where you left feeling frustrated that the meeting's objectives were not met. Michigan State University Extension offers a three-day Facilitative Leadership class to address this. The workshop attendees may be leaders, managers, facilitators, graduate students and anyone interested in facilitative leadership.
The Facilitative Leadership class focuses on creating an inclusive culture of collaborative learning in teams, communities and organizations. It takes place at the beautiful St. Francis Retreat and Conference Center, a comfortable retreat and conference center in a beautiful setting in DeWitt, Michigan. The workshop will be held September 9-11, 2015, from 9:30 a.m. on day one to 3 p.m. on day three. There are evening sessions on both the first and second days.
What is facilitative leadership? Facilitative leadership helps build the leadership capacity of a group or organization's members. It seeks to coordinate the actions and thoughts of members, strengthen relationships, and enable the group to establish and meet its goals democratically.
The goal of the class is to provide experiential grounding in leading groups to have more effective and efficient meetings and work together in a positive and productive way. During the workshop, participants practice skills in leading a group discussion, reaching consensus, encouraging creativity, setting outcome-based goals for meetings, keeping a group focused, and creating action plans. Every participant facilitates small group discussions during the workshop and receives extensive written and verbal feedback from the instructors and colleagues in the course. All practice facilitations are based on real-world situations brought in by the participants.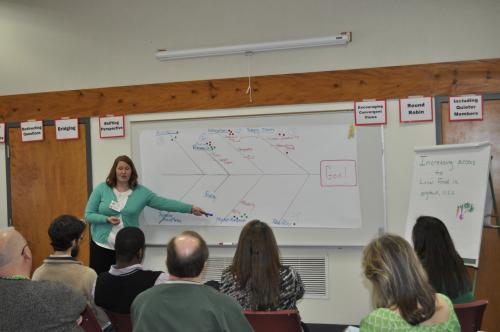 Prior to the class registrants are asked to sign up for a 90-minute interactive online session as an introduction to and background for facilitative leadership concepts. A choice of times and dates is available upon registration.
Class size is limited to 24 participants. This allows time for every participant to practice facilitating and receive coaching and feedback in small groups. Due to the focused nature of the workshop, participants are asked to participate fully in the three days without phone calls, meetings and other interruptions which diminish the learning experience for all. You will apply what you've learned in practice facilitation sessions, in a safe and supportive environment.
The cost of this all inclusive retreat experience, provides two nights lodging, day one breakfast through day three lunch, and all materials is $650 for tax exempt employees and $665 for taxable employees. If you cancel and we can fill your seat, you will receive a full refund. Otherwise, you will be charged 50 percent of your registration cost if you cancel within four weeks of the session. Those interested in joining the course should register immediately.