Farm women tailor plans to transition farms to the next generation
They are wives, daughters, daughter-in-laws, or mothers. Some carried more than one title. All were farmers. All were in search of how they could most effectively transfer the farm business from one generation to the next.
It didn't matter the age, or if they were working into the business or setting the stage for the next generation to step forward, they all had a common goal – a successful transition. Farming is a business and a way of life. You don't just retire! The farm business and family life are all tangled up in one.
Four major plans were developed and intertwined to formulate a transition plan: succession plan, estate plan, business plan and retirement plan.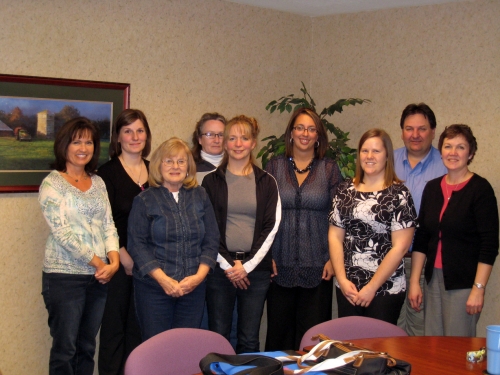 A succession plan is the blueprint for transferring knowledge, skills, labor, management, control and ownership between generations. The next generation may have production skills, learned from years of working on the farm, but management skills need to be developed. This plan looks at how to successfully – maybe gradually – hand over the reins of the farm business.
Reviewing the estate plan allowed each participant to update their list of assists, determine how each was owned and begin the discussion of how these assets can be transferred to the next generation. Proper planning allows assets to transfer, either by sale, gift or inheritance, in a manner that meets the goals of the family.
Updating the business plan allowed the women to develop a road map to business growth. They first looked at profitability and feasibility – can this business support another family? Then the focus turned to risk management.
Participants of the Managing for Today and Tomorrow program held in January 2012 reviewed their retirement plans to determine the goals they had for this stage of life. Would they continue to work on the farm? Would they turn over the leadership and spend time traveling? How much money would they need to fund their retirement and would this come from non-farm investments or from the farm? As answers to these questions were contemplated, retirement plans took shape.
Participants left the program with a greater understanding on how to build a good transition plan for their farm. Although we know it is not the goal for every farm to transfer to the next generation, we also know that the lack of succession planning is the reason only one-third of first generation businesses survived to the second generation (Small Business Association). Managing for Today and Tomorrow provides tools to allow farms to meet their goals and to keep agriculture strong in our communities.
Managing for Today and Tomorrow, succession, business estate, and retirement planning for farm and ranch women is an Annie's Project II series. Information on Managing for Today and Tomorrow is available through Roger Betz, MSU Extension senior farm management educator, at betz@msu.edu. For more information on other Annie's Project educational opportunities, contact Warren Schauer, MSU Extension farm management educator, at schaurer@anr.msu.edu.