Farmers enjoy educating consumers while they grocery shop
For the past two years, Michigan State University Extension has teamed up with northeast Michigan dairy producers and local grocery stores to educate consumers about dairy production while they shop.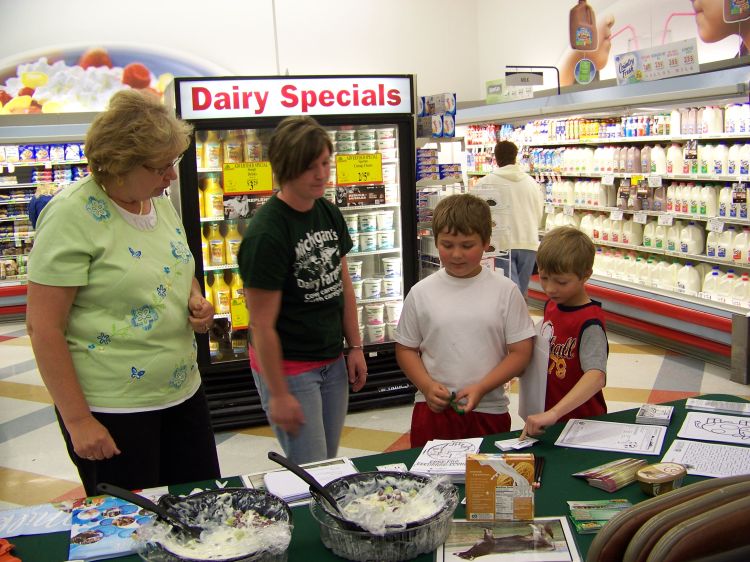 With 98 percent of the population removed from modern agriculture and consumers wanting to know more about where their food comes from, this is an opportune time for farmers to take on the challenge to share their knowledge of and passion for farming. Consumer education at the point of purchase, in the grocery store, is one way to do this.
According to figures from the Food Marketing Institute, consumers have more than 38,718 items to choose from in an average supermarket. The dairy department can be daunting because there are so many similar, yet different, products and choices. Whole milk, low fat and skim milk, organic milk and conventional milk, soy milk and nut milk, yogurt and Greek yogurt and the list goes on. With so many options it is no wonder consumers have questions.
To help consumers better understand where their food comes from, Michigan State University Extension assisted local dairy farmers and members of a 4-H dairy club by setting up an educational display in the dairy department and answered consumer questions. Commonly asked questions related to where and why they farm; others asked about milk quality and safety. Many were simply interested in what it is like to farm today and in sharing stories about farming that their grandparents told.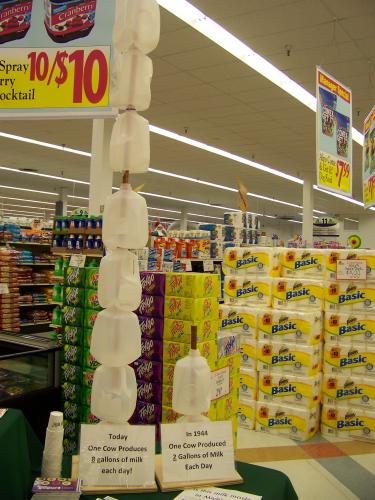 The store display featured the following:
A comparison of milk production today of 8 gallons/day/cow versus that of 2 gallons/day/cow in 1944
A wooden cow that can be "milked" and that shows how the inputs of food and water correlate to the outputs of milk, manure and crops
A poster showing how to identify Michigan sourced milk
Factsheets about dairy, Michigan agriculture and local agriculture
Signage with key messages about dairy nutrition and food safety
A DVD showing the journey of milk from the farm to the fridge
Samples of milk, cheese and ice cream
For consumers, this initiative helps to put a face on farming. Shoppers leave the store knowing more about the dairy products they purchased and the people who produced the milk. For the farmers, it reinforces the concept of needing and providing more transparency in the food system. People have questions about how their food is grown and raised and farmers are a trusted source for answers.
For more information about this program, please contact me at 989-354-9875 or dunckelm@anr.msu.edu