Farming far north: The North Farm to host on-farm short courses
MSU Extension short courses are scheduled at the North Farm to support Upper Peninsula citizens' use of season extension technologies to produce food both for themselves and for the local markets.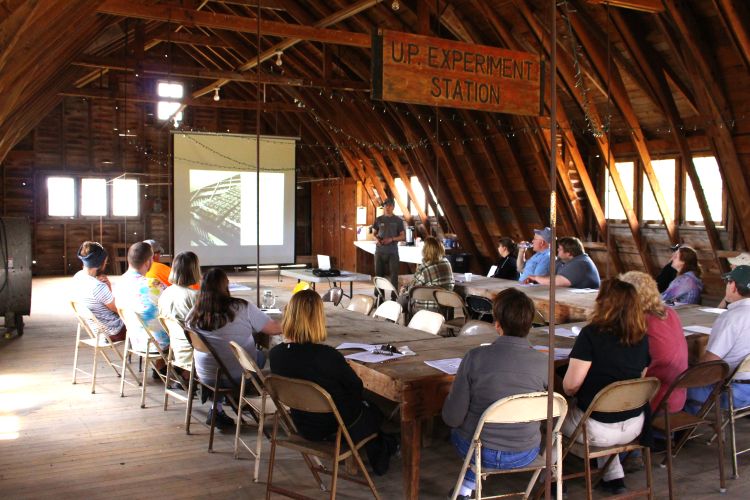 The primary goal of The North Farm, a collaborative operation supported by Michigan State University Extension and Michigan State University AgBioResearch located in Chatham, Mich., is to support the growth of new farmers producing nutrient-rich food for Upper Peninsula markets.
The North Farm is hosting a series of MSU Extension short courses starting in April on topics designed for market gardeners, small farms, and skill-seekers interested in diversified vegetable production. These short courses are an in-depth exploration of farming fundamentals and best practices for diversified vegetable growers. "This year's short courses will allow participants to get not only depth, but also breadth of knowledge on season extension, small farm systems, whole farm health, and seed saving," said Collin Thompson, North Farm manager.
Each five-hour learning session has an emphasis on hands-on activities so participants can practice what they learn, and includes the cost of materials for a project. "We want everyone to leave with something in their hands that they can use on their own farm when they get home," said Abbey Palmer, education coordinator.
All workshops will be held on-site starting at 1 p.m. EST and will include a combination of experiential and classroom-based learning. Short courses qualify for education hours through the MSU Extension Master Gardener program.
Registration is required for these events and can be accessed online. Questions? Contact Abbey Palmer at palmerab@msu.edu or 906-439-5114.
Season Extension – Sunday, April 17, 1-6 p.m.
Growing food throughout the year increases food security and can bolster your farm's earnings. This course will be valuable for individuals in the planning stages of hoop house construction.
Hands-on: Bend hoops for a 4'X12' bed
Topics:
Which hoop house is right for your operation?
Siting considerations
Hoop house planting schedules
Crops for year-round production
Small Farm Systems – Sunday, June 26, 1-6 p.m.
A farm is greater than the sum of its parts. This course looks at several farm systems and how they intersect. Get tips and tricks for building a lean, efficient farm.
Hands-on: Build a strap hoe
Topics:
Transplant care and schedules
Irrigation
Fencing
Low-cost and farm built tools
Time management
Recordkeeping
Whole Farm Health – Sunday, Aug. 28, 1-6 p.m.
Viewing the farm as an organism makes us consider all the living beings that affect everyday life on the farm. From creating a nourishing environment for soil microbes to ways to control pests organically, this short course examines best practices for soil, water, and pest management.
Hands-on: Take a soil sample (or bring one from home) and test soil respiration
Topics:
Cover cropping
Soil testing
Integrated pest management
Environmental verifications
Pollinators
Seed Saving – Sunday, Oct. 9, 1-6 p.m.
Saving seeds gives individuals the ability to select UP-hardy plant varieties and carry them on for future generations. Consider the percentage of your budget that goes to open pollinated seeds each year – replacing even a portion of that with seed saved from the farm saves money and creates a story you can tell your buyers.
Hands-on: Save seeds from open-pollinated plants using wet and dry process
Topics:
Basic plant genetics
Planning a seed-saving garden
Harvesting and storing seeds
Wet process/dry process
Seed saving as a commercial enterprise
If you are interested in learning more about the MSU North Farm, feel free to reach out to Ashley McFarland at 906-439-5176 or ashleymc@anr.msu.edu. McFarland is the Coordinator of the Michigan State University Upper Peninsula Research and Extension Center in Chatham, Michigan and a Community Food System Educator with MSU Extension.