"Farming for You" let dairy producers take their passion to the grocery store
In an effort to educate consumers about the importance of the dairy industry, producers from Alpena, Alcona and Montmorency counties spent time in a local grocery store telling their stories.
Producers of all commodities need to tell their stories so that the general public is better informed about Michigan agriculture and its importance in everyone's daily life. If you don't, someone else will and it may be a completely different story. On June 14, northeast Michigan dairy producers did just this. They gathered in the dairy section at Neiman's Family Market in Alpena to listen to consumer concerns, answer questions, share what it is like to be a dairy farmer and encourage shoppers to make informed purchases.
Like most producers, this group of dairy men and women are extremely passionate about what they do and the industry they serve. Prior to their visit to the store, they received communication training so they could be confident that they were prepared to engage with the shoppers and to answer difficult questions about environmental stewardship, food safety and animal care practices.
In addition to answering consumer questions and sharing their knowledge of dairy production, the producers treated shoppers to chocolate milk and a summer fruit salad made with ricotta cheese and yogurt. They distributed dairy facts and literature, coloring books, pencils, puzzles and magnets to more than 150 shoppers.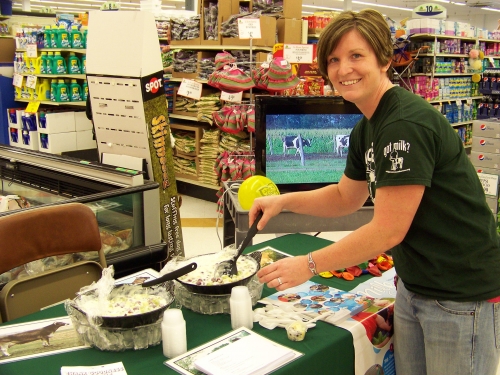 Katie Deller, a dairy producer from Alcona County was thrilled to talk to consumers about Michigan's dairy industry.
"Participating in events like this is important because it puts a face with our product," Katie said. "Consumers deserve to know who is providing food for their families. Positive interactions with producers will also give them a positive feeling about dairy products and the industry as a whole. "Farming for You", was a win/win MSU Extension program for dairy farmers and consumers and I was honored to be included."
For more information about "Farming for You" contact MSU Extension agriculture literacy educator, Mary Dunckel at 989-354-9870 or dunckelm@anr.msu.edu.