FDA changes to nutrition facts label coming soon
Several improvements to the current nutrition facts labels are needed according to the CSPI.
The nutrition fact label was first introduced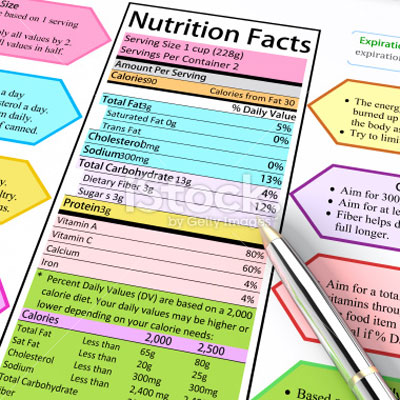 to consumers 20 year ago. A revision of nutrition labeling guidelines for consumers has been sent to the White House for review, but there has yet to be a set timeline for when the new labels will be released.
A Food and Drug Administration (FDA) study showed that 42 percent of working age adults between 29 and 68 looked at nutrition labels most of the time when shopping, or even said that they always did, with about 57 percent of Americans older than age 68 looking as well. Food experts state that modernization of nutrition and health information on food labels is an essential weapon in the fight against obesity and diet related diseases. Food experts also report that a cost benefit analyses of previous food labeling reforms show that the costs of changing food labels is greatly outweighed by the health benefits of providing consumers with better label information. Michigan State University Extension recommends consumers read nutrition labels, as they can assist people in making healthier food choices.
According to Center for Science in the Public Interest (CSPI), the current nutrition facts label needs improvements in the following areas:
More prominent labeling of calories per serving
Requirements that companies base nutrition information on realistic serving sizes
Adding a recommended daily limit on added sugar consumption
Making the nutrition facts label easier to understand – limiting the amount of calculations
Make the ingredient lists larger with better spacing
Add the percentage of whole wheat to the label
Clearer measurements that people can more easily comprehend: Serving sizes that make sense; incorporating teaspoons
Packaging – front package labeling for certain nutrients so consumers can see them more easily
Supermarket owners argue that a pending federal food labeling rule which stems from the Affordable Healthcare Act law would overburden thousands of grocers and convenience store owners. The new regulation will also affect thousands of supermarkets and convenience stores by requiring that their salad, hot food bars and bakery items include nutritional labeling, which will involve stores needing expensive software and laboratory assessments.
The CSPI says the new labeling promises to be clear-cut and easier to read. There will be an emphasis on calories – with easier serving sizes which will help consumers make healthy choices by taking out the annoyance of computing the number of nutrients per serving, portion size and items which are important to know for weight control.