Fear of financial advice doesn't have to be frightening
Getting financial advice can be like trick-or-treating; scary and sweet. However, it's best to get out there and get the goodies.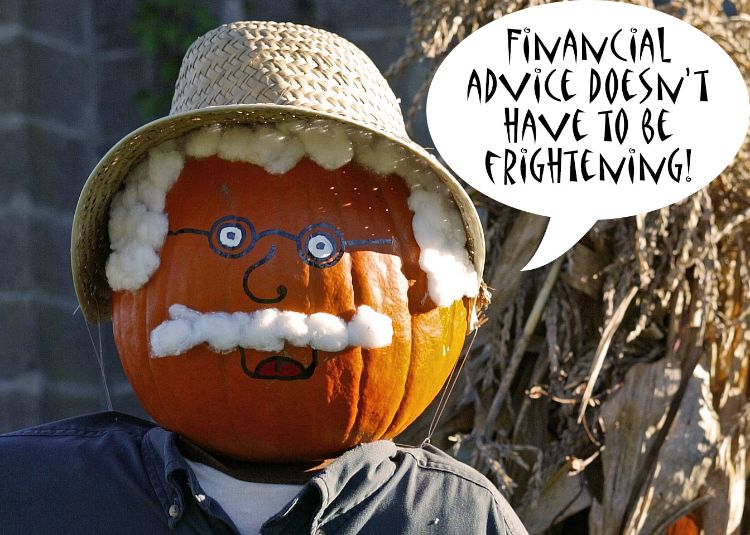 You don't have to be afraid of creepy costs. There are some cheap ways to get some good financial advice. Our government offers advice on taxes, 401(k)'s, barrowing, student aid and the laws governing those plans. Check out the My Money website which also offers advice on saving, investing and protection. Frauds, scams and identity theft are like monsters out there trying to take your money, but this protection is not pricy. Also, for information on investments and selecting advisors, visit the U.S. Securities and Exchange Commission (SEC). Don't get spooked about spending money for these resources; you've already paid for it.
Things that go bump in the night might be in your own home. Your employer may offer free advice, which is a nice little treat. Many companies that offer 401(k) plans and investment options will also contract out with the provider to offer financial advice and support for its employees. Ask your HR (human resources) department – if you have one – to run through your benefit options and take advantage of what is offered. Bankrate.com refers to a survey done by Charles Schwab that found "nearly three-quarters (74 percent) of Schwab's plan sponsor clients make advice available to plan participants. Fewer than one out of 10 people make use of that advice, however." Now that is scary!
If getting advice from financial advisors scares you, try going house to house! Consult friends, neighbors and relatives on who they use. Also, seek out people you see who are successful with their money that can give you a wide range of insights and options. The more you talk about what you are doing with your money and lean what they are doing, the more you can make informed decisions. The scary part may be deciding which advice to consider, but consider it all and weigh what is best for you. We all have different goals and situations, even with our finances, so don't think what is good for them is also good for you. Make note of the successes and mistakes made by others and how it might benefit you.
Don't get tricked! You need to do your homework when choosing a financial advisor. U.S. News has a seven step checklist that you might consider before giving the reins to your money flow. Those steps include checking on qualifications and credentials, looking over their quarterly reports and finding out how they are paid. Some advisors can dress up their portfolios or use "financial speak" to confuse you. Don't let jargon put a spell on you. Find an advisor that speaks your language and can put into terms advice you understand for your situation. A good financial communicator won't leave you screaming in the end.
Finances can be frightening. However, if you take the time to seek advice or find a good advisor, you can make "fund size" finances increase which will produce sweet treats in the end. For more information on money management and to get sound advice, visit the Michigan State University Extension and Michigan 4-H Youth Development websites.