February is grapefruit month
Bring some sunshine state fruit to your table in February.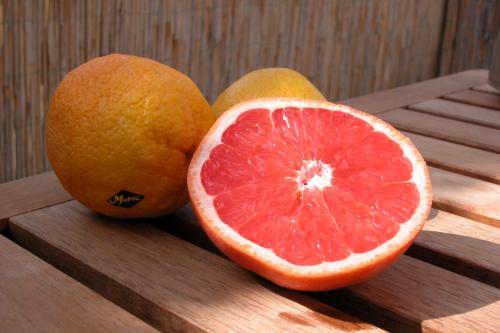 As winters cold and blustery weather knocks at your door, a little bite of sunshine is waiting for you in February as we celebrate the month for recognizing grapefruit. Offering over 100 percent of the daily values of vitamin C, one large grapefruit can bring the essence of the sunshine state to your table.
Vitamin C is known to support the immune system and may reduce the severity of colds symptoms. Vitamin C, working as an antioxidant, has also been shown to reduce the severity of inflammatory conditions, promote cardiovascular health and help reduce the risk of cancer. For additional nutrient breakdown on grapefruit, please visit the United States Department of Agriculture (USDA) websitek.
Recomended by Michigan State University Extension, the USDA MyPlate daily recommendation for fruit consumption is two cups of fruit for a 2,000 calorie diet. A half-cup of a grapefruit provides a half-cup of fruit in the fruit group. For tips on consuming more fruit, see the USDA MyPlate tip sheet.
According to the Florida Citrus, 70 percent of the United States grapefruit, along with 25 percent of the world's supply of grapefruit is grown in Florida. The two varieties of Florida grapefruit are the dark red (sometimes referred to as flame, ray or star) and the red (sometimes referred to as ruby red). Both are sweet, seedless and have a red to light red interior. Texas, California and Arizona also grow grapefruit. However, if you are looking for a sweeter, less pulpy grapefruit, look for a variety from Florida.
Healthy recipes for grapefruit are readily available on the internet. One recipe site that is particularly useful is the USDA recipe finder. Simply enter the ingredient in the search function and nutritious recipes that include that ingredient will pop up. Also included in the results are the nutrition values and costs associated with the recipe. This site will also assist in creating a shopping list based on the recipes selected.
Please note that grapefruit can interact with some medications. It is always important to ask your physician about any food interactions that may interfere with your medication.
You Might Also Be Interested In