Field Crops Virtual Breakfast on May 2 focuses on corn and soybean planting tips
The next Field Crop Virtual Breakfast features Manni Singh addressing corn and soybean planting for 2019. We will also present a short video on winter wheat stands this spring.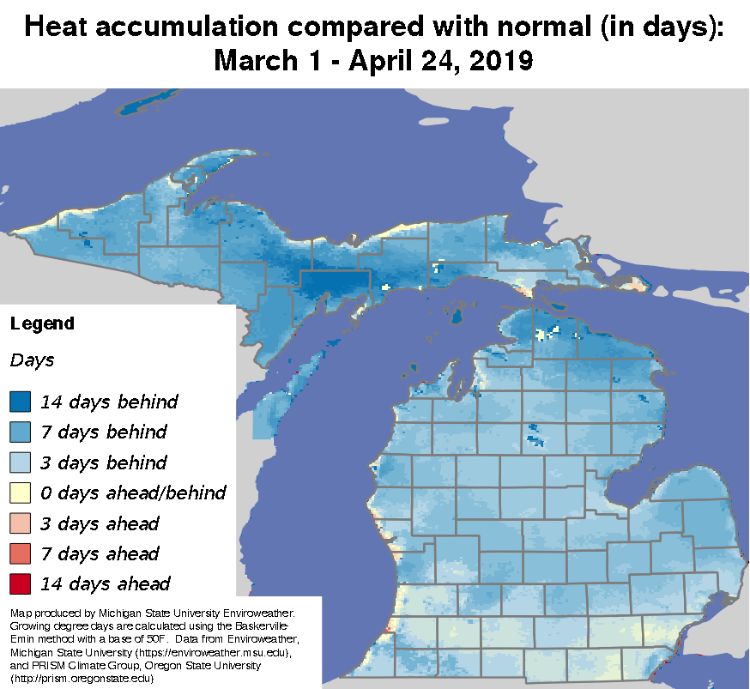 Cooler temperatures have prevailed in Michigan overall this spring, and we are currently three to seven days behind on heat units in the Lower Peninsula and more in the Upper Peninsula. As average soil temperatures have warmed to near 50 degrees Fahrenheit in the southern half of the Lower Peninsula, field operations have intensified and early planting of corn and soybean has begun.
Michigan State University Extension's Field Crops Virtual Breakfast meeting on May 2, 2019, from 7-7:30 a.m., will feature Manni Singh, MSU Extension cropping systems agronomist, discussing planting conditions this spring and how they compare with past years. He will discuss research findings related to soil conditions for planting, maturity and variety/hybrid selection, seeding rates and historic impacts on yield in corn and soybean. He will also be available to answer questions from participants following the presentation.
As always, MSU's agricultural meteorologist Jeff Andresen will also present the current weather conditions and the seven- to 10-day forecast.
At the end of the session, we will air a "hot-off-the-press" video from MSU Extension wheat specialist Dennis Pennington about winter wheat stands this spring. He will review methods to assess wheat fields to determine plant stand and yield potential, how to determine whether to tear up a field and plant to corn or soybean, and what management considerations will be necessary in that event.
Participating is easy!
You can join using your computer or mobile device (audio and visual) following the Zoom link: https://msu.zoom.us/j/552324349. Or, call in from your phone (audio only) by dialing 669-900-6833 and enter meeting ID 552-324-349.
To receive a weekly email reminder of the Virtual Breakfast, sign up at http://eepurl.com/gm-PIv. Participants receiving emails can opt in or out at any time.
Can't make it Thursday morning? Watch the recording!
For those who cannot join on Thursdays at 7 a.m., the Virtual Breakfast sessions will be recorded for later viewing with closed-captioning on the Field Crops Virtual Breakfast webpage. Podcasts will also be available.
Don't forget to follow us on social media. Stay up-to-date on what is happening in Michigan field crops by liking the MSU Extension Field Crops Facebook page or following @MSUEFieldCrops on Twitter.
Scheduled topics and dates
Note that these may change to cover breaking pest and weather situations.