Field Crops Virtual Breakfast series to kick off new growing season March 30, 2023
This free weekly series for farmers and agribusinesses focuses on a wide array of relevant field crop pest and crop management topics during the growing season.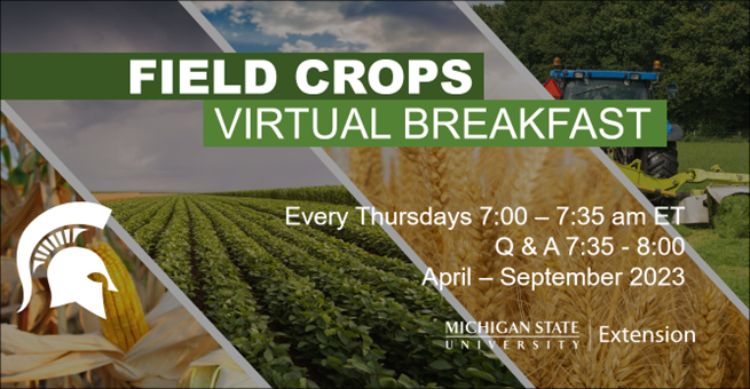 The Michigan State University Extension Field Crops Virtual Breakfast series will kick off the new growing season on Thursday, March 30, 2023. In 2018, prior to the spring growing season, farmers asked for a program that provided the latest information about field crop production in a concise and timely format. As a result, the Virtual Breakfast series began modestly with a group of farmers, agribusiness professionals, educators and MSU field crop specialists. This series has grown and evolved into a 26-week webinar series providing the latest research-based information on weather, potential pest challenges, crop management, soil fertility and soil health. Farming is a profession that requires a certain amount of faith concerning things beyond our control such as weather, potential pests and crop prices. For management decisions that are within our control, keeping up to date with the latest university recommendations provides an opportunity for increased knowledge and improved production efficiency leading to added crop revenue savings.
MSU Extension will host the Virtual Breakfast series every Thursday from March 30 through Sept. 21, 7 – 8 a.m. EST. The Virtual Breakfast is live via Zoom. Farmers, agribusiness personnel, and others interested in agriculture can interact with MSU Extension specialists and educators to get answers for their questions. An added benefit is that Michigan pesticide applicators can easily accumulate enough restricted use pesticide (RUP) credits during the season to recertify their credential. Each breakfast is worth one RUP credit (1A, 1B, Comm or Private Core) for pesticide applicators or one continuing education unit (CEU) for Certified Crop Advisors (CCA). RUP and CCA credits are only available for live participants.
"It's super convenient to listen to in the cab of a tractor during the busy seasons, and even at home on the couch during the less hectic times! Being a young farmer, a ton of this information is valuable and especially interesting to share with my parents as we continue to grow throughout the years!" – 2022 Virtual Breakfast participant
Topics are loosely established at the beginning of the series based on historical trends. However, the Virtual Breakfast series is flexible, fluid and able to adapt when issues arise due to unforeseen growing conditions. Each week features a timely, 15-minute presentation from an MSU specialist followed by Jeff Andresen, MSU Extension state climatologist, presenting a 15-minute weather summary and forecast. Following the weather, participants receive the information to apply for one RUP credit (1A, 1B, Comm or Priv Core) and/or Certified Crop Advisors CEU.
After RUP and CCA credit information, attendees can leave or stay on for a less formal discussion with farmers, educators and specialists that lasts until 8 a.m. In addition to the scheduled speaker for the day, other MSU campus specialists and educators with field crops responsibility are frequently part of the call and are available to answer any question related to relevant circumstances happening in their area.
"Great, timely and topical information. If anything, it is good to think about these topics around different seasonal activities." – 2022 Virtual Breakfast participant
Participating is easy and free! You can join the live meeting via Zoom using a computer, tablet, mobile device or regular phone line. If you are new to Zoom, simply download the Zoom app and you will be ready to join online every week to see visuals shared by presenters. A call-in by phone option is also available but note that you will only hear the audio portion.
Participants must sign up to receive an email notification with instructions for joining the Virtual Breakfast. You only need to do this once to receive the Zoom link and call-in phone number, as well as weekly reminders every Wednesday and Thursday. Participants receiving emails can opt in or out at any time.
Sign up to receive Virtual Breakfast Zoom information
Weekly schedule
7:00 – 7:15 a.m. — Scheduled topic by MSU specialists and educators
7:15 – 7:30 a.m. — Weather with Jeff Andresen
7:30 – 7:35 a.m. — RUP and CCA credits
7:35 – 8:00 a.m. — Q&A with MSU specialists and educators
Scheduled topics by date
March 30 — Early Season Weed Control
April 6 — Soil Fertility Considerations Corn Soy Wheat
April 13 — Alfalfa Planting Recommendations
April 20 — Corn and Soybean Planting Considerations
April 27 — Postemergence Weed Control
May 4 — Wheat Foliar and Head Scab Management
May 11 — Soybeans and N Applications
May 18 — Dry Bean Planting
May 25 — Plant & Pest Diagnostics - Know Your Problems
June 1 — Wildlife Management
June 8 — Hot Topics Q&A Session
June 15 — White Mold Management in Soybean
June 22 — Equipping Operating Sprayers in Soybeans
June 29 — Cercospora Leaf Spot Management in Sugar Beets
July 6 — Strategies for Efficient Irrigation Water Use
July 13 — Cover Crops After Wheat
July 20 — Tar Spot
July 27 — Status of Bt Resistance
Aug. 3 — Farm & Truck Vehicle Regulations and Safety
Aug. 10 — How to Get the Best Out of Your Drainage System
Aug. 17 — Hot Topics Q&A Session
Aug. 24 — Timing the Last Irrigation Application
Aug. 31 — Setting the Stage for Record Breaking Wheat Yields
Sept. 7 — Marketing Your Grain Crops
Sept. 14 — Monitoring Nematode Resistance in Soybeans
Sept. 21 — Fall Weed Control
If you cannot participate in the live session at 7 a.m., you can view the recorded version at any time. However, only the live session will be eligible for RUP and CCA credits. Recordings will be closed-captioned and available at the Field Crops Virtual Breakfast website and the MSU Extension field crops team social media platforms: Facebook, Spotify, YouTube, Apple Podcasts and Twitter.
If you are unable to sign up online, call the Lapeer County MSU Extension office at 810-667-0341.
Follow us on Facebook, Spotify, YouTube, Apple Podcasts and Twitter for breaking news.