Field Crops Webinar Series: Lessons learned from late and prevented planting in 2019
The first webinar will help growers and agribusiness professionals better prepare for and manage against the risks brought on in years like 2019.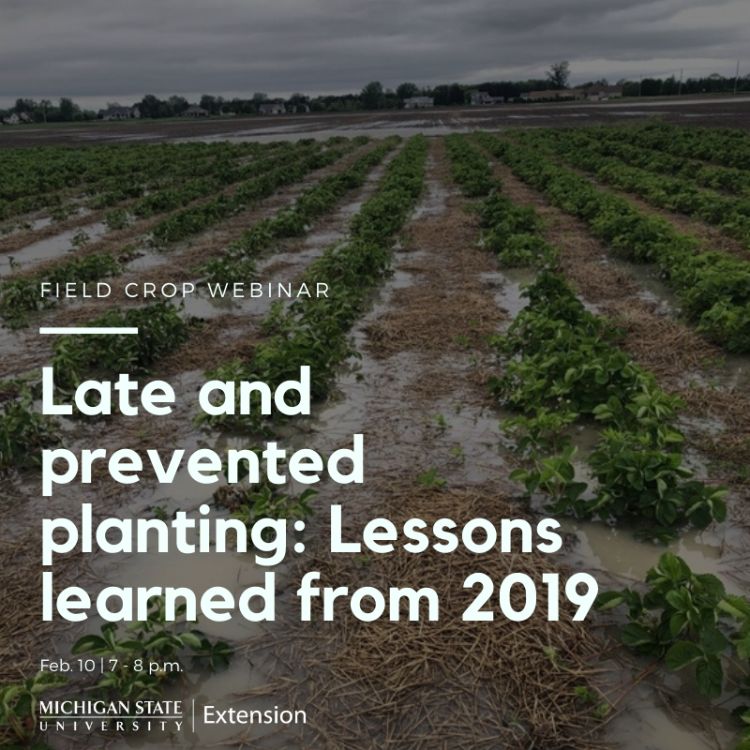 The 2020 Field Crops Webinar Series will kick off the program with "Late and Prevented Planting Issues: Lessons Learned from 2019" on Feb. 10 at 7 p.m. Looking back at the lessons learned from 2019, this session will focus on strategies farms can use to become more resilient moving forward. Attendees will learn how to better prepare for or manage against the risks brought on in years like 2019.
Manni Singh, Michigan State University Extension cropping systems agronomist, will discuss agronomic changes for corn and soybeans that should be considered to address variable planting windows. Jon LaPorte, MSU Extension farm management educator, will be discussing financial considerations to improve cash flow and decision-making in season.
The live webinars will run on Monday evenings from 7 to 8 p.m. EST beginning Feb. 10 through March 30, 2020. Other topics in the series include:
Feb. 17: Corn, Wheat, and Soybean Price Outlook – Jim Hilker
Feb. 24: Weed Management Challenges that Lurk for 2020 – Christy Sprague
March 2: Emergent Pests and Diseases – Chris DiFonzo and Martin Chilvers
March 9: Nutrient Management to Improve Efficiency – Kurt Steinke
March 16: Woodlot Management – Julie Crick
March 23: Hemp Production in Michigan – James DeDecker and Eric Anderson
March 30: Farmers Helping Farmers with Farm Stress – Roger Betz and Eric Karbowski
Participants can register for the entire series at $20 per person or for individual sessions at $5 per person per session. Those attending the live webinars will be eligible to earn one MDARD Pesticide Recertification (RUP) credit per session for application to one of the following categories: Private Core, Commercial Core or Field Crops. Each webinar will also be recorded and archived, and participants may choose to view the recordings at a later date.
To register for one or more webinar programs in the series, visit the Field Crops Webinar Series event page. Prior to each webinar, registrants will receive an email containing a link to connect to the webinars. The webinars may be accessed on a computer or mobile device with a stable internet connection—no other equipment is necessary.
For additional information or assistance, contact Eric Anderson at 269-467-5511 or eander32@msu.edu. Call by Feb. 3 to request accommodations for persons with disabilities. Requests received after this date will be fulfilled when possible.