Field Crops Webinar Series: Nutrient management to improve efficiency
The fifth webinar in the series will cover strategies to improve efficiency of fertilizer inputs.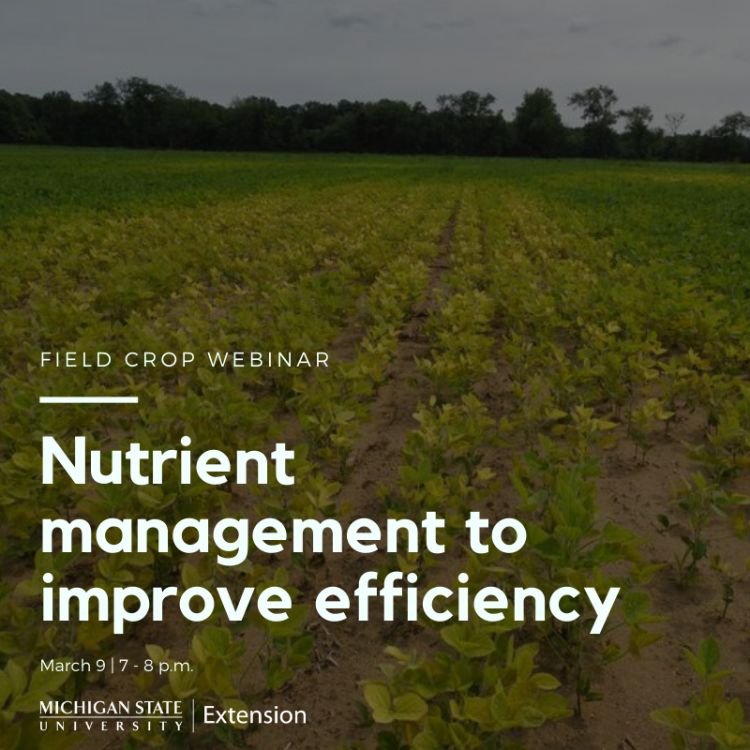 The 2020 Field Crops Webinar Series will continue March 9 with "Nutrient Management to Improve Efficiency." Kurt Steinke, associate professor of soil fertility and nutrient management at Michigan State University, will share the results of his 2019 nutrient management research plots around Michigan and information on how to increase crop nutrient use efficiency while implementing best management practices to lessen impacts on water quality and other environmental concerns.
The live webinars will run on Monday evenings from 7 to 8 p.m. EST through March 30. Other topics in the series include:
March 16: Woodlot Management – Julie Crick
March 23: Hemp Production in Michigan – James DeDecker and Eric Anderson
March 30: Farmers Helping Farmers with Farm Stress – Roger Betz and Eric Karbowski
Participants can register for the entire series at $20 per person or individual sessions at $5 per person per session. Those attending the live webinars will be eligible to earn one MDARD Pesticide Recertification (RUP) credit per session for application to one of the following categories: Private Core, Commercial Corethe or Field Crops. Each webinar will also be recorded and archived, and participants may choose to view the recordings at a later date.
To register for one or more webinar programs in the series, visit the Field Crops Webinar Series event page. Before each webinar, registrants will receive an email containing a link to connect to the webinars. The webinars may be accessed on a computer or mobile device with a stable internet connection—no other equipment is necessary.
For additional information or assistance, contact Eric Anderson at 269-467-5511 or eander32@msu.edu.