Field Crops Webinar Series offers pesticide applicator recertification credits online
Pesticide applicators in Michigan can now keep their certifications current with minimal investment in time and travel.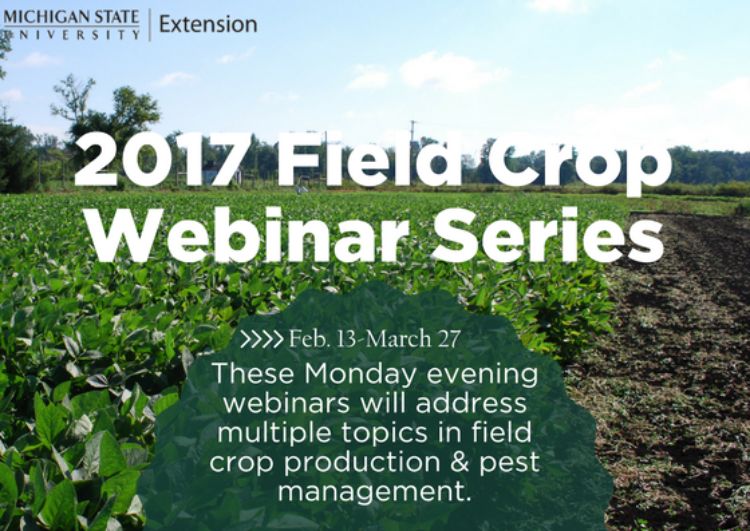 In Michigan, those who wish to purchase or apply Restricted Use Pesticides (RUPs) must pass an exam to become a certified pesticide applicator. Once achieved, individual certifications are valid for a period of three years, at which point the applicator can retake the appropriate exams to maintain their status. Certified applicators can also elect to avoid reexamination and instead renew their certification by accumulating educational recertification credits during the three-year certification period. Private applicators must secure 16 private core credits, while commercial applicators need eight commercial core credits and eight additional credits for each category they are certified in (e.g., field crops, turf, etc.).
Traditionally, credits have only been offered to those attending in-person educational programs related to pest management, commonly held by Michigan State University Extension or industry representatives. Recently, however, credit offerings have expanded to include live and recorded online educational content. One example of these new online credit opportunities is the upcoming 2017 Field Crops Webinar Series.
On Monday evenings from Feb. 13 through March 27, MSU field crops specialists will address key production points for the coming growing season in a condensed virtual format. These live webinar programs will run from 7- 8 p.m. and can be viewed independently online over a high-speed internet connection. Registration is $15 for the full series of seven webinars or $5 per individual webinar session. One MDARD Pesticide Recertification Credit will be available through each event for application to the Private Core, Commercial Core or Field Crops categories.
This year's webinar series will include the following sessions:
An updated listing of all programs approved for MDARD pesticide applicator recertification credits can be viewed online. It is not clear, at this point, what the future of online recertification credits will look like for Michigan pesticide applicators. Is online learning as valuable for applicators as traditional, in-person meetings? Could there be a limit imposed on the number or percent of credits earned remotely? As an educator, I certainly agree that it is easier to identify and engage a distracted student when they are physically present. Yet, in today's world, nothing beats the convenience and low cost of online programs. Any questions regarding the MDARD pesticide applicator certification process can be directed to Faye Burns at 517-373-9752.
Visit the 2017 Field Crops Webinar Series page to register for the MSU Extension Field Crops Webinar Series and access connection information. Contact James DeDecker at 989-734-2168 or dedecke5@msu.edu for more information, or by Feb. 6 to request accommodations for persons with disabilities. Requests received after this date will be fulfilled when possible.