Fight the winter blues by connecting with the outdoors online this fall
Continue to be inspired by Michigan's natural beauty by participating in our virtual programs.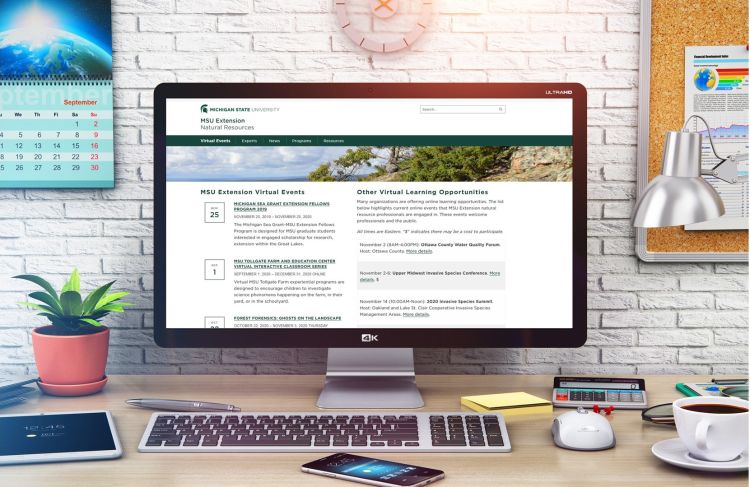 Michigan State University Extension natural resource educators have been working around the clock to adjust traditional in-person educational programs into virtual learning opportunities in the era of social distancing. From the comfort of your home, join us for one or all of our virtual programs this winter. There are no prerequisites, just a passion for Michigan's environment and an internet connection.
Conservation Talk Tuesdays webinar series
The Conservation Stewards Program is presenting a free webinar series, Conservation Talk Tuesdays, highlighting extraordinary conservation and restoration efforts happening in Michigan and how people with different goals and cultures come together to make a difference. The webinar series takes place on select Tuesdays in November and December from noon to 1 p.m. The two November webinars will highlight wild rice and Arctic Grayling reintroduction. To learn more about the series and to see past webinars, visit the Conservation Talk Tuesday webinar website.
Introduction to Lakes online course
The Introduction to Lakes online course is a nationally recognized award winning program offered yearly by MSU Extension. The 2021 course runs January 19 to March 26 and is designed for anyone interested in inland lakes, including lakefront property owners and professionals. Course topics include lake ecology, watershed management, shoreline protection, Michigan water law, aquatic plants, and community engagement. The six-week course is made up of video lectures, interactive activities, discussion forums and live chat sessions with MSU Extension educators and experts from outside organizations. Registration is open now through January 14, 2021. To learn more, visit the Introduction to Lakes website.
Wild Spartan webinar series
The 4-H staff are meeting with scientists from across MSU and the Michigan Department of Natural Resources once a month to explore their field work, education, and career paths. Follow along as they climb through bogs, peer into bear dens, mist net songbirds, snorkel for fish, and much more. Suggested audience age is 12 to 19 years and viewers are encouraged to watch with their families. Sessions will be held on the second Tuesday of the month at 7 p.m. through May. The upcoming November session will highlight Caitlin Mack's research on African painted dogs. She is a graduate student in the MSU Department of Integrative Biology. To learn more about the series and speakers visit the Wild Spartan webinar series website.
MI Paddle Stewards
Become an ally in the fight against aquatic invasive species with the MI Paddle Stewards online program from Michigan Sea Grant and Michigan State University Extension. The program explores aquatic invasive species threatening Michigan's waterways, how to properly clean watercraft to prevent their spread, and how to report invasive species using the Midwest Invasive Species Information Network mobile phone app. Become a MI Paddle Stewards ambassador in five short sessions. To learn more about the course visit the MI Paddle Stewards website.
We're continuously developing new virtual learning opportunities. For a complete and up-to-date listing of all of MSU Extension's natural resource online programs visit our virtual events website.