First spotted wing Drosophila detected for 2015 – traps should be out already
Spotted wing Drosophila monitoring traps provide early warning of fly activity before most fruit are ripening.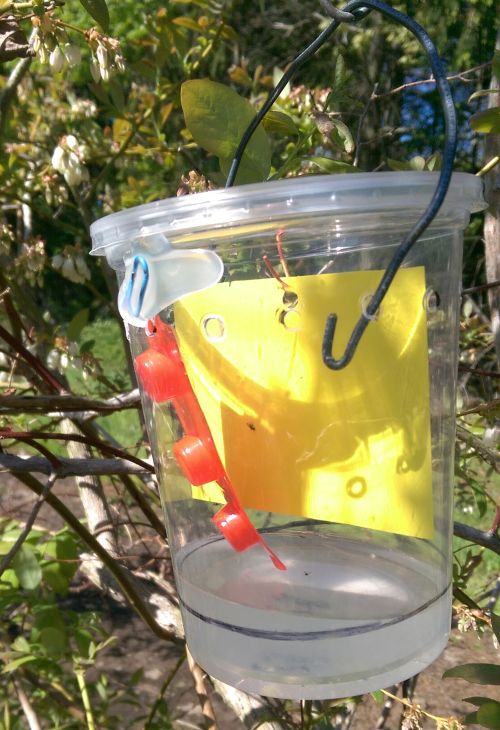 The Michigan State University Extension spotted wing Drosophila (SWD) monitoring network detected the first SWD in traps baited with commercial lures late last week in Berrien and Benzie counties. The Berrien County detection was from a trap placed in the tree line next to a commercial raspberry block. The Benzie County detection was from a trap placed on the interior of a tart cherry orchard, approximately 200 feet from the orchard edge. There was just one female SWD fly caught in each trap. The timing of these catches generally lines up with the first SWD caught in Michigan in mid-June in past years; however, our past first catches have been caught in southwestern counties before the sites further north. At this time, of the more than 100 traps that are part of the SWD statewide monitoring network, all but the two traps in Benzie and Berrien counties have reported zeros this week.
With the detection of these single female SWD catches, we remind growers and consultants of the importance to have monitoring traps deployed at this time. (Once susceptible crops ripen, growers will then need to make management decisions based on fly activity and crop ripeness stage.) Additionally, trap checkers need to have good identification skills so SWD can be separated from all the other small flies as well as detecting females that do not have the black spot on the wings. MSU has developed a free guide with photographs, "Spotted Wing Drosophila Identification Guide." More information on monitoring can be found on the MSU Spotted Wing Drosophila website.
Make or purchase a SWD trap
Traps and lures can be made at home or they can be purchased from commercial suppliers, such as Great Lakes IPM. A simple monitoring trap consists of a plastic 32 ounce cup with 10 3/16- to 3/8-inch holes around the upper side of the cup, leaving a 3-to 4-inch section without holes to facilitate pouring out of the liquid. The holes can be melted into the plastic with a hot wire or soldering iron. The small holes allow access to vinegar flies, but keep out larger flies, moths, bees, etc. To help ensure trapped flies do not escape and to facilitate checking traps, a small, yellow sticky trap can be placed inside, hung on a paper clip. The traps will also work without the yellow sticky insert, but then a drop of unscented dish soap should be added to the liquid to ensure flies remain trapped.
There are some different options for baits. A homemade approach is to use a yeast-sugar mix which ferments and attracts flies. This trap is made by combining 1 tablespoon of active dry yeast (we use Red Star brand, available online or in stores) with 4 tablespoons of sugar and 12 ounces of water. Although these traps are harder and messier to service, the yeast bait is less expensive and tends to catch SWD a week or two earlier than the bait described below. At each check, fresh bait should be swapped out and disposed of away from the trap location.
While the yeast-sugar mix has been effective, pre-made commercial lures are now available for SWD. Our monitoring network is using the red Pherocon SWD lure that has a cover you peel off to allow the odors to release. There is also a gel packet design lure from Scentry, and we are running trials to compare these two lures to the yeast-sugar mix in cherry, raspberry and blueberry sites during 2015. The lure is hung in the trap over 1-2 inches of soapy water, and the liquid can be checked each week for SWD. As mentioned above, a sticky insert can be used to facilitate fly capture and checking.
Placing SWD traps for effective monitoring
Traps for SWD should be hung in a shaded area in the fruit zone using a wire attached to the top of the trap. Growers should be sure the trap is clear of vegetation with the holes exposed so SWD can easily fly in. We recommend a minimum of one yeast-baited trap for SWD every five to 10 acres with an additional trap in a wooded field margin if present to see when SWD are becoming active. Traps should be checked for SWD flies once a week at a minimum; the yellow sticky trap and liquid inside the trap should be observed for SWD, and SWD captures should be recorded each week in a log book. With this method, we can track the number of male and female SWD as the season progresses.
Once fruit are ripening and SWD flies are present, growers will need to make management decisions to minimize the risk of infestation. We typically get a sharp increase in captures in late July, and when SWD populations reach high levels, it is a very important time for protection of later blueberry varieties, fall raspberry crops and northern cherries. Information on SWD monitoring and management can be found at the MSU Spotted Wing Drosophila website.
Drs. Isaacs, Gut and Rothwell's work is funded in part by MSU's AgBioResearch.