Firewise practices aid agricultural producers
Rural locations in the vicinity of combustible fuel loads put farms at risk of loss from fires. Agricultural producers can reduce the chance of possible loss of structures and livestock by adopting Firewise practies.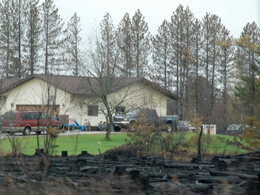 More than 25 percent of the 10,000-plus wildfires reported annually in Michigan are started by brush and debris fires that escape containment and rage out across a landscape. Many of these "accidental" ignitions are in conjunction with farming-related activities. The burning of brush, pruning piles and stumps from land clearing all can escape and start wildfires if due diligence and supervision are not provided when undertaking these activities.
Photo at right: Rural home that survived wildfire through good Firewise practices (Courtesy of MDNR)
Even if a landowner has legal permission for burning, individuals starting fires may be held responsible and liable should fires escape and cause damage to adjoining properties. It is recommended that landowners needing to conduct outdoor burning ensure conditions are satisfactory prior to starting regardless of the permitting requirements. Michigan Department of Natural Resources provides online access for obtaining burn permits that is determined by current atmospheric conditions. Visiting this site before starting burns is required to obtain permits.
As Michigan's winter snow accumulations recede and warming spring temperatures combine with drying winds; fields and timberlands are most susceptible to wildfire. Ensuring machinery exhaust systems are in proper working order and spark arresters are in place on smaller equipment will help prevent accidental wildfire ignition. When conducting burns you should remain on site to supervise fires and double check to ensure burns are completely extinguished before leaving the area.
Michigan State University Extension provides suggestions through its Firewise Communities program that homeowners and farm owners may want to adopt to help protect their buildings and ownerships from wildland fire losses. Early spring is an ideal time to inspect around homes, barns and other structures for accumulation of leaves, needles and dead grasses that may be fire ignition points.
Even properly supervised brush fires and well-maintained burn barrels can release embers that pose a threat if they should find their way to combustible materials. It is recommended that at least a 30-foot defensible zone be established around all structures by reducing exposure to or eliminating combustible materials.