Fishing Guide or Charter Captain – What's the difference?
Licensing and reporting requirements are different for charter captains and fishing guides in Michigan. This makes for a lower barrier to entry for fishing guides, but also leads to safety concerns and gaps in our understanding of river fisheries.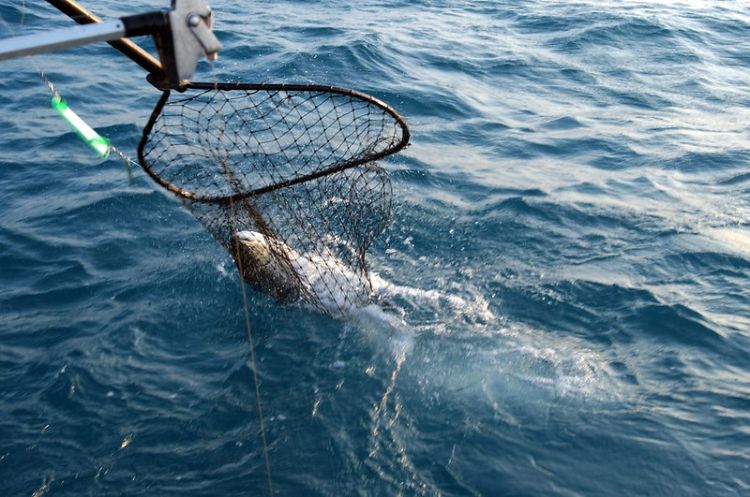 When people think of charter fishing in Michigan, images of large boats trolling the Great Lakes usually come to mind. Charter fishing also takes place in many Michigan rivers, though. The difference between charter fishing and guided fishing on Michigan rivers is not always immediately clear to anglers interested in for-hire fishing.
The distinction between a guide and a charter captain is related to licensing requirements. In order to be licensed to carry passengers for hire on federally-designated navigable waters, an operator must obtain a Merchant Mariner credential from the United States Coast Guard (typically a National Operator of Uninspected Passenger Vessel, an OUPV). This requires passing a physical and a detailed exam related to marine safety. Charter captains are also required to be enrolled in a drug and alcohol testing program. Charter boats that are licensed to carry six or more passengers are inspected by the U.S. Coast Guard for safety, while boats carrying fewer passengers are inspected by the state of Michigan.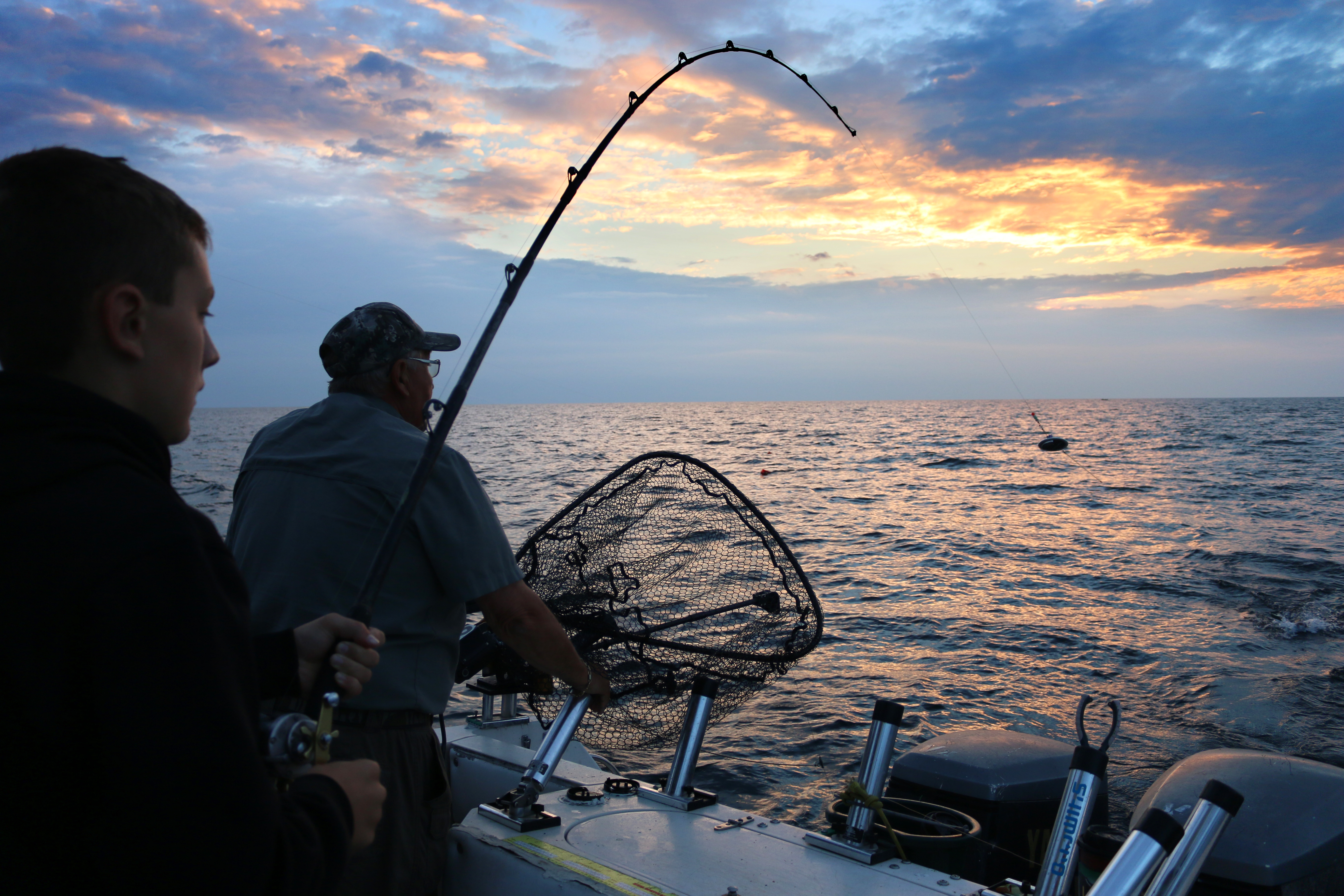 Fishing guides can operate without U.S. Coast Guard credentials in non-federal waters and are not required to enroll in a drug and alcohol program. Fishing guides can take clients shore fishing, ice fishing, or wading in Michigan without any type of license or training but if a boat is used to take passengers for hire, an Inland Pilot License from Michigan Department of Natural Resources is required. This license costs $30 and requires a one-page application form that includes a physician's statement and questions related to boating experience and convictions for marine laws and felonies.
In short, requirements for charter captains are more demanding than requirements for guides in Michigan. This makes for a higher barrier to entry for captains, but also gives customers greater assurance of safety – particularly on open waters of the Great Lakes where conditions often require a seaworthy boat and experienced crew.
In Michigan, several inland lakes and river sections are also under federal jurisdiction. The list of federally navigable waters includes drowned river mouth lakes like Muskegon Lake and Pere Marquette Lake, along with downstream reaches of popular rivers including the White River to U.S. 31 and the Manistee River to High Bridge. Many of these waters cannot accommodate large charter boats with six-pack licenses, but they do offer excellent seasonal fishing for steelhead and salmon from small boats.
Even so, if a small boat takes passengers for hire on one of these smaller navigable waterways then it meets the definition of charter fishing and the captain must follow federal requirements. Michigan DNR also requires reporting of effort and catch while charter fishing, but not while guiding.
Unlicensed operators and incomplete reporting
Many fully licensed captains and fishing guides see unlicensed activity as a major threat to the industry. Safety concerns are of primary importance, but unlicensed or improperly licensed operators are also able to offer trips at reduced rates that attract clients away from legitimate operators.
What's more, reporting of catch and effort has typically been neglected on waters outside the Great Lakes. Michigan DNR has required charter boat reporting for over 30 years, and the resulting database has been extremely helpful for tracking trends in catch rates, species composition, and the economic impact of charter fishing on the Great Lakes, among other things.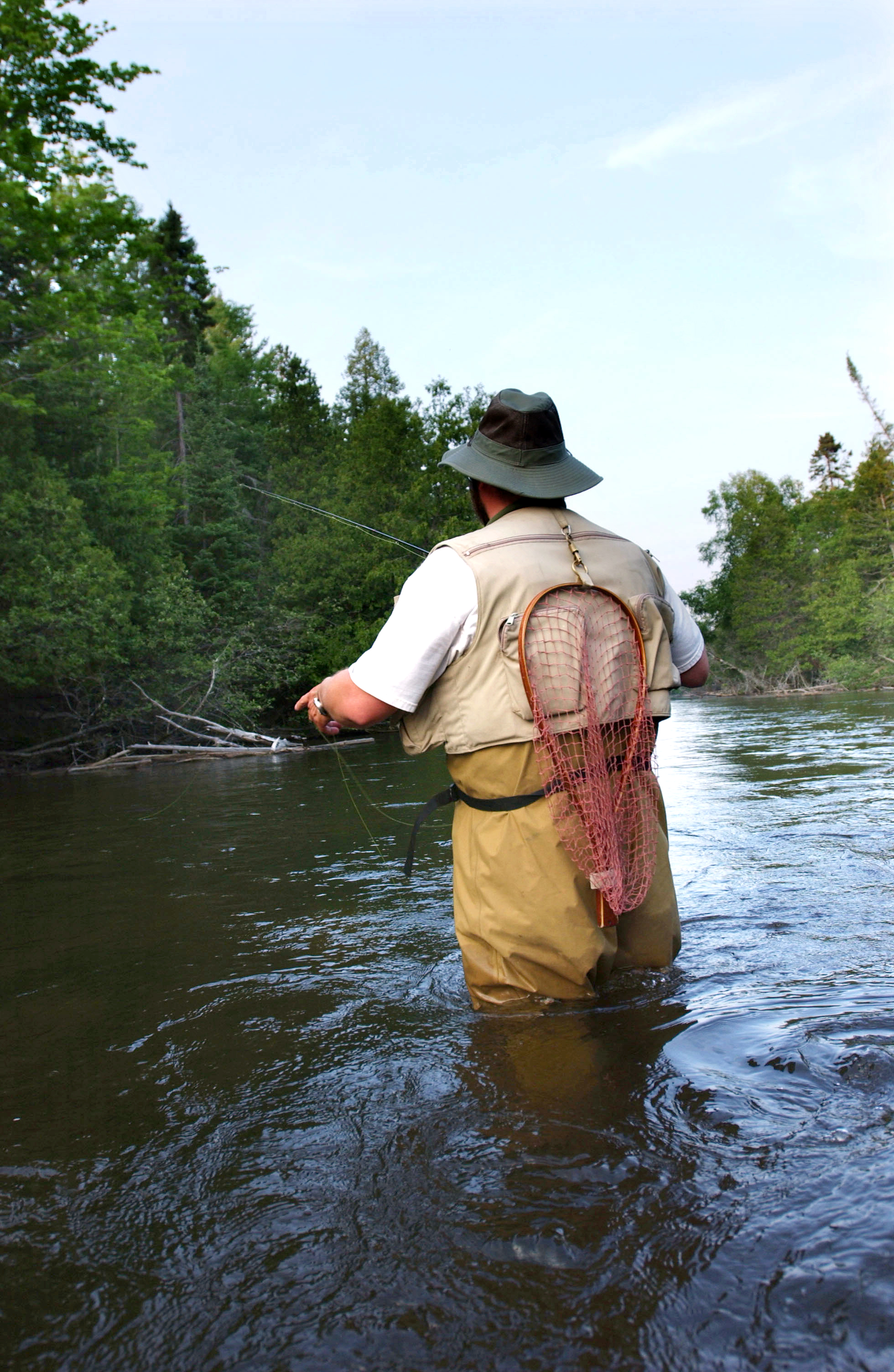 On rivers, charter reporting provides an incomplete picture of fishing-for-hire activities. Most prime steelhead and salmon rivers include sections under federal jurisdiction and non-federal waters. These rivers therefore support both charter and guided fishing, sometimes during the same trip. For example, if you fished the Muskegon River in Newaygo, time spent fishing above the M-37 bridge would count as guided fishing and time spent below the bridge would be charter fishing!
In terms of licensing and enforcement, any operator with passengers for hire below M-37 would be regulated as a charter. In terms of reporting, fish caught and effort spent above M-37 would not require reporting to DNR. However, as with many rivers, a great deal of fishing effort takes place above the dividing line between charter and guided fishing.
As of now, biologists and social scientists have very limited information on for-hire fishing trends in upstream areas of Michigan rivers. Charter captains are encouraged to report catches when they do fish upstream, but most guides are not enrolled in the state's reporting program. This is particularly problematic when it comes to assessing steelhead fisheries because steelhead populations are dependent on both river and Great Lakes environments.
Steelhead do most of their feeding and growing in the Great Lakes but return to rivers to spawn. While in the Great Lakes, they feed heavily on the same baitfish (alewife, rainbow smelt, etc.) that other predatory salmon and trout compete for. Mature steelhead enter the downstream sections of rivers before spawning, and they can remain in river systems for many months before spawning in upstream sections in late winter or early spring.
Typically, the heaviest fishing pressure occurs in upstream areas during the spring spawning season, but in most rivers this critical component of the steelhead fishery is not reported on by charter captains. Furthermore, DNR creel surveys have excellent coverage of Great Lakes ports on an annual basis but have only sporadically sampled a few of the most popular steelhead rivers in select years.
Michigan River Steelhead Project and Guide Survey
Michigan Sea Grant is working to address gaps in our knowledge of stream steelhead fisheries and guided fishing. The Michigan River Steelhead Project brings steelhead anglers and guides together with biologists and fishery managers through regular Zoom meetings. Participants are invited to voluntarily collect data on steelhead catch and effort over the course of the season and submit results using the Great Lakes Angler Diary. Sea Grant's 2021 Michigan Inland Guide Survey asked guides for their opinions on a variety of topics including steelhead bag limits and proposed legislation that could result in additional regulations and reporting requirements.
Michigan Sea Grant helps to foster economic growth and protect Michigan's coastal, Great Lakes resources through education, research and outreach. A collaborative effort of the University of Michigan and Michigan State University and its MSU Extension, Michigan Sea Grant is part of the NOAA-National Sea Grant network of 34 university-based programs.
This survey report was prepared by Michigan Sea Grant Extension Educator Daniel O'Keefe under award NA180AR4170102 and SUBK00013473 from the National Oceanic and Atmospheric Administration, U.S. Department of Commerce through the Regents of the University of Michigan. The statement, findings, conclusions, and recommendations are those of the author(s) and do not necessarily reflect the views of the National Oceanic and Atmospheric Administration, the Department of Commerce, or the Regents of the University of Michigan.