"Fitbits" for cows: The latest precision dairy cattle monitoring technology
New wearable technologies for dairy cows monitor individual animal activity to improve farm management and performance.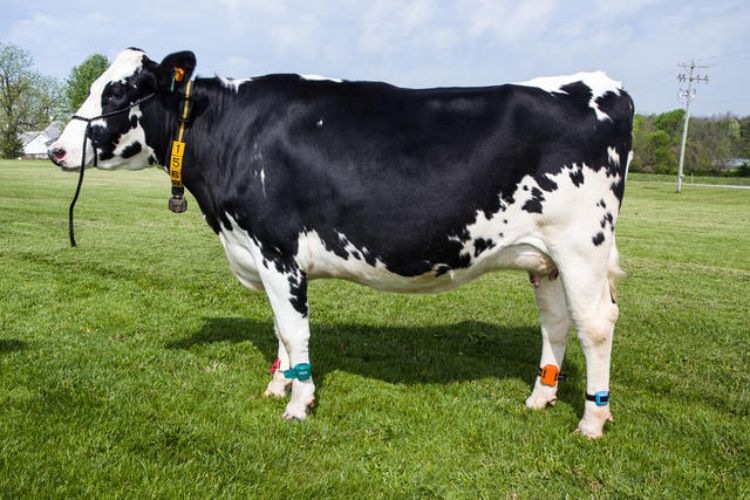 Precision dairy cattle monitoring systems use accelerometers, just like Fitbits, to detect changes in an animal's behavior and activity. Instead of counting steps and tracking fitness goals, these precision dairy cattle monitoring systems are able to detect when a cow may become ill or is coming into estrus. These technologies can evaluate cow comfort by monitoring activity, feeding time, lying time, mounting activity, real-time location, reticulorumen pH, rumination time and body temperature.
This new technology will be on display at the upcoming MSU Agriculture Innovation Day, where producers will be able to see firsthand how it works. Barbara Wadsworth Jones, director of the Southwest Regional Dairy Center at Tarleton State University, will be discussing how precision dairy cattle monitoring technology can benefit producers and how they can be use it to improve dairy production.
"Consumers are demanding more from producers," Jones said. "This new technology has the potential to detect when an animal becomes ill and could reduce the amount of antibiotics needed to treat that animal."
Being able to detect when a cow becomes ill allows producers to quarantine that animal and prevent other cows from getting sick. These technologies also allow producers to treat their sick animals sooner, thus reducing the amount of time they are out of the milk production line and limiting revenue loss.
Jones will speak with farmers and researchers about what these technologies are capable of when Michigan State University (MSU) hosts its second annual MSU Agriculture Innovation Day: Focus on Forages and the Future on Aug. 24, 2017, at the Lake City Research Center in Lake City, Michigan.
Precision dairy cattle monitoring systems are available from several manufacturers, Jones pointed out, and it's important for producers to understand how models differ from one another and what management software to use.
Differences between models can include what information is recorded, where the devices are designed to be attached to the animal and what information is synced with management software. Keeping detailed records of which device is assigned to which animal and checking the device monthly to ensure proper working order are best practices.
"Managing these technologies on-farm is easy once you have an understanding of how your devices work and what information they produce," Jones said. "The data is valuable only if you keep good records of which animals are wearing which devices."
Jones is one of many speakers set for MSU Agriculture Innovation Day: Focus on Forages and the Future. The all-day program (on Aug. 24 from 12:30 p.m. to 9 p.m.,) will provide opportunities to learn about the latest research on silage production, double cropping, reduced-lignin alfalfa, baleage and grass-fed beef, among other topics. MSU Agriculture Innovation Day is an annual event focusing on in-depth education on critical topics. The event rotates to various locations throughout the state to give farmers access to experts who can help them improve their businesses while maintaining environmentally sound practices on their farms. To learn more about the event and the sessions being offered, visit msue.msu.edu/msuaginnovationday. Pre-registration is encouraged, but not required.