Five tips for remarkable resumes
Use these tips to make sure your resume is the best representation of you and your skills.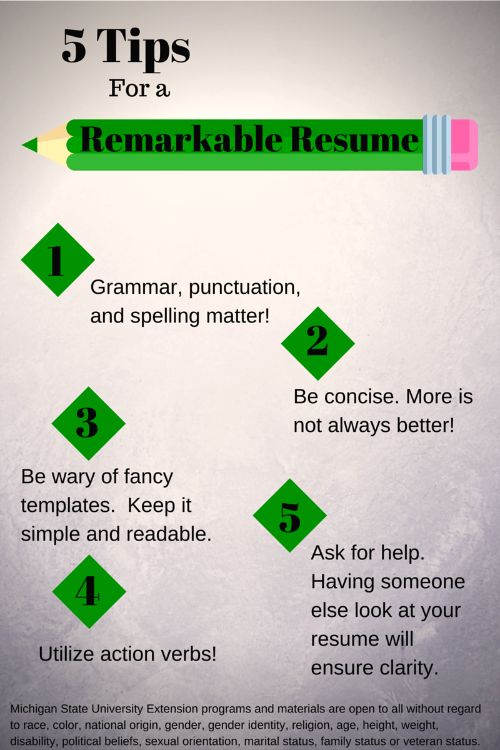 A resume is one of the most important tools when seeking a job. It allows you to concisely represent your skills and abilities while also answering many questions a prospective employer may have about your background. Youth may struggle when they put together their first resume, but there are many resources available to help them in the process. While there are several different resume set-ups, Michigan State University Extension has a few tips to make sure your resume is the best representation of yourself it can be, no matter which format you choose.
1. Grammar, punctuation and spelling matter
Spelling or grammar mistakes will often get your entire application tossed out because it shows a lack of attention to detail.
2. Be concise
More is not always better. Employers are quickly scanning resumes looking for an overall picture of your talents; estimates say that on average, employers look at each resume for less than 10 seconds. If you are too wordy or include too many details, they will pass you over. In high school or college, a resume should be no more than one page. Make use of bullet points and phrases instead of full sentences to keep it brief.
3. Be wary of overly fancy templates
Too much formatting or elaborate fonts can be a distraction. Use minimal color, if any at all. If you are submitting your resume electronically and the hiring committee will eventually print off your documents, you want the documents to still be easily read in black and white.
4. Utilize action verbs
Using an action verb at the beginning of your phrases will help an employer understand right away what it is that you did. Michigan 4-H has an action verbs handout to help you when you are working on your resume. Always use an action verb and not "I" to begin your phrases.
5. Ask for help
Make sure to ask someone to proofread your document before sending it out. Another set of eyes looking at your resume will help eliminate mistakes or confusing language. Think of trusted adults in your life you could ask, such as teachers, 4-H leaders or someone in the field in which you hope to work.
Michigan 4-H has many resources to help youth who are in the process of career exploration and workforce preparation. Career preparation events such as Mock Interview Day are held around the state where youth can participate in interviews, network with business professionals and have their resume's reviewed. These experiences help prepare youth for their future by giving them practice with life skills.